Interview: Joel Grind of TOXIC HOLOCAUST Talks 'Primal Future: 2019'
Joel discusses 20 year of Toxic, The Use Your Collusion Tour, and his upcoming releases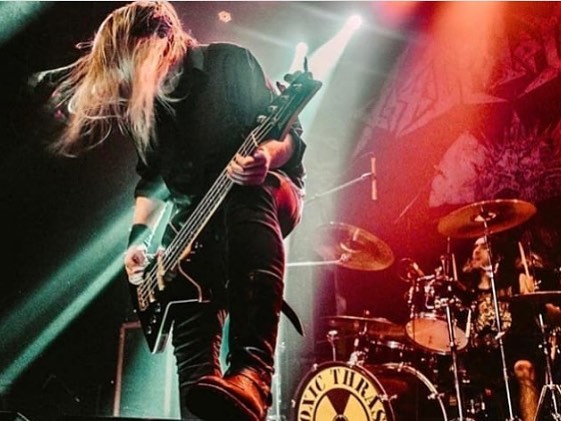 It's hard to imagine that there have already been two decades of Toxic Holocaust (I haven't even been breathing for that long!). Originally started by Joel Grind as a solo project, the now Oregon-based band consists of three members – himself, Eric Eisenhauer on guitar,  and Tyler Becker on drums. It wasn't until after this interview I came to find that both of them are members of another rad Portland Thrash band Weresquatch (check that shit out as well! Super tasty…)
On October 4th, they will begin selling their sixth album – Primal Future: 2019  worldwide! They're bringing the party to Idaho with GWAR, Sacred Reich and Against the Grain October 19th along with some rad merch and assured annihilation of its attendees.
Joel has been a musical hero of mine, so the anxiety coating my throat was a little harder to gulp down than usual…  After a few questions, we got closer to the same wavelength.
After several splits, demos, and releases Joel has had several opportunities to experiment and take liberties when it comes to recording. Curious how this has affected his approach to the newest LP, I asked how the album was written… Was it over the course of several records/sessions, would it have any overarching themes?
"…Pretty much over the course between the last record and this …" He continues;  "I was kinda slowly writing songs here and there… I recorded it in one shot instead of writing and recording here and there this time…" 

"It's more of like a dystopian feel. Almost like a Sci-Fi meets Mad Max sort of thing."
I knew that part of Toxic's set would be dedicated to the record they're supporting, I had to ask if there would be any deep cuts featured as well on the Use Your Collusion tour…
"We've actually been doing a lot of older songs…" He exclaims how they liked to mix up the new songs from the new record in order to find which ones work best live. "…The fans are what got you here and you know they wanna hear classic songs" 
With new Toxic Holocaust material, there must be some speculation whether or not Joel had been working on new solo material, and so I asked: will we see any new synth material this year?
"I've just recorded and released a new synth record that's coming out really soon… I'm just not allowed to sell the copies until I get word from the label… It should be out next month, so keep an eye out for that. It'll be under my name [Joel Grind]"
To hear more about the Use Your Collusion Tour making its way to the Knitting Factory, learn some of Joel's favorite horror movies (…and strip joints!) listen to the full Joel Grind interview linked above.  
09/12 – Norfolk, VA @ The NorVa ' X
09/13 – Millvale, PA @ Mr. Smalls Theatre ' X
09/14 – Chicago, IL @ Riot Fest  X
09/15 – Sauget, IL @ Pop's ' X
09/16 – Grand Rapids, MI @ The Intersection X
09/18 – Detroit, MI @ The Majestic
09/19 – Columbus, OH @ Newport Music Hall X
09/20 – Knoxville, TN @ The Mill & Mine X
09/21 – Jacksonville, NC @ The Tarheel X
09/22 – Atlanta, GA @ The Masquerade X
09/23 – Pensacola, FL @ Vinyl Music Hall X
09/24 – Tampa, FL @ The Ritz Ybor X
09/25 – Ft. Lauderdale, FL @ Revolution Live X
09/27 – Louisville, KY @ Louder Than Life  X
09/28 – Greensboro, NC @ The Cone Denim Entertainment Center X
09/29 – Baltimore, MD @ Rams Head Live!
09/30 – Toronto, ON @ Opera House
10/01 – Buffalo, NY @ Town Ballroom
10/02 – Sayreville, NJ @ Starland Ballroom
10/04 – Philadelphia, PA @ Franklin Music Hall
10/05 – Clifton Park, NY @ Upstate Concert Hall
10/06 – Boston, MA @ Paradise Rock Club
10/08 – Milwaukee, WI @ The Rave
10/09 – Des Moines, IA @ Wooly's
10/10 – Omaha, NE @ Slowdown
10/11 – Minneapolis. MN @ Skyway Theatre
10/12 – Kansas City, MO @ CrossroadsKC
10/13 – Denver, CO @ Summit
10/15 – Salt Lake City, UT @ The Depot
10/16 – Reno, NV @ Virginia Street Brewhouse
10/17 – San Francisco, CA @ The Regency Ballroom
10/18 – Portland, OR @ Roseland Theater
10/19 – Boise, ID @ Knitting Factory
10/20 – Spokane, WA @ Knitting Factory
10/21 – Seattle, WA @ Showbox SODO
10/23 – Fresno, CA @ Tioga-Sequoia Brewery
10/24 – Los Angeles, CA @ The Belasco Theater
10/25 – Garden Grove, CA @ Garden Amp
10/26 – Las Vegas, NV @ Fremont Country Club
10/27 – Tempe, AZ @ The Marquee
10/28 – Albuquerque, NM @ Sunshine Theater
10/30 – Oklahoma City, OK @ Diamond Ballroom
10/31 – Dallas, TX @ Gas Monkey Live
11/01 – Austin, TX @ Empire Garage
11/02 – Houston, TX @ Warehouse Live
11/04 – Nashville, TN @ Exit/In
11/05 – Indianapolis, IN @ The Vogue
' = Without Toxic Holocaust
X = Past Event
Finally, the first single released from Primal Future: 2019, "Chemical Warlords"!