HALESTORM, PALAYE ROYALE, BEASTO BLANCO Crashed the Revolution
Tuesday, April 23, 2019 - Revolution Center - Boise, ID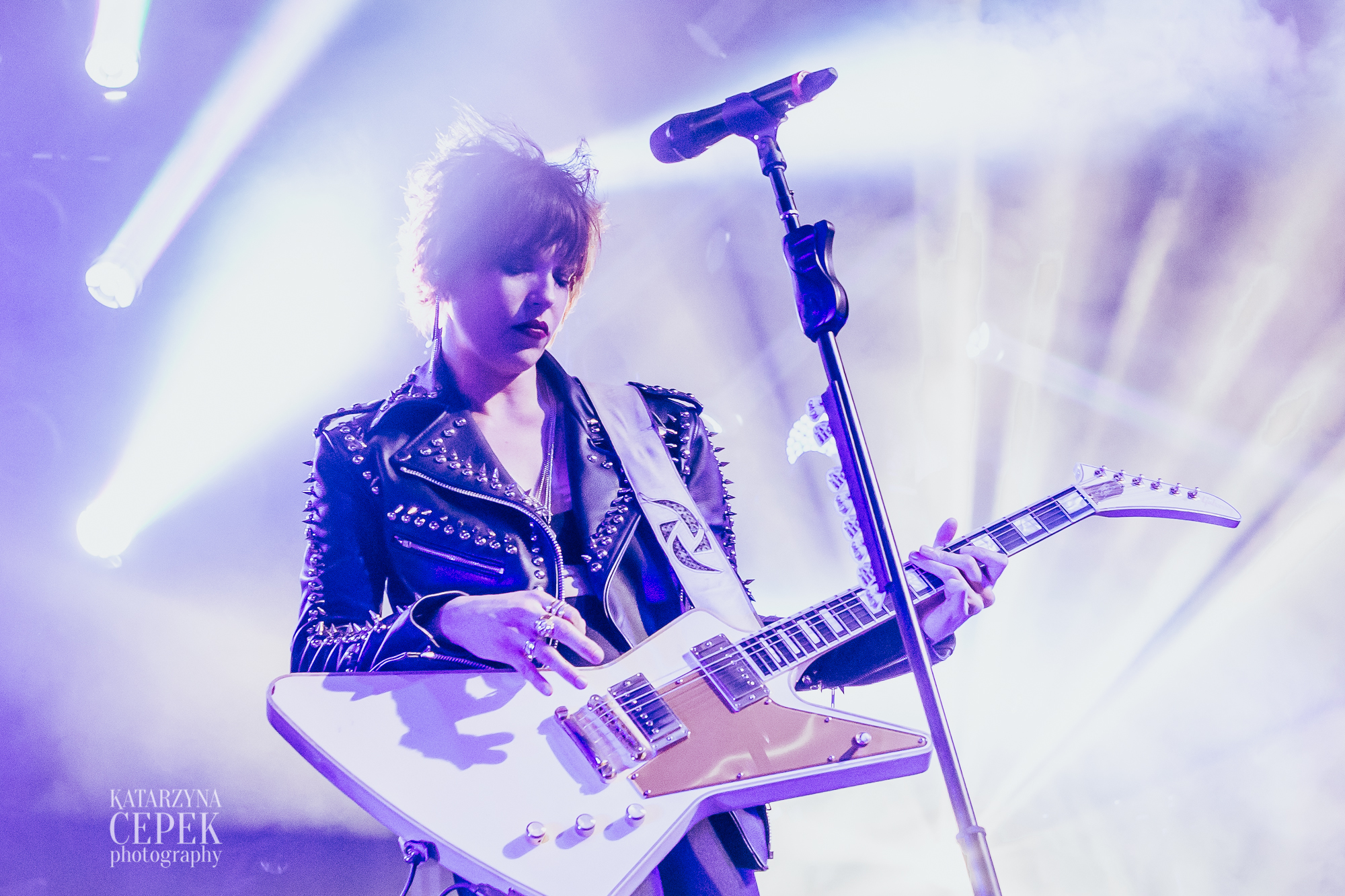 Halestorm has always been an exceptional live band, and Tuesday night at the Revolution in Boise, fans got to see how much they have evolved and grown over the last decade. The Pennsylvania quartet rolled into town on a headline run for their latest album, Vicious. They brought Palaye Royale and Beasto Blanco along for the party. The venue was packed from beginning to end, with few stragglers, and even less who departed early to beat traffic, even on a work night.
Beasto Blanco opened the night with a dynamic set of heavy melody, big riffs, and eye-catching theatrics. None of which is surprising given that the band is fronted by Alice Cooper's bassist, Chuck Garric (who handles vocal and guitar duties), and Cooper's daughter Calico. They have learned the value and import of blending their old school sound with visual appeal. The band delivered one crushing rocker after another, which included the first single, "The Seeker," from the band's forthcoming third album, We Are. Other tracks performed included "Motor Queen," "Freak," "Honey" and "Breakdown."
Perhaps the night's biggest surprise came from Palaye Royale, who most of the crowd seemed totally unfamiliar with, myself included. After opening with the track, "Don't Feel Quite Right," a voice behind me said, "Well, that didn't suck." The sextet, which features three Canadian brothers, not only surprised the audience with its energetic and eclectic performance, they seemed to win them over from the start. The group's combination or retro-glam meets British Invasion rock and roll, struck a vintage yet modern chord. Vocalist Remington Leith, guitarist Sebastian Danzig, and drummer Emerson Barrett are the three brothers who formed the band over a decade ago. The group tuned up a setlist which drew equally from their two albums Boom Boom Room, Parts A and B, including the tracks "Teenage Heartbreak Queen," "You'll Be Fine," "Death Dance," "Get Higher," and "How Do You Do." They also performed the unreleased track, "Fucking with My Head."
The turnout for this Idaho Halestorm performance was the largest I have seen to date for the band, including their run as a support act for Alice Cooper. With each passing album, the band's songwriting and performing excellence just continue to elevate and thrive. At one point during the set, vocalist Lzzy Hale asked the crowd how many had never seen the band live before, and those raised hands outnumbered the longtime fans. From the opening aural and visual onslaught of the Grammy-nominated single "Uncomfortable," Halestorm took the crowd through an adrenaline-fueled, 90-minute sonic thrill ride that concluded with a four-song encore. This is after turning in an afternoon acoustic performance for 100.3 The X for their X-sessions series.
The light show was dazzling, and honestly had me a bit worried for potential epileptics in the crowd. Lzzy, along with guitarist Joe Hottinger, bassist Josh Smith, and drummer Arejay Hale, drove through every song with relentless energy and enthusiasm, displaying a genuine joy for the crowd and their craft. For long time fans, we have had the pleasure of watching the band grow as musicians, performers, and people over the last 10 years. All of this shined through as readily on their older hits as on their newest material, of which they delivered several tracks, including "Vicious," "Black Vultures," and "In Silence;" the latter performed as an acoustic duo between Lzzy and Joe.
The band celebrated the 10th anniversary of its breakout single, "I Get Off," and energized the crowd with hits like "Amen," "Mz. Hyde," "Freak Like Me," "Love Bites (and So Do I)," "Here's to Us," and "I Am the Fire." They served up deeper cuts such as "I Like it Heavy," an alternate mini-rendition of "Familiar Taste of Poison," and "Daughters of Darkness," before closing it all out with crowd favorite, "I Miss the Misery." Every aspect of the evening's performance landed perfectly, and one would be hard pressed to walk out with anything less than a rock and roll high.
From the moment I first had the privilege to sit down with Halestorm on their tour bus 10 years ago for our first interview, it was clear these four had a special chemistry and magic, and they were destined to perhaps be among the few who might reclaim the title of "rockstar." A decade later, I'm still honored I got to know them early on, and it's been rewarding and exciting to see them fulfill the promise that oozed from their debut record. One can only imagine where they will be in another 10 years, but the journey is bound to be worth the price of admission.
This slideshow requires JavaScript.