GRANNY 4 BARREL Interview: Granny Cocked and Loaded for Debut Album
On Tour with Texas Hippie Coalition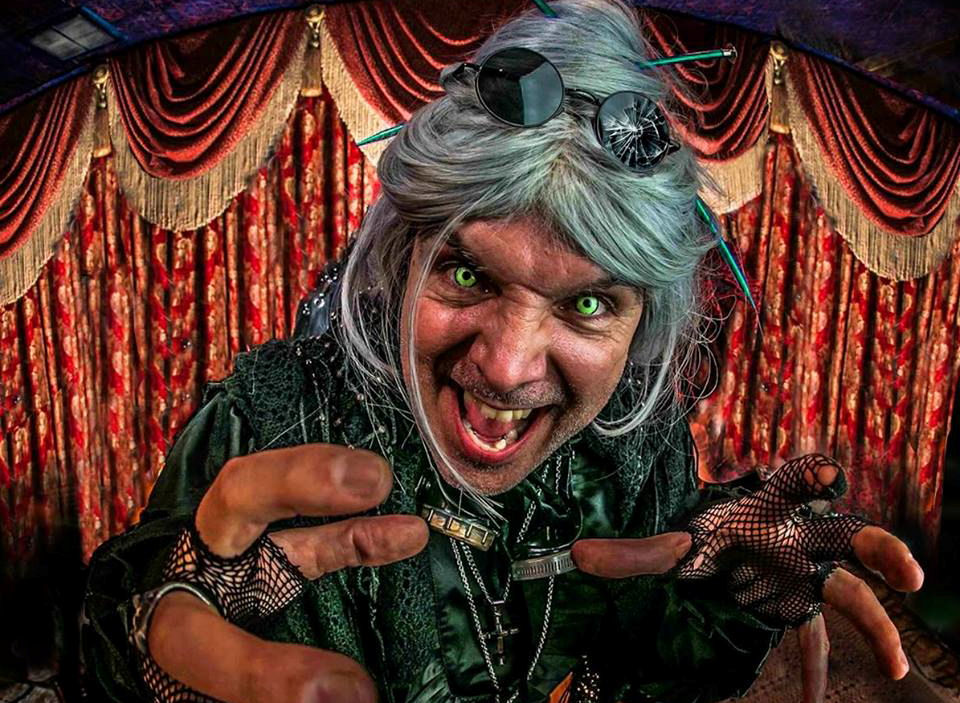 If Norman Bates had started a metal band it would be Granny 4 Barrel. Equal parts Alice Cooper, Rob Zombie with a touch of Ministry and Marilyn Manson, the band taps into the vintage shock rock ethos with a modern industrial edge. The band will release its debut album this summer on Jesse James Dupree's own Mighty Loud records. For now, fans and newcomers will have to make do with the album's first singles, "Freak Flag" and "She Likes Guns".
Granny and her kin are currently on the road with Texas Hippie Coalition and Kobra and the Lotus for the Year of the Bull Tour. Metal Nation caught up with Granny on their way to Denver, Colorado for the second night of the tour.
While it is the music that matters most, Granny aims to give the fans more bang for their buck.
"We're trying to do something fun and exciting, Horror inspired, because Granny is a product of the 70s. It's just got that vibe to it, and it works, and we're having a blast with it. It's serious and fucked up at the same time"
Granny continues:
"The last time I checked, this was the entertainment industry. You don't want to go watching bands wearing streets clothes, staring at their shoes. You know, give the people something!"
Granny doesn't shy away from controversy, mixing the hot topics of guns and sex in the band's newest video for "She Likes Guns." The clip is directed by porn actress Stormy Daniels and also stars fellow adult film stars Casey Calvert, Lily Lane, and Aria Fae–because pornstars and rock and roll have always gone so well together.
"Like peanut butter and jelly," laughs Granny. "Stormy and I connected about 10 months ago, and we hit it off. We did a treatment and we did the video. Everything was cool, but then we've got a few issues with radio. It's kind of touchy–guns. It's controversial. So we put out 'Freak Flag' instead and shelved the video. Then five months later we're looking for the next song, and I said 'Boys, have you checked the news lately?' We've got this video sitting here for 10 months, and I'm thinking, if you had to make an educated marketing decision, do we release the video when the director is in the news or not in the news? We opted to do when she's in the news."
The band will be offering special advance versions of the upcoming album at some point during the tour which ends June 3, in Austin, Texas. The official release should follow about a month later, and is produced by Jeff Tomei (Jackyl, Corrosion of Conformity, Jerry Cantrell). You can check out the full interview with Granny below as well as feasting your eyes and ears on the band's first two videos.