What do you get when symphonic metal evolves to a harder soundscape? Celestial Ruin's new song, "See U Nxt Tuezday". This Canadian hard rock band's new release is heavy hitting,  and while the band realizes this musical shift might step on the toes of their fans, they feel it is worth the gamble to have the opportunity to grow in the direction of their choosing. The video was directed by Dave Benedict, and has a plethora of flames and intensity. Larissa Dawn's vocals are raspy and captivating. Add the rest of the musicianship of solid drums, hammering bass riffs, and astounding guitar solo, and you get a kick ass track.
Celestial Ruin began their adventure in 2011  out of Vancouver, BC  and now consist of band members; Larissa Dawn (vocals), Marcus Carey (guitar), Mike Dagenais (bass), and Adam Todd (drums). They released their first album, The Awakening, in 2012. In 2019 they released three singles, which was produced by Mike Plornikoff (Halestorm, Three Days Grace, Motely Crue). This new single is produced by Jay Van Poederooyen (Nickleback, Hinder, Devin Townsend). They are paving their way through the metal scene with stellar videos, performances, and music that is ever evolving.
Larissa was kind enough to chat with Metal Nation about this evolution.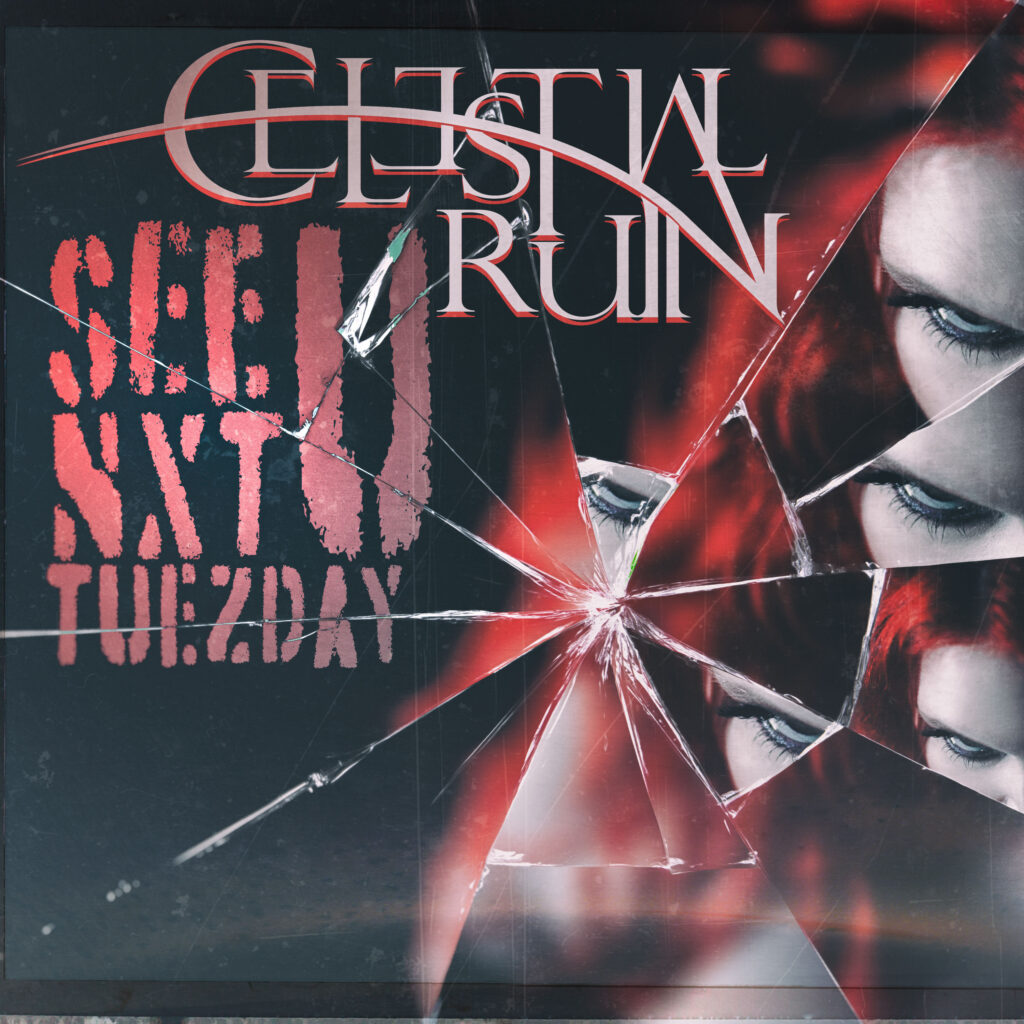 How long have you been working on this single and does it have parallels to what is going on in the world since covid?
"We started working on the single in June 2020 at the start of the BC lockdown. We had recently parted ways with our guitarist and wanted to ensure we stayed active during the process of auditioning a new one. I reached to our good friend, Jurekk James, who is a very talented guitarist and songwriter. Jurekk and I had written some other songs together during Covid and I told him about this crazy idea I had for a song that was based on an experience I had had in a previous job. I told him about the feel and energy I wanted and BAM! 'See U Nxt Tuezday' was born. After some back and forth we had a solid demo and we were ready to pitch it to producer Jay Van Poederooyen.

Although the song has nothing to do with Covid or what the world is experiencing right now, we feel that this is the perfect time for a song like this. That attitude of, 'I will not break' and 'I will not be made to feel less', is really what a lot of people need to hear right now."
You have evolved into a heavier sound and less symphonic, are you nervous or excited or both about how this is going to be received by existing fans? 
"Our sound really started to evolve 2 years ago when we went down to LA to work with Producer Mike Plotnikoff. We knew we were changing directions but we had no idea how it was going to go. So yes, at the time we were nervous. We had been a symphonic metal band for 8+ years. Once we started recording the songs, we got excited! We knew we had something. There were more hooks and catchy singable lyrics. Songs that more people could relate to.

When we released our first single with the newer sound, 'Heart-Shaped Ashes' the response was so positive and we knew we had made the right decision. That's not saying we will never write another symphonic song…we are Celestial Ruin and we have learned to never say never."
"See U Nxt Tuezday" video is intense with visuals. What are you hoping people will walk away with the most from a lyrical and visual standpoint?
"Visually we want people to stop in their tracks and think, 'WOW! That's frickin' cool!' We want people to feel the energy and rapid chaos. And our director (Dave Benedict from Default) captured exactly that. From a lyrical standpoint, I always envisioned people driving too fast or fist-pumping in front of the stage singing, 'See U Nxt Tuezday!!!' at the top of their lungs.  There is no deep message. It's very straight-forward and direct. An anthem for anyone who has ever been talked down to and made to feel like they are less than worthy."
I am a guitar player, so it is difficult to not automatically pick out Marcus and his talent. How did you find him and how has it been adding him to the mix?
"Marcus is an absolute Godsend! I had posted ads all over the place looking for a new guitarist and Marcus responded. He sent a pic and I was like, 'Dude looks like a total rockstar!' Then I listened to the demos he sent and…..it was folk music! LOL! I almost died! I was like WTF!? I asked if he had anything.…heavier. He sent a video of his last band and I was like, 'There it is!!!' The heavy axe, killer speed, and the hair flying everywhere. We put him through a very strenuous audition process and the more time we spent with him, the more we knew we had found that missing piece of our puzzle. Something that had been missing for years.

He brings new energy, a new sound (his guitars are soooooo dirty and we love it). He is such a hard worker and contributes in every way to the project. We are very lucky to have him."
Any tour plans coming up?
"We would love to get back on the road as soon as possible but as of right now everything is still so up in the air with Covid and the new Delta variant. We don't want to go planning a huge tour and then have to cancel. We are waiting until things are more settled before committing to anything involving travel."
Will there be an album in the future and if so, will there be a concept or theme?
"To be honest, we love putting out singles. At least for now. As I said before we never say never but I don't see a full album anytime soon! I personally love being in the studio and would love to do a full album with Jay (Van Poederooyen), but we need to tour and make money to be able to fund a full album."
Are there any new trials you have found with the idea of playing this new evolution live?
"Absolutely not. We played some of the new material live before Covid hit and the fans were very responsive, so I will take that as a good sign.  I think the only trial when we play, 'See U Nxt Tuezday' for the first time live will be the adrenalin!"
If you wanted to give any advice to any little humans about music and the world right now, what would you like to say?
"Be prepared to treat your music/band like a business. It takes a lot more than just picking up an instrument to be successful in this industry. Get ready to work hard and lose a lot of sleep. Make connections, network, learn every aspect of the industry, and most importantly build a solid team of people to work with (Photographers, Videographers, Producers, Publicists, Radio Promoters, and a great manager). I think that is the key…that old saying, it's not what you know, it's who you know. A little luck thrown in there doesn't hurt either!"
What have you been doing for self-care during covid or even during life in general to help with balance and stress?
"Balance? Never! LOL!  Ok, lemme think…I know it may sound a bit sad but I have very few outlets for stress. I listen to spa music (ocean and rain sounds) and different types of music based on my mood. I work out and push my body to release any pent-up aggression or stress. I am also in the process right now of changing my day job and Mike (bass) and I are considering moving to much a quieter, smaller town."
I know how important self-care is and I'm hoping that making some much-needed changes will help. I will also continue to write. That helps let out all kinds of emotions both good and bad.
"Damn, that was a hard question!"
What is the best way people can support you right now? Covid has hit musicians really hard and it is important to keep supporting the music. How can we best do that?
"We love when new people follow us on our socials, add our songs to their Spotify or Apple Music playlists (or their favourite streaming service) and share our videos with friends. Fans breed more fans. It is so amazing what one share can do for an Indie band. Fans can also check back soon for new merch on our website.

We want to thank all of our fans who have continued to support us.  Thank you for everything! Here's to another 10 years…."
Listen to the new single "See U Nxt Tuezday" below or go HERE
For more information on CELESTIAL RUIN, please visit:
https://www.facebook.com/celestialruincanada
https://www.instagram.com/celestial_ruin_band