Wirethrone – Serpent Queen
Release Date: November 25th 2019
WIRETHRONE set out to make something unique and heavy and they hit their mark with their newest effort SERPENT QUEEN. An EP that, in an age of mediocrity, shines so fucking hard
Hailing from Tampa, the death metal capitol of North America, Wirethrone not only delivers something you can thrash around violently to but the melody lines in-between the madness have you symbolically bobbing your head. It's the universal sign of a killer tune. immediately speaking to your inner primal rhythmic command center causing you to sway in time with it. Fucking metal!!!!!!
So first off the uniqueness I spoke of is that this EP is meant to be listened to continuously as each "track" is really only 4 separate markers in the 17 minute masterpiece. The concept of it is pretty fucking rad in my opinion. The lyrical theme seems to follow a bitterness for someone or something using the imagery of a medusa like character
ALL HAIL

QUEEN OF ALL LIES
GO FOURTH

BRING ME THEIR LIVES
DON'T REST UNTILL THEY ALL DIE
SEVERED SILENCE

VENEMOUS BITE
I normally have a favorite few songs or handful that will grab an honorable mention but I can confidently say that this piece of brilliant brutiful music entertains and mesmerizes for its entirety. I especially love how the riffs change slightly throughout while still holding the framework of the very first riff. Music like that speaks more than just sounds. It actually tells a story.
The musical direction of this EP, if one were the type that enjoys putting things in their neat little spot, is that of an 80's thrashy groove approach with a very well executed early 90's death metal vocal. Its honestly the right amount of everything and it sounds fucking amazing. Guitars, Drums, Bass and Vocals all deliver on this absolutely awesome musical offering. Give these guys your money!!!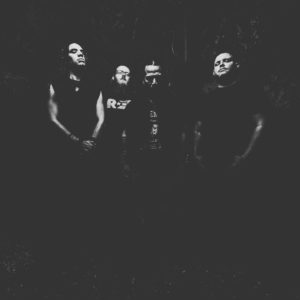 Wirethrone is:
Josh Delgado – Vocals
James Harper – Guitars
Adam Mehdaova – Guitars
Chris Horan – Bass
For more information please visit: