LOUDNESS – Rise To Glory
Label: earMusic
            Release Date: January 26, 2018          
Oh yes, Loudness is one of those bands that I can't help but love. I was hooked the first time I heard them in 1985 with their Thunder In The East record. Now in 2018 they have continued to impress me with their latest release Rise To Glory. 
Thankfully they have decided to release Rise To Glory in North America as well as Japan this time (the last North American release was On The Prowl in 1991). I have always felt that guitarist Akira Takasaki has a unique sound and tone and Rise To Glory sure showcases it. Combine that guitar sound with the stellar vocals of Minoru Niihara and you have a killer wall of sound coming at you. Here are some standout tracks: the anthemic  "Why and For Whom", the kick you in the ass "I'm Still Alive" and also "Go For Broke", which is reminiscent of that 80's metal we all love so well.
I have to talk about one of the two instrumental tracks on Rise To Glory – "Kama Sutra" I feel this track showcases the true musical talents in this band. While not the typical sound for  Loudness, it is like a heavy jazz sound and it works, trust me on this. If I had to pick a favorite track and one that I feel embodies the soul of the record it would be "Let's All Rock" I can just see the audience, fists raised, singing the lyrics on this one. Loudness is not trying to reinvent the wheel with their new music, which is fine by me, they are just adding another layer to their legacy of great rock n' roll. Solid band, solid release, make sure and pick this up and then pick up their back catalog as well. 8 out of 10 record right here.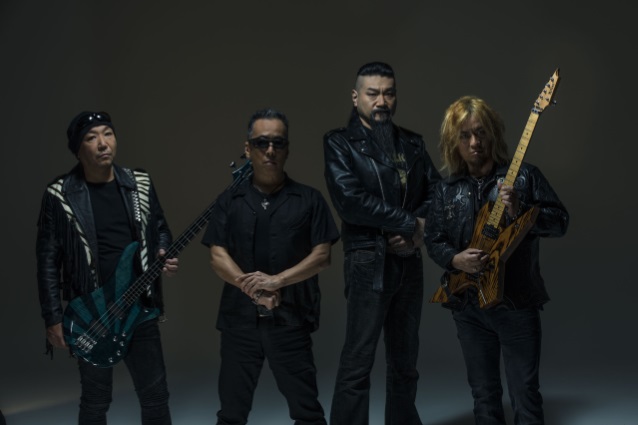 Loudness has 26 studio albums under their belt only five of which received a U.S. release. Like many other bands they have undergone several lineup changes throughout the years with Akira being the only constant member. In 2000, the original lineup reunited, consisting of Akira Takasaki – guitar/backing vocals, Minoru Niihara – lead vocals, Masayoshi Yamashita – bass/backing vocals, and Munetaka Higuchi – drums. Sadly in 2008, Munetaka passed away after a year long struggle with cancer. In 2009, Masayuki Suzuki was brought on board and has been behind the kit ever since. Thank you Loudness for all the years of killer music.
it's loud, it's dirty, it's ROCK N' ROLL!!!
-the Hellion