Today, trans-media heavy rock artists September Mourning are crawling out from their self-imposed isolation to bring "Madness" to the world. The quartet of vagabond soul reapers are unleashing the newest anim-action video from their latest EP Volume III, released in December 2019. Metal Nation has been both fan and supporter of the September Mourning across its decade long journey and we are honored to premiere the spread of "Madness".
Band founder, vocalist and namesake September (aka Emily Lazar) had this to offer of the latest video:
"'Madness' is a song about being in a place of insurmountable illogical thought towards a situation that basically holds your heart hostage. We have all been in the position of dealing with a relationship with something or someone that has driven us mad… But what we sometimes don't like to admit is that the process of driving us mad makes us feel alive. We sometimes choose that over the logical choice of ending such a relationship. In this song the narrator is convincing him or herself or that of a partner to once again make that illogical choice – to feel alive. There is a sense of masochism to the song, and one can say that love in itself can be just that: that time and time again we cower to the masochistic instinct and bleed our hearts dry for situations that leave us feeling crazy or driving us into madness.

The video follows our characters in the 4th book of 'September Mourning: The Complete Collection'. It is a homage to the brilliant artwork of Top Cow/ Image comics artist, Sumeyye Kesgin. In the graphic novel the quest to defeat Fate at any cost holds September's heart hostage – she is willing to sacrifice herself for it.  Her blind ambition prevents her from seeing some of the logical missteps in her plan, as she plunges headfirst towards her battle with Fate".
The genesis of September Mourning started in a dark New York basement, where a young girl discovered her father's old comic book collection and quickly became enraptured by the stories, especially the characters and arcs in the Batman series. "Those resonated with me the most" says band leader and creative driving force Emily Lazar (aka September). "The Killing Joke' is still my favorite comic book". The stories and characters helped turn Lazar into a life-long artist across several mediums – including ballet, story-telling, visual art, and music. She has combined those various talents into a living and breathing, graphic-novel-come-to-life with her band of Reapers in September Mourning. With the release of the video for "Madness", they continue to forge ahead with their aural and visual extravaganza. The song was produced by 5-time Grammy Award winning Chris Lord-Alge (Green Day, The Who, Rob Zombie); along with Josh Napert, & Nick Scott. The track is included on the band's latest EP, Volume III.
"Madness" continues to raise the band's artistry to a new, more melodic level and adds a new dimension to their sound, following on the success of previous single "Overdose". The band's compelling live show and striking visuals have helped propel them into a national touring act that has performed at such notable events as Download (UK), Inkcarceration, Rock on the Range (Columbus, OH), Aftershock (Sacramento, CA), Rock USA (Wisconsin), Comicpalooza (Houston, TX), Anime Midwest (Chicago, IL), and many more. The band toured with Rob Zombie, Sons Of Texas, Twizted, Hed PE, Flaw, and Smile Empty Soul in 2019. The band will resume touring in late June 2020, including upcoming late summer and fall festival dates.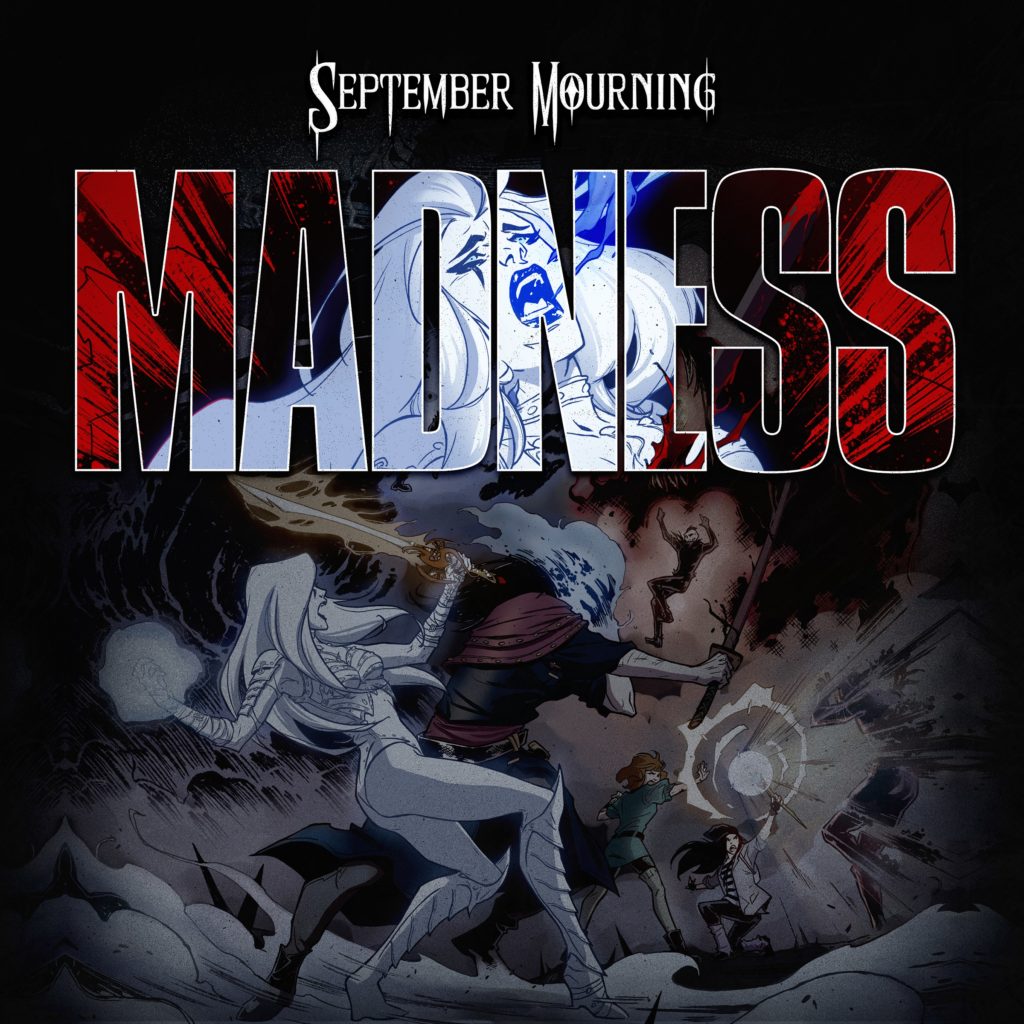 Creating personas and telling stories through music has become reality from those early childhood days of absorbing the comics she found – as Lazar and comic book legend Marc Silvestri have developed and released their own comics "A Murder of Reapers" and "The Hand of Fate" (collectively known as "Volume I"). These books help tell the tale of September, a human/reaper hybrid with no memory of her past. Empowered with supernatural gifts, she is driven to protect humanity from Fate and his Reapers. The books were published by Top Cow/Image Comics and come to life on stage.
Guitarist Rich 'Riven' Juzwick explains how the band came together in it's current from:
"The music scene in Los Angeles, although large, is still the equivalent of social circles in high school. You have your circle of friends – but they know other people that know still more people and eventually you'll run into each other. I met Kyle ['Stich' Mayer] first, back in 2010 when I was in Gemini Syndrome. He grew up in Chicago with Aaron [Nordstrom] (Gemini Syndrome singer) and we met when that band started. Emily and I met through mutual friends a few years later. When I decided to leave Gemini Syndrome, she approached me about helping her with September Mourning. We recently added Aaron 'Wraith' Hoover to our touring band whom I've known from the Cincinnati music scene".
September Mourning released a full-length album, Volume II in 2016 whose lead single "Eye of the Storm" has more than 1.6 million plays on Spotify, and more than 2 million over all. The band released two singles in 2018: "Empire" and "Glass Animals".
Upcoming September Mourning Soul Collections:
Saturday, June 6th – The Machine Shop – Flint, MI
Sunday, June 7th – Metal In The Mountains – Pipestem, WV
Saturday, July 4th – Anime Midwest (Chicago, IL)
Saturday, July 11th – Inkcarceration – Mansfield, OH
Thursday, July 16th – Rock USA – Oshkosh, WI
Saturday, Oct. 31st – Arctic Comicon – Anchorage, AK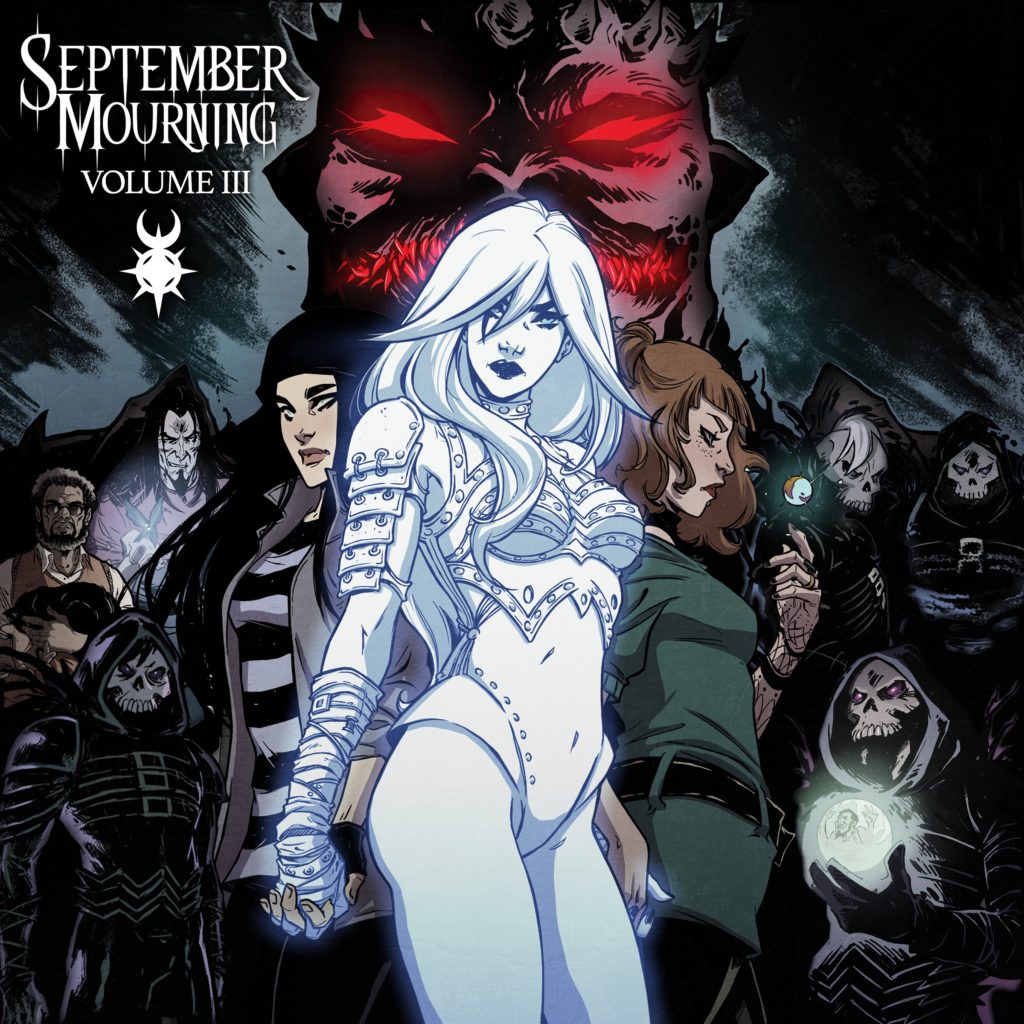 Connect and Share with September Mourning:
Official website: http://www.septembermourning.com/
Facebook: https://www.facebook.com/septembermourning
Twitter: https://twitter.com/septmbrmourning
Instagram: https://www.instagram.com/septembermourning/
Youtube: https://www.youtube.com/user/theseptembermourning
Spotify: https://open.spotify.com/track/1FjmcJhd7moIysZVGBZ21J
Apple Music/iTunes: https://music.apple.com/us/album/madness/1486198302?i=1486198364
Bands In Town: https://www.bandsintown.com/a/241760
TIKTOK: https://www.tiktok.com/@septmourning
Physical store: https://september-mourning-merch.myshopify.com/products/volume-iii