Pittsburgh heavy metal heroes LADY BEAST have released the official video for the title track from recently released Cruz Del Sur Music album Vicious Breed. Those with a hankerin' for scorching U.S. Heavy Metal are strongly encouraged to check it out below.
Vicious Breed is out now on Cruz Del Sur Music. Stream the album in its entirety at the following HERE. https://ladybeast.bandcamp.com/album/vicious-breed
CD: https://goo.gl/ZpXRmC                                  Vinyl LP: https://goo.gl/YV7ewd
Recorded at +/- Studios in Pittsburgh under the supervision of Jason Jouver, Vicious Breed is LADY BEAST's most dynamic album to date. Sporting a wide variety of moods and flavors, the record features the speedy title track, downright heavy "Lone Hunter", the balladry of "Always With Me" and the straight-up rock of "Get Out of My Way."
Stocked with soaring twin-guitar harmonies, headstrong vocals, pounding tempos and would-be classic metal anthems, Vicious Breed is LADY BEAST's coming out party. With the support of Cruz Del Sur, it's only appropriate LADY BEAST have their sights set on conquering the international metal scene. Beware…your town may be the next to feel the strike of the beast!
"What sets Lady Beast apart from numerous other trad-metal acts is their singer Deborah Levine whose power metal vocal dexterity and penchant for melody and theme makes a strong case against that Dio hologram nobody ever asked for. Lady Beast does heavy metal well." – Invisible Oranges
"Lady Beast scores another win: a powerful and entertaining album of traditional and classic melodic heavy metal with the power of speed metal tossed in for good measure. Easily recommended." – Dangerdog Music Reviews
"Combining the strong, gritty voice of Deborah Levine with double bass drum/twin guitar melodies that range from an AC/DC plod to Iron Maiden inspired proto thrash." – Brave Words
"Vicious Breed lives for that 1978-1983 period of heavy metal where people just wanted to rock out, have a good time, and bang their heads for stress release." – Dead Rhetoric
"They are helping carry the torches lit by Iron Maiden, Judas Priest, Warlock, and Dio before them, and in their capable hands, the fires can remain burning brightly for years to come." – Meat Mead Metal
"Stomping, fist-pumping Heavy Metal is at the top of Lady Beast's calling card, steeped in the melody and twin-guitar sound of Iron Maiden and Judas Priest." – Metal Crypt
"Get in, slay, get out. Lady Beast adhere to the best principles of traditional metal on Vicious Breed." – Nine Circles
"This is traditional metal in the vein of early Iron Maiden, with twin guitars, galloping anthems, and intricate riffing – all capped off with the powerful vocals of Deborah Levine." – Heavy Metal Headquarters
"Lady Beast delivers pulse-pounding heaviness & metal anthems across eight tracks." – Games, Brrraaains & A Head-Banging Life
"Drawing on many NWOBHM influences, the band have harnessed the energy of the likes of Priest, Maiden, and Doro, and created an album that sounds HUGE." – Heavy Mag
"This Pittsburgh quintet is a metal juggernaut in the making. Check out this new effort and become a part of the vicious breed!" – The Metal Channel
"The twin ax attack of Tritschler and Ramage has resulted in the most cohesive Lady Beast output to date. Exhibiting a deeper registered gravel-throated delivery here, Deborah Levine sounds fantastic." – Decibel Geek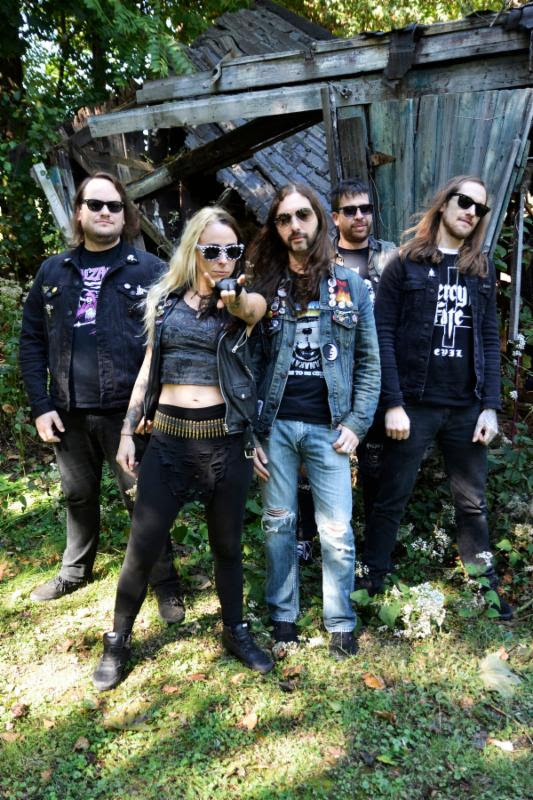 Line-up: Deborah Levine – vocals, Andy Ramage – lead guitar, Chris Tritschler – rhythm guitar, Greg Colaizzi – bass, Adam Ramage – drumsBIOOriginally formed in 2009, LADY BEAST quickly immersed itself in the East Coast live scene, developing a reputation as a band who can seamlessly blend venerable NWOBHM sounds and thrash. Fronted by the charismatic Deborah Levine, LADY BEAST's studio output helped catch the attention of Cruz Del Sur, who signed the band and sent them off into the studio to record their sophomore full-length, Vicious Breed.
Discography
Lady Beast ( 2012, Inferno Records)
Lady Beast II ( 2015, Inferno Records)
Metal Immortal  (EP – 2016, Inferno Records)
Vicious Breed (2017, Cruz Del Sur Music)
www.facebook.com/ladybeastofficial/
ladybeast.bandcamp.com/
www.cruzdelsurmusic.comhttp://cruzdelsurmusic.bandcamp.com/
www.facebook.com/cruzdelsurmusic
Twitter.com/CruzDelSurMusic