German heavy metal legends GRAVE DIGGER released the official video for "The Power Of Metal" off their new album The Living Dead! The band's latest metal juggernaut is out today and contains 10 songs of True German Heavy Metal that are more relentless than ever!
Chris Boltendahl on the new single:
It's a song about Metal, about a life in the underground, about a life which is different. To be a metalhead is the greatest gift on earth – from the day you heard the first notes of a Judas Priest or Iron Maiden song, you´re addicted to this kind of music! The love and passion for metal makes you to a special person and the power of metal can heal. It makes you stronger and gives you a better life."
Track list:
01. Fear Of The Living Dead
02. Blade Of The Immortal
03. When Death Passes By
04. Shadow Of The Warrior
05. The Power Of Metal
06. Hymn Of The Damned
07. What War Left Behind
08. Fist In Your Face
09. Insane Pain
10. Zombie Dance
11. Glory Or Grave (Bonus Track)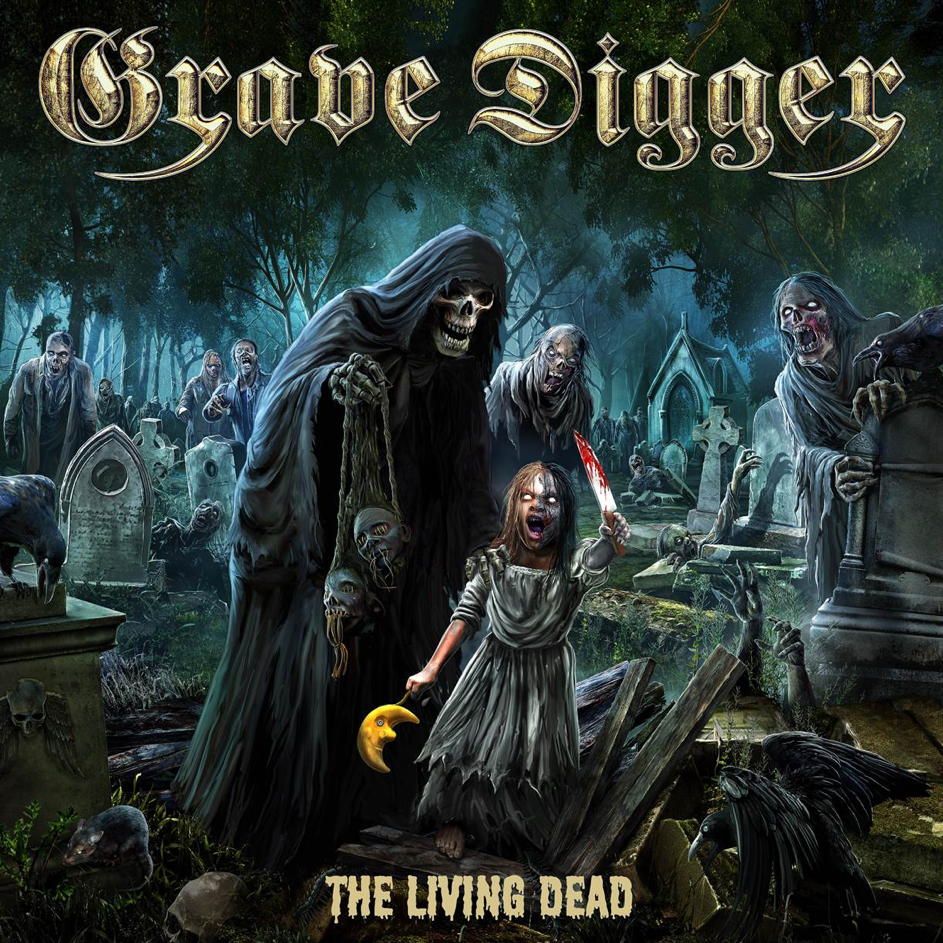 Since their founding back in 1980, GRAVE DIGGER have been leaders in the German heavy metal scene. They created their very own version of Teutonic heavy music – albums like Heavy Metal Breakdown, Witch Hunter or Tunes Of War became classics in the scene.
GRAVE DIGGER will hit the road again in 2019 with a series of headliner appearances on their "Tour Of The Living Dead" opening in Hannover, Germany on January 11th and finishing in Barcelona, Spain on February 3rd. See the full list of dates below.
Tour Of The Living Dead
w/ Burning Witches:
11.01.19 DE – Hannover / MusikZentrum
12.01.19 DE – Andernach / JUZ Live Club
13.01.19 CH – Pratteln / Z7
14.01.19 DE – München / Backstage
15.01.19 DE – Aschaffenburg / Colos-Saal
16.01.19 DE – Saarbrücken / Garage
17.01.19 DE – Bochum / Zeche
18.01.19 DE – Glauchau / Alte Spinnerei
19.01.19 DE – Neuruppin / Kulturhaus Neuruppin
20.01.19 NL – Rotterdam / Baroeg
22.01.19 DE – Hamburg / Markthalle
23.01.19 DE – Berlin / Lido
24.01.19 DE – Bamberg / Live Musik Club
25.01.19 DE – Regensburg/Obertraublingen / Eventhalle-Airport
26.01.19 DE – Memmingen / Kaminwerk
27.01.19 DE – Ludwigsburg / Rockfabrik
28.01.19 FR – Paris / Petit Bain
29.01.19 UK – London / The Underworld
30.01.19 BE – Vosselaar / Biebob
31.01.19 FR – Lyon CCO / Villeurbanne
01.02.19 ES – Bilbao / Santana 27
02.02.19 ES – Madrid / Mon Live
03.02.19 ES – Barcelona / Razzmatazz 2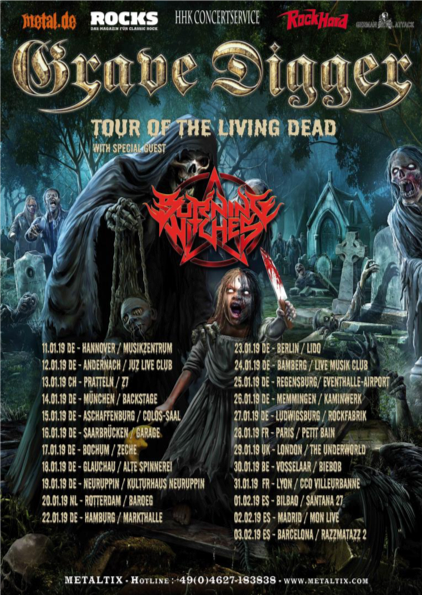 Listen to GRAVE DIGGER on your streaming or download service:
GRAVE DIGGER are:
Chris "Reaper" Boltendahl: Vocals
Marcus Kniep: Drums
Jens Becker: Bass
Axel "Ironfinger" Ritt: Guitars
GRAVE DIGGER online: