Portland rockers RED FANG have announced a special wine collaboration with Teutonic Wine Company, a small urban winery in their hometown that make wines in the style of the Middle Mosel Valley in Germany and France's Alsace region. The wine, aptly called "Red Fang Red" is a blend of varieties that have never been done before: Pinot Noir, Tannat and Gewürztraminer.
To celebrate, Teutonic and the band will team up for a wine release party like no other on January 13th at the Teutonic headquarters in Portland. Attendees will get to enjoy a DJ set from drummer John Sherman, a wine tasting with the band, munch on house-made corn dogs and much more. Tickets are available at this location.
Drummer John Sherman commented on the collaboration:
Everyone thinks we're very much about beer and our videos definitely portray us that way. We do drink beer, but I personally prefer wine and consequently, I've always wanted to make a Red Fang wine. To meet winemakers who also dig heavy music was a dream come true. The first time I went to Teutonic's tasting room, they were playing Saxon on vinyl and I said to myself, 'these are my people.'
Additionally, RED FANG, who recently returned from their European tour with Mastodon, will once again hit the road for a string of headlining dates followed by a US run with Black Label Society and Corrosion of Conformity through February 10th. After that the band will embark on their first ever full tour of Latin America followed by a special performance at Welcome to Rockville in Jacksonville, FL. A full list of confirmed tour dates are available below.
RED FANG recently released another hilarious music video, an animated video for "Not For You" directed by Balázs Gróf that was recently named one of the top 5 music videos of the year by Revolver Magazine. Watch the full video:
Watch a full collection of previously released RED FANG music videos HERE.
RED FANG's latest album Only Ghosts is out now on CD/LP/Digital via Relapse Records. Physical packages and digital orders are available via Relapse.com HERE and Bandcamp HERE.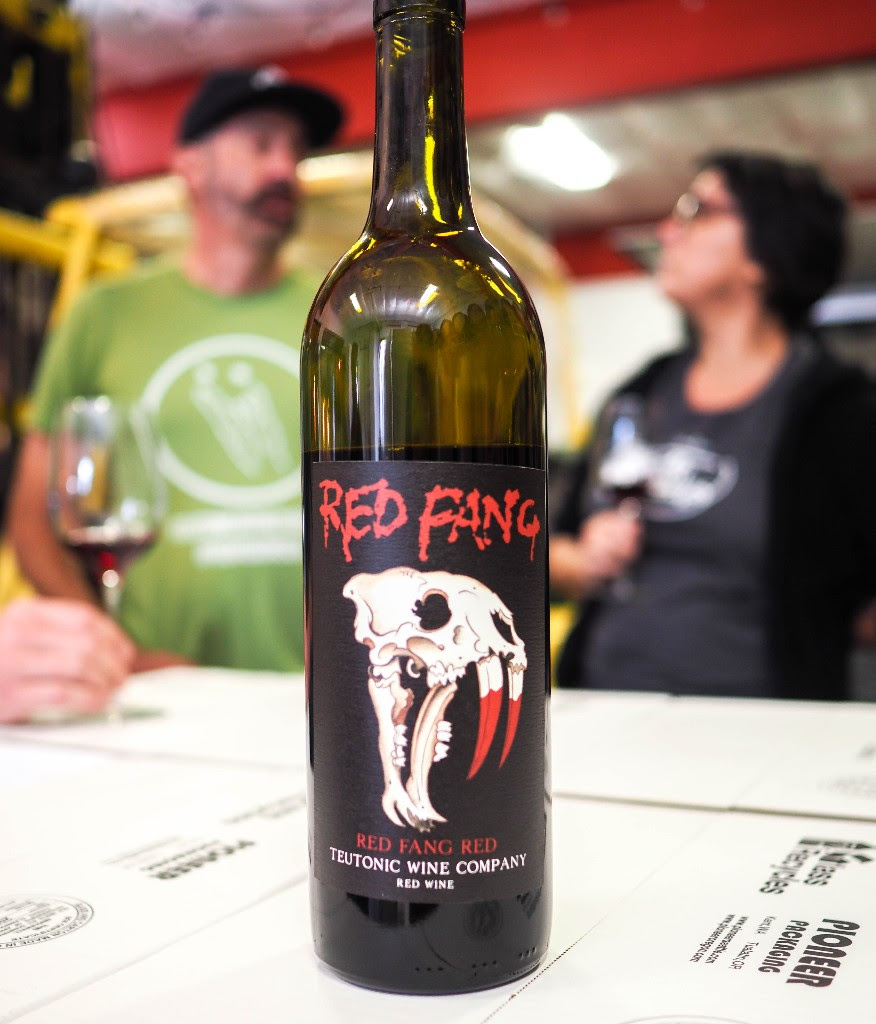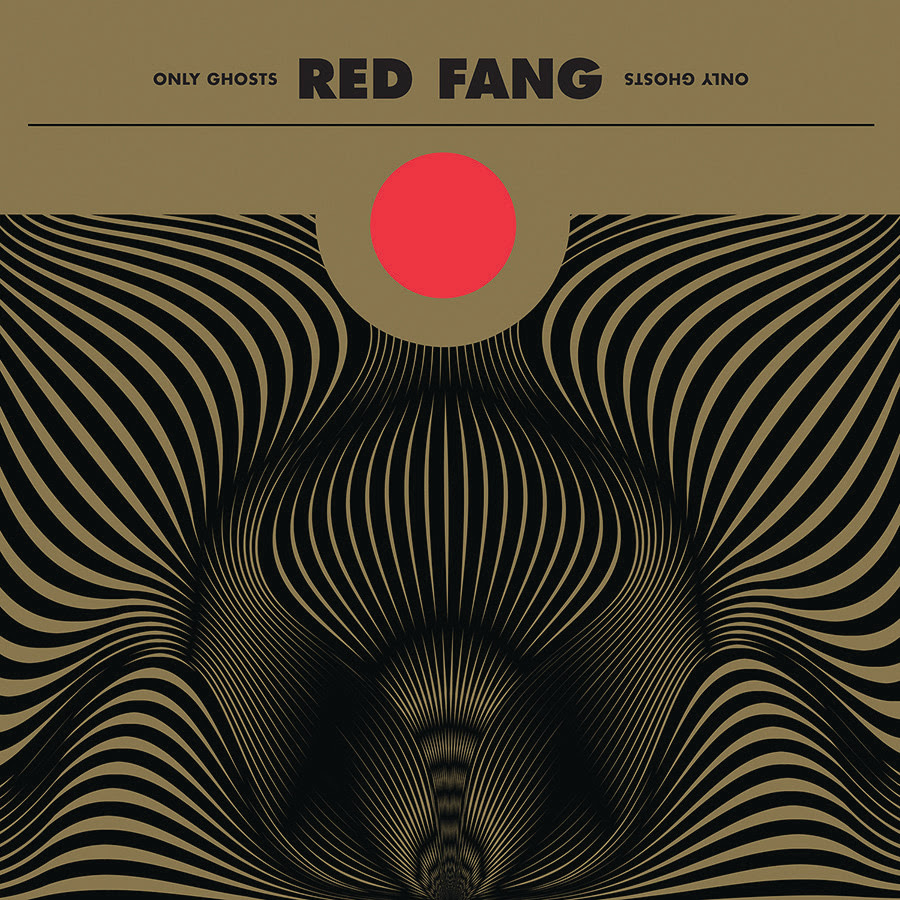 RED FANG Tour Dates:
Jan 15 Bellingham, WA The Shakedown
Jan 16 Vancouver, BC Rickshaw Theatre
Jan 18 Calgary, AB Big Winter Classic 2018 @ Dickens Pub
Jan 21 Winnipeg, MB Pyramid Cabaret
Jan 23 Kansas City, MO Riot Room
Jan 24 Memphis, TN Growlers
Jan 25 Atlanta, GA The Early
— All Dates Jan 26 – Feb 09 w/ Black Label Society & Corrosion of Conformity —-
Jan 26 St. Petersburg, FL Jannus Live
Jan 27 Myrtle Beach, SC House of Blues
Jan 28 Raleigh, NC The Ritz
Jan 29 Silver Spring, MD The Fillmore Silver Spring
Jan 31 New York, NY PlayStation Theater
Feb 01 Worcester, MA The Palladium
Feb 02 Portland, ME Aura
Feb 03 Philadelphia, PA Electric Factory
Feb 05 Buffalo, NY Town Ballroom
Feb 06 Akron, OH The Goodyear Theater at East End
Feb 07 Pittsburgh, PA Stage AE
Feb 08 Milwaukee, WI Eagles Ballroom Club Stage
Feb 09 St. Paul, MN Myth Live
Feb 10 Fargo, ND Aquarium *Red Fang Only*
— Red Fang Latin America Tour —
Mar 14 Monterrey, MX Cafe Iguana
Mar 15 Guadalajara, MX C3 Stage
Mar 16 Mexico City, MX Foro Alicia
Mar 17 Lima, PE C.C. Festiva
Mar 18 Santiago, CL El Domo San Diego
Mar 20 Buenos Aires, AR Uniclub
Mar 21 Goiânia, BR Diablo Pub
Mar 22 Florianopolis, BR Celula Showcase
Mar 23 Rio De Janeiro, BR Teatro Odiesseia
Mar 24 Sao Paulo, BR Vic Club
Mar 25 Belo Horizonte, BR A Autentica
Apr 29 Jacksonville, FL Welcome To Rockville 2018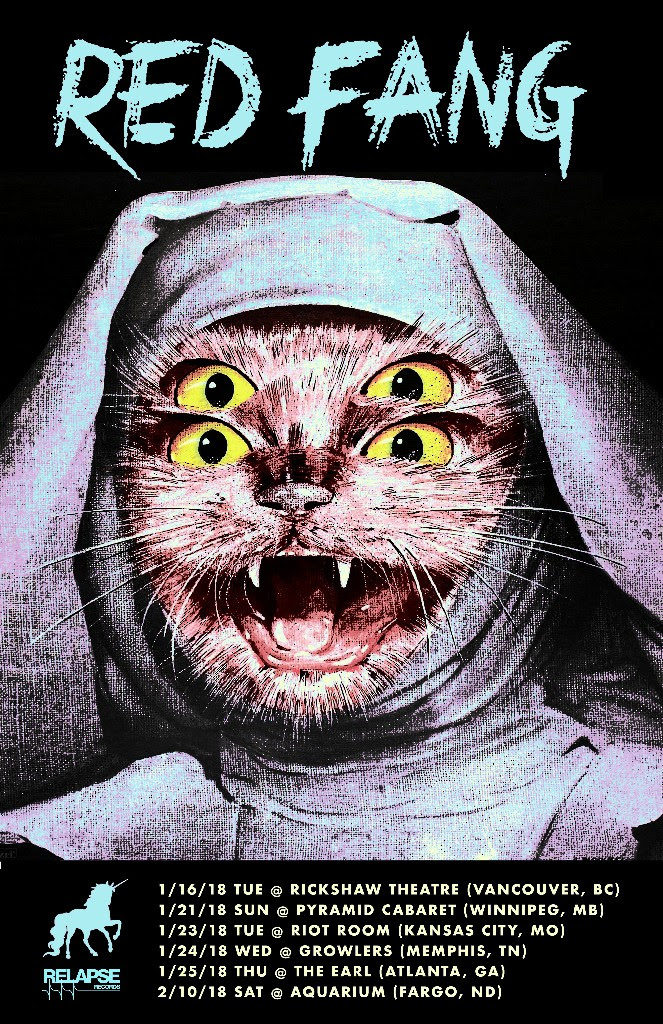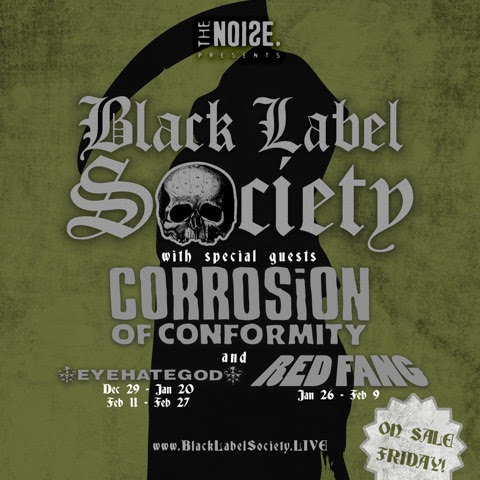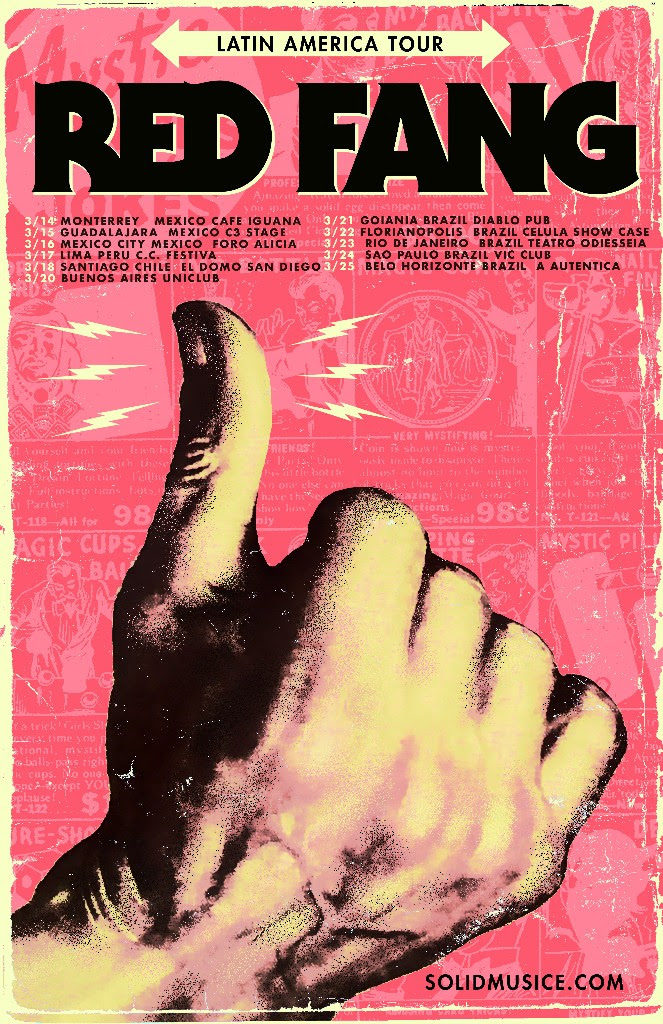 Bio/Info:
The Portland–based rock band worked with producer Ross Robinson (At The Drive-In, The Cure, Slipknot) and mixer Joe Barresi (Queens of the Stone Age, Tool, Melvins) on the 10-song album. "We wanted to leave Portland so we could be a little more immersed in the process, instead of having to think about going to get groceries and stuff," explained Aaron Beam in a recent Revolver interview of working at Ross Robinson's Venice, Calif. studio.
In the week's leading up to Only Ghosts' release, the Portland-based rock band have also created a tremendously clever video about wronged comic book collectors seeking Predator-style vengeance ("Shadows": https://youtu.be/cnhCxVy5pfs), partnered with Stumptown Coffee Roasters for a tour only blend dubbed "The Deep" after the song of the same name and lent their music to Pabst Blue Ribbon's retro pinball machine, The Can Crusher. The band recently held a "Shadows" inspired Coloring Book contest sponsored with Indie Merch Store and New Noise Magazine. View all entries at http://redfang.net/coloringbook.
Nerdist dubbed Only Ghosts a "supremely excellent new album" while Metal Sucks offered, "…with Only Ghosts, they've delivered their freshest set of jams yet. On this new album, Red Fang are executing their songwriting at a deadly precision: their melodies are hookier, their compositions perfectly tweaked, their dual-throaty-vocal layers reaching an artful tier not really seen in the genre since Blood Mountain."
Only Ghosts is available now (www.redfang.bandcamp.com), as are physical bundles:http://bit.ly/only-ghosts.
www.redfang.net
www.facebook.com/redfangband
www.twitter.com/redfang
www.instagram.com/redfangband