MISTER MISERY Release Music Video for "Tell Me How"
Debut Album 'Unalive' Out Now via Arising Empire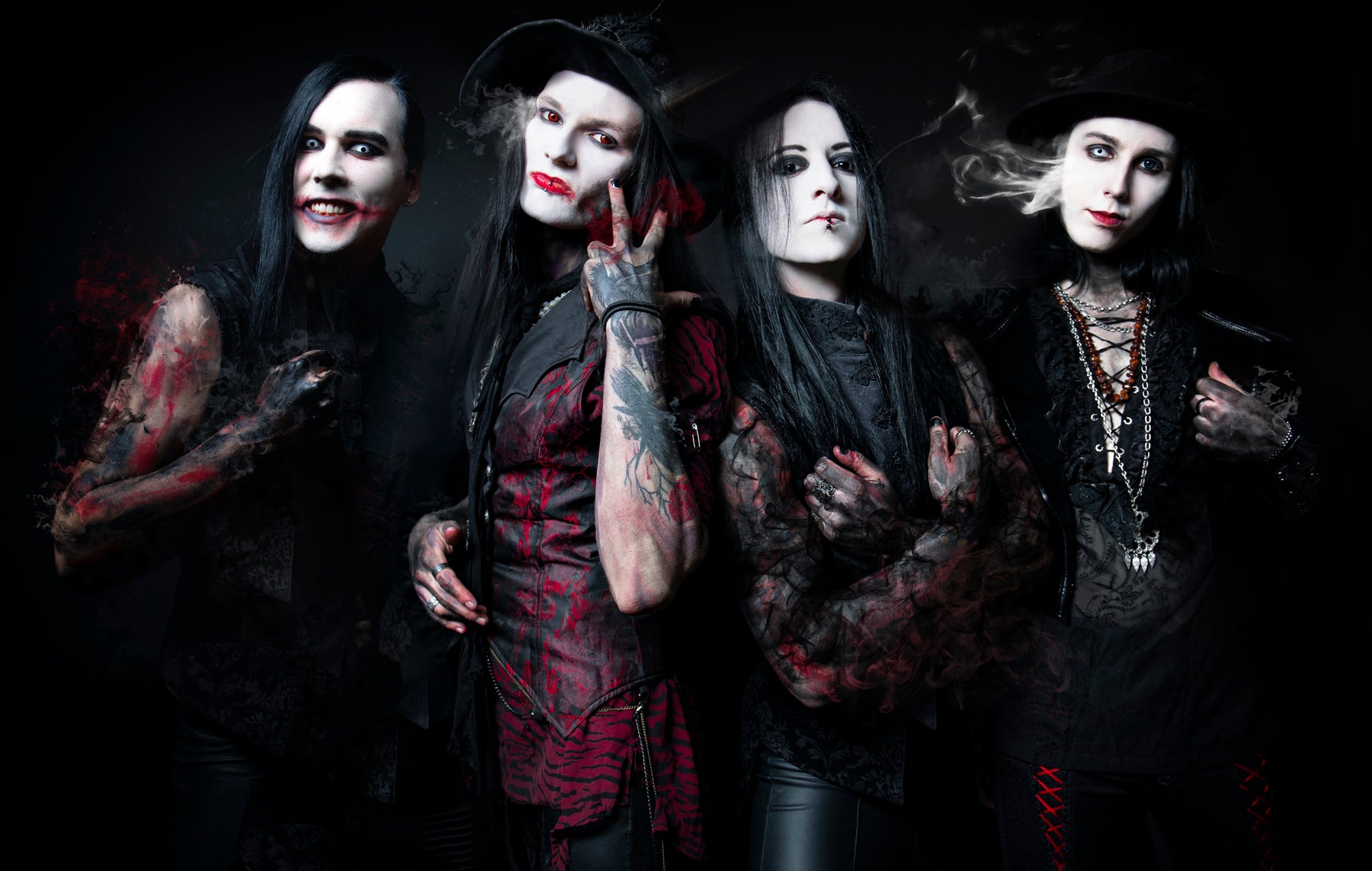 Today, Mister Misery from Stockholm, Sweden released their brand new music video for "Tell Me How" off their first-ever full-length record Unalive, released on the 4th of October via Arising Empire!
Watch the brand new music video for "Tell Me How" below:
Mister Misery had this to say about the video:
"We are truly honored to release our 4th music video directed by the one and only Patric Ullaeus (In Flames, Arch Enemy, Dimmu Borgir). "Tell Me How" is one of our favorites and it feels awesome to give you a video for this one. We hope you enjoy the video as much as we do!
Check out the music video for the single "Alive" from the devbut album Unalive below: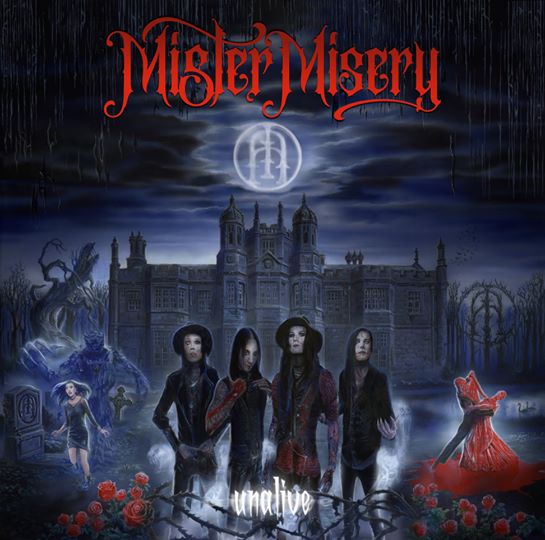 Unalive

Track-Listing
The Blood Waltz
You And I
Tell Me How
My Ghost
Legion
Dead Valentine
Alive
Rebels Calling
Stronger
Live While You Can
Mister Misery will embark on their big EU headline tour in February next year!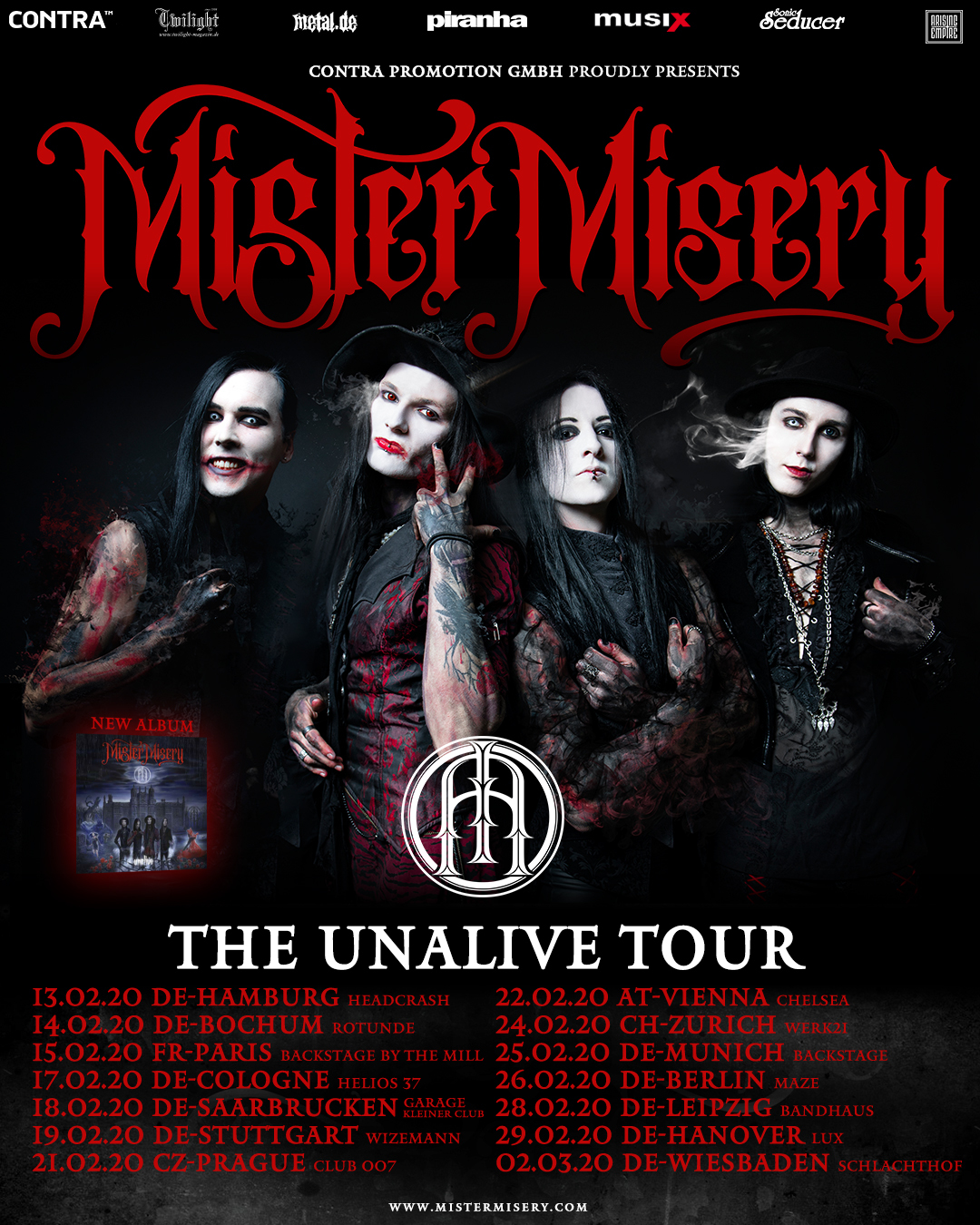 Mister Misery – The Unalive Tour 2020
13.02.20 DE-Hamburg headCRASH
14.02.20 DE-Bochum Rotunde
15.02.20 FR-Paris Backstage by the Mill
17.02.20 DE-Cologne Helios 37
18.02.20 DE-Saarbrucken Garage
19.02.20 DE-Stuttgart Wizemann
21.02.20 CZ-Prague Club 007
22.02.20 AT-Vienna Chelsea
24.02.20 CH-Zurich Werk21
25.02.20 DE-Munich Backstage
26.02.20 DE-Berlin Maze
28.02.20 DE-Leipzig Bandhaus
29.02.20 DE-Hanover LUX
02.03.20 DE-Wiesbaden Schlachthof
About Mister Misery
Mister Misery is a four-piece metal band from the streets of Stockholm, founded in February 2018 by Harley Vendetta & Alex Nine. By blending high energy riffs with anthemic choruses and ripping guitar solos, they have managed to not only to create hype within the underground metal community, but also caught the attention of renowned founder of Nuclear Blast/Arising Empire, Markus Staiger, leading the band to sign a record deal with Arising Empire in 2019. In addition, Mister Misery has also signed with booking company Contra Promotion, housing bands such as Nightwish, Anthrax, The 69 Eyes and many more.
Unalive
Their brand new debut record Unalive reflects the emotions and struggles of a journey taken by the four members, including death, jail time, abandonment, drugs and poverty. Through every individual experience they've managed to turn that misery into something inspiring, and with that inspiration managed to pull themselves up from the dirt and give life to what they now call Mister Misery. The album title itself is inspired by their undead, vampiric look, depicting visually what it felt like for them to be metaphorically dead on the inside.
The future looks bright for these young metalheads and with a European tour starting October 10th to November 3rd they will end their most successful year so far.
"This would not have been possible if Markus Staiger and the amazing team at Arising Empire and Contra Promotions had not believed in the band as much as they have. We are all very humbled and excited to start this journey together with the Arising family and all these talented people around us"- says Harley, Alex, Eddie & Rizzy
With Unalive, Mister Misery shows their musical talent and showmanship right from the start of the journey, not holding back on anything. With their catchy choruses, insane writing and guitar composition, with elements from every musical genre known to man, they are starved for stardom and to show the world how metal and rock is still alive and kicking in the 21st century.
For more on MISTER MISERY, please visit the following:
https://www.facebook.com/mistermiseryband