Heavy-rock band LUCIFER is gearing up to hit the road for part 1 of their North American Headline Tour with special guests Spell. The tour will kick off in Atlanta on March 16th and will wrap in Boston on March 29th, hitting major markets along the way such as Chicago, Detroit, and Brooklyn. Fans can purchase tickets from any of the links below.
In anticipation of the upcoming tour, LUCIFER checked in with a tour update:
"We have had a great time on the road so far connecting with LUCIFER's friends and escalating the live beast," states frontwoman Johanna Sadonis. "We are itching to get out some more to bring the devil's music to as many corners of the world as possible. LUCIFER has just begun! Come, join the sabbath!"
The group, led by Johanna Sadonis and Nicke Andersson, celebrated massive success in 2018 with the release of Lucifer II, turning heads with their addictive Sabbath-ian hard rock. The album charted #40 in the German charts, #1 in the Swedish vinyl and hard rock charts, and #2 in the physical album charts. The record is still available on vinyl, CD and digitally HERE!
Following LUCIFER's North American headline tour, the band will join The Hellacopters for select European shows in May. Along the way, they will be performing at festivals like Sweden Rock, Metal Days, Beyond The Gates and more. They have previously performed at KISS Cruise, Psycho Las Vegas, Desertfest, Hellfest, Muskelrock, and Freak Valley, to name a few. For more information on upcoming tour dates visit the band's site HERE.
LUCIFER have commenced work on Lucifer III, which is set for release in early 2020. Stay tuned for more details on the forthcoming release.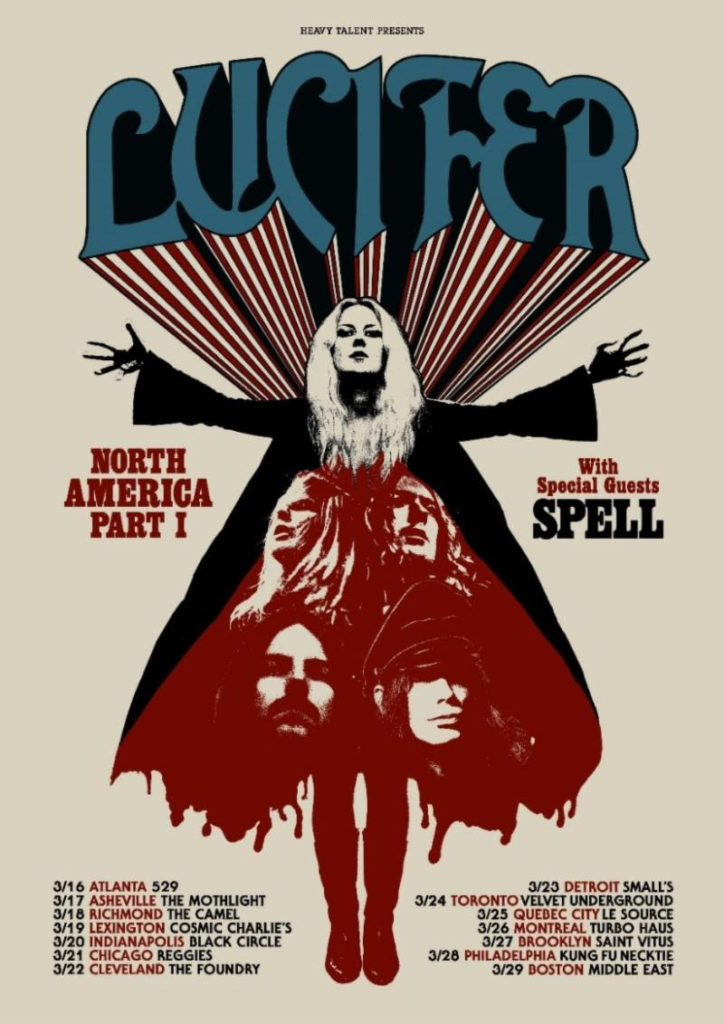 LUCIFER North American Tour 2019
w/ special guests SPELL
3.16. Atlanta, GA 529
3.17. Asheville, NC Mothlight
3.18. Richmond, VA The Camel
https://ticketf.ly/2Rpywqu
3.19. Lexington, KY Cosmic Charlies
https://cosmic-charlies.com/event/lucifer-w-spell/
3.20. Indianapolis, IN Black Circle
https://www.eventbrite.com/e/lucifer-tickets-54239581047
3.21. Chicago, IL Reggies
https://www.ticketfly.com/purchase/event/1810558
3.22. Cleveland, OH The Foundry
https://www.eventbrite.com/e/lucifer-spell-spellchucker-
3.23. Detroit, MI Smalls
https://lucifersmalls.eventbrite.com/
3.24. Toronto, ON Velvet Underground
https://www.ticketweb.ca/event/lucifer-spell-future-now-the-velvet-underground-tickets/9098615

3.25. Quebec City, QC La Source
3.26. Montreal, QC Turbo Haus
3.27. Brooklyn, NY Saint Vitus
3.28. Philadelphia, PA Kung Fu Necktie
3.29. Boston, MA Middle East
THE HELLACOPTERS
w/ special guests LUCIFER
5.13 – Cologne, Germany E – Werk
5.14 – Hamburg, Germany – Markthalle
5.15 – Berlin, Germany – Astra
5.16 – Copenhagen, Denmark – Vega
LUCIFER live
4.27 –Gävle, Sweden – Gefle Record Fair
7.9 – Tromsø, Norway – Bukta Festival
7.22 – Tolmin, Slovenia – Metaldays Festival
8.24 – Bergen, Norway – Beyond the Gates Festival
LUCIFER is
Johanna Sadonis – vocals
Nicke Andersson – drums
Alexander Mayr – bass
Martin Nordin – guitar
Linus Björklund – guitar
Follow LUCIFER