Globally renowned, chart-topping band DEVILDRIVER just released their full-length album of outlaw country-gone-metal anthems, Outlaws 'Til The End: Vol. 1, to impressive acclaim! In celebration of the album's release, DEVILDRIVER have announced an upcoming U.S. headline tour with support from Jinjer and Raven Black. The tour will kick off on October 23 in Phoenix, AZ and hit several major U.S. cities, coming to an end on November 18 in San Diego, CA. See below and www.devildriver.com/tour-dates for a full listing of dates:
DEVILDRIVER Tour Dates w/ Jinjer & Raven Black
10/23 – Phoenix, AZ @ Marquee
10/25 – Dallas, TX @ Gas Monkey
10/26 – Houston, TX @ Scout Bar
10/27 – Austin, TX @ Texas Revolution Fest
10/28 – Oklahoma City, OK @ Diamond Ballroom
10/30 – Louisville, KY @ Manchester Music Hall
10/31 – Cleveland, OH @ Agora Ballroom
11/1 – Rochester, NY @ Montage Music Hall
11/2 – Brooklyn, NY @ Brooklyn Bazaar
11/4 – Providence, RI @ Providence Metal Fest @ Fete Ballroom
11/5 – Poughkeepsie, NY @ The Chance
11/6 – Easton, PA @ One Centre Square
11/7 – Lancaster, PA @ Chameleon
11/8 – Harrison, OH @ Blue Note
11/9 – Flint, MI @ Machine Shop
11/10 – Columbus, OH @ Al Rosa Villa
11/11 – Chicago, IL @ Bottom Lounge
11/12 – Racine, WI @ Route 20
11/14 – Denver, CO @ Oriental Theater
11/16 – Los Angeles, CA @ The Whisky
11/17 – Sacramento, CA @ Holy Diver
11/18 – San Diego, CA @ Brick By Brick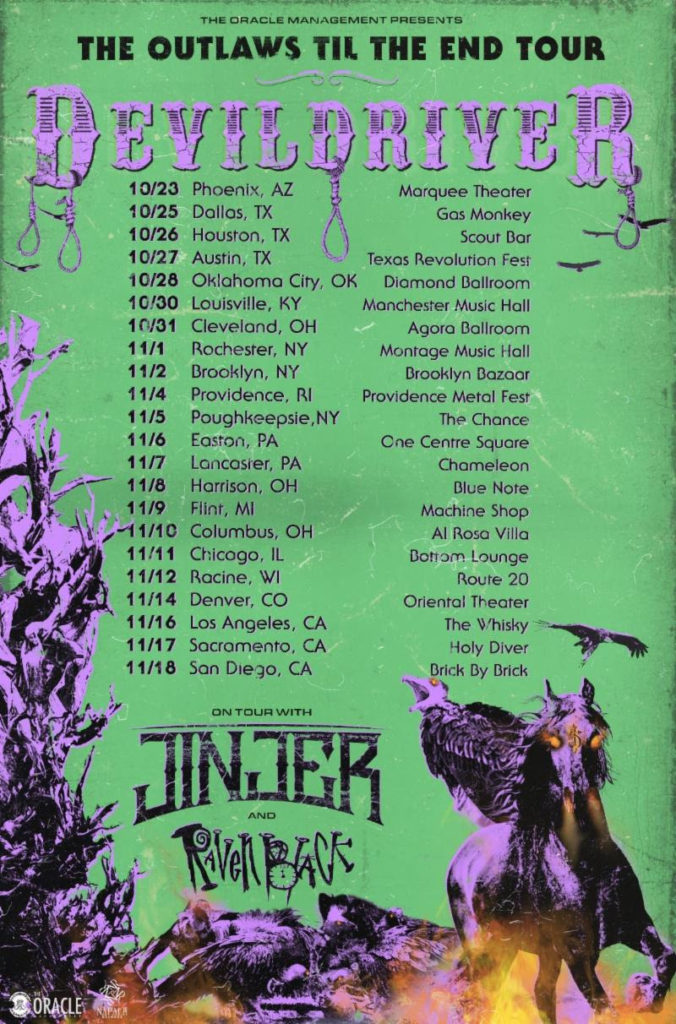 DEVILDRIVER frontman Dez Fafara says:
"It'll be well over a year since we last headlined a full tour when DEVILDRIVER returns in the fall… and on a number one metal charting record! We are bringing some special guests with us – our friends Jinjer will be joining from the Ukraine, and Raven Black as well. We have decided to do clubs in order to make sure this is a very close up and personal special event for everyone attending! Get your tickets now, this tour is going to sell out!"
Jinjer vocalist Tatiana Shmaylyuk says,
"It is hard to express how delighted we are to join the upcoming tour with mighty DEVILDRIVER this fall. Folks, be prepared for a devastating force on stage this October – November. Jinjer will come back to the U.S. with new songs, and our American fans will check them out live first. It is gonna be a hell of a tour!"
DEVILDRIVER's new album, Outlaws 'Til The End: Vol. 1, is available now in multiple physical (click "official store") and digital/streaming formats via http://smarturl.it/OutlawsTilTheEnd. Merch bundles are also available via the official store. Additional merchandise such as t-shirts, long-sleeve shirts, flasks, keychains, and more are also available here: www.indiemerch.com/devildriver/pre-orders
This just in – Outlaws 'Til The End: Vol. 1 has reached #1 on the Loud Rock radio charts! Upon release, the album charted in the U.S. at #2 on the Top Hard Music Albums charts, #6 on the Top Current Rock Albums chart, and within the Top 20 on the Top Internet, Overall Digital, and Top Current Albums charts. Outlaws 'Til The End: Vol. 1 charted at #8 on the Canadian Top Current Albums charts, as well as in the UK at #9 on the Rock & Metal Chart and #18 on the Independent Chart. The band also reached additional charting positions on the U.S. Billboard Top 200, and in Canada, Belgium, Germany, Switzerland, and Austria.
Check out DEVILDRIVER's music videos and lyric videos cut from Outlaws 'Til The End: Vol. 1 here:
– "Country Heroes" featuring Hank3:
– "Ghost Riders in the Sky" featuring John Carter Cash (son of country music legend Johnny Cash), Ana Cristina Cash, and Lamb of God vocalist Randy Blythe:
– "Copperhead Road" featuring Brock Lindow of 36 Crazyfists:
DEVILDRIVER online:
DEVILDRIVER is:
Dez Fafara – Vocals
Mike Spreitzer – Guitar
Neal Tiemann – Guitar
Diego Ibarra – Bass
Austin D'Amond – Drums
JINJER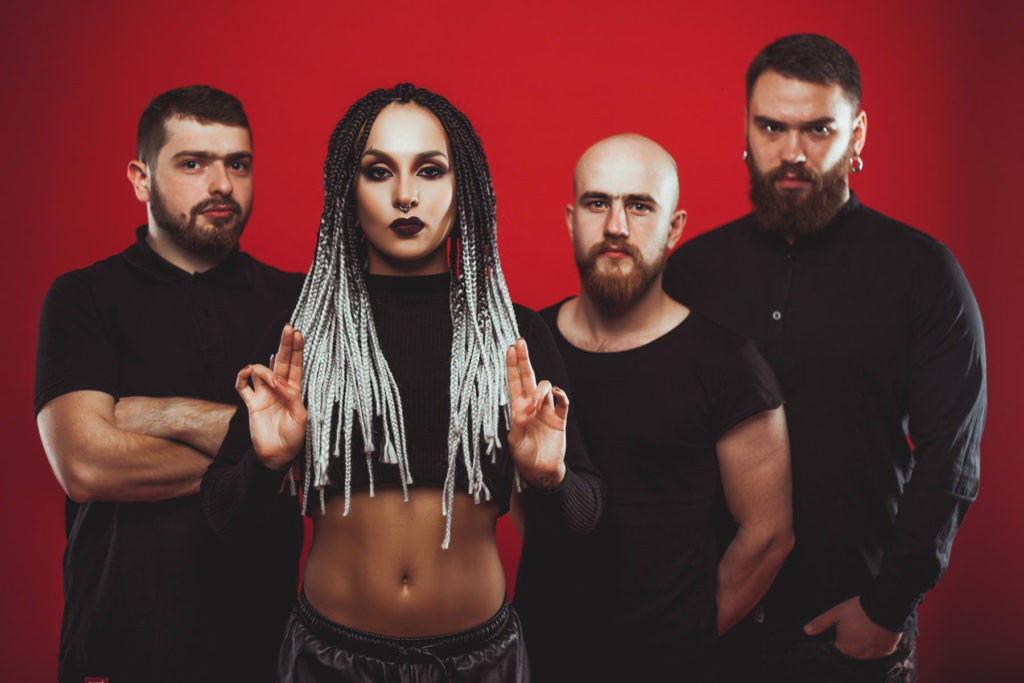 Through their unique and heavy sound, over the top live performances and the mesmerizing voice of singer supreme Tatiana, Ukraine based band JINJER have quickly become one the most talked about names in the heavy metal landscape today. Fresh off a short North American tour, that saw multiple sold-out shows and the band's first ever appearance at the Heavy MTL Festival, JINJER are set to return to the U.S. as direct support to DevilDriver.
JINJER
's groundbreaking second album "
Cloud Factory
" was re-issued in February 2018 via 
Napalm Records
. (
Order HERE
) The band is currently hard at work on new music, which should be released later this year!
Get a taste of JINJER live from the videos below: