The 31st of March was another chilly night in Halifax, but that didn't stop music fans from piling into Gus' Pub to catch the return of prog death metal titans Augury. It had been five years since the band ventured to the east coast, and fans were eager for their show and to hear the new album live.
The venue was already filling up when local openers Root Cellar took to the stage. This guttural five-piece has been making a name for themselves over the last two years, with bone-shaking riffs and a unique stage presence that includes donning some pretty grotesque handmade masks. Probably the most prominent of the bunch is sported by frontman Boarguts Mutilator, designed and crafted by guitarist Paul Beranger from Cottus. The name speaks for itself. Root Cellar ripped through their EP, Camp Blood, and delivered one hell of a performance.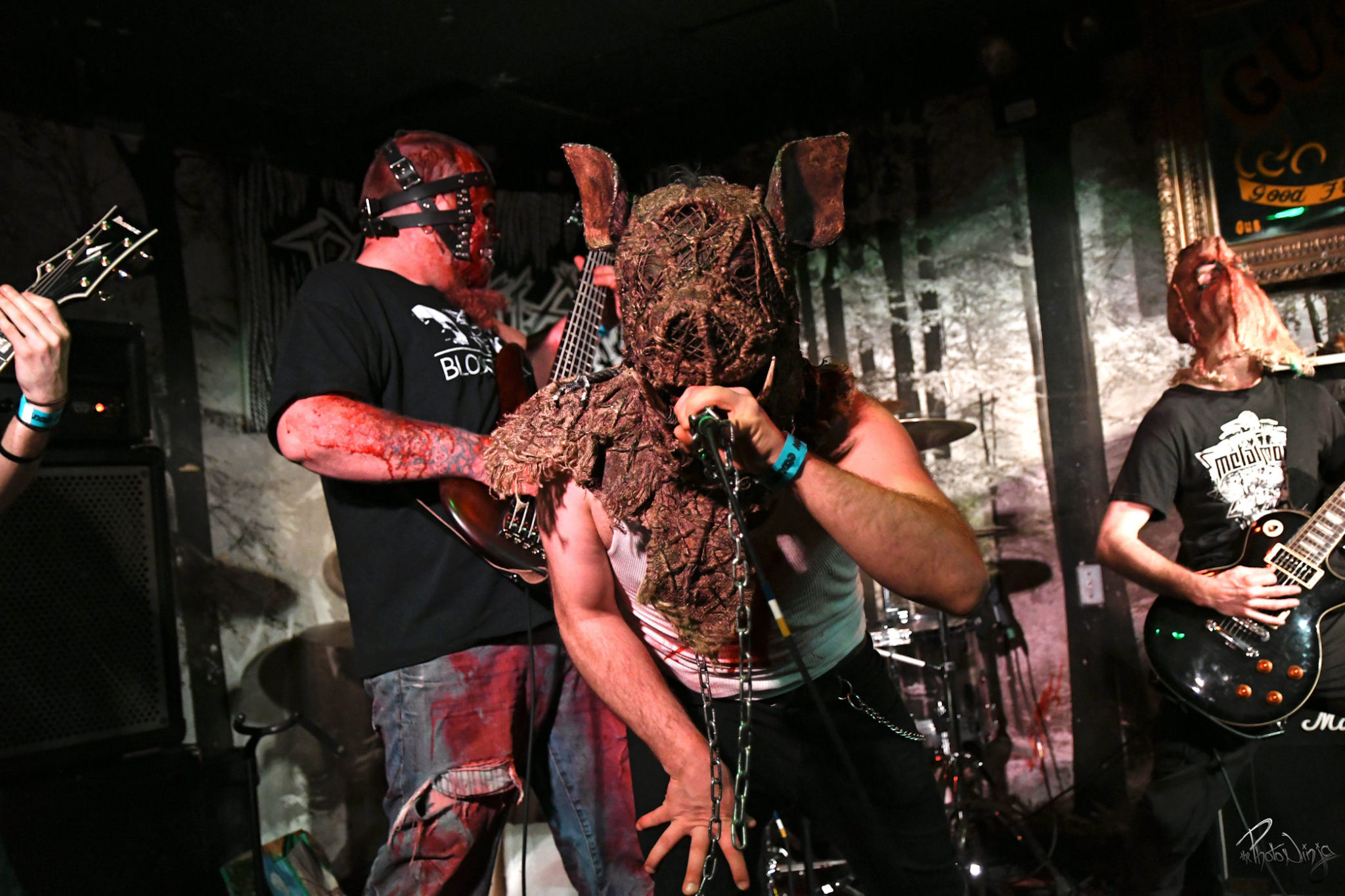 Up next were local legends Cottus. These guys are veterans of the heavy metal scene in Halifax, and while they don't play as often as they used to, they proved that they still bring us some of the best death metal this city has to offer. Cottus was the only band to turn off the stage lights to perform under black lights and are one of the only bands in the Maritimes that can use this kind of atmosphere effectively. With the unveiling of another handcrafted masterpiece dubbed "The Infernal Ammon Helmet", paired with the debut of their new song "The Gate That Leads To Other Realms", Cottus proves that they have no intention on slowing down. The band is currently working on its fourth release, set to come out later this year.
Unbeing graced our humble city two years ago and left a lasting impression. They're the kind of band that can fill Gus' Pub and have the whole room looking front and center. With their captivating brand of instrumental prog metal, Unbeing is certainly a force to be reckoned with. Fans got to hear a collection of tracks from their entire discography, such as "Octco8" and "Chuck Norris", with unwavering attention. The entire band is incredible to watch, with keyboardist Ludovic Daoust hammering out some of the most impressive keys licks that I've ever seen. The only thing missing from their performance was the presence of their legendary bassist Hugo Doyon-Karout, who was shredding in Ottawa with Beyond Creation at the time. I'm not usually a fan of bands using pre-recorded tracks to cover the absence of a member, but these guys made it work flawlessly.
When it was time for Montreal's Augury to hit the stage the crowd gathered tightly, beaming with anticipation for this long-awaited show. The audience not disappointed. Augury came out of the gate fiercely, astounding fans with their fast hitting, melodic-meets-progressive shredding that we've come to know and love. It took a few minutes for the mosh pit to erupt, but once it started there was no stopping it. The band played a cluster of songs from their newest album, Illusive Golden Age, that had been released right at the start of this tour. The legions cheered when they introduced one of their new songs, "Maritime", seemingly as a homage to us east coast hooligans that "survive the sea". Augury gave fans an impressive encore, with frontman Patrick Loisel jumping into the crowd with his guitar and getting bumped around the mosh pit by cheering patrons.
The entire show was excellent, with every band sounding like a powerhouse from start to finish. Aside from the incredible performances from everyone involved, this was largely in part due to the presence of Holland Audio Productions. Bryce Holland and Dave Burns are some of the best "for musicians, by musicians" audio engineers on this end of the country, bringing epic life to a band's sound that is often difficult to find on the smaller scale.
And of course, huge props are in order for Red Tentacle and Morbid Entertainment for hosting yet another successful show and for all the hard work they do for the local scene.