BURNING WITCHES Discuss the Concept Behind the New Album
BAND REVEALS HOW THEY CAME UP WITH THE CONCEPT FOR THE NEW ALBUM AND ARTWORK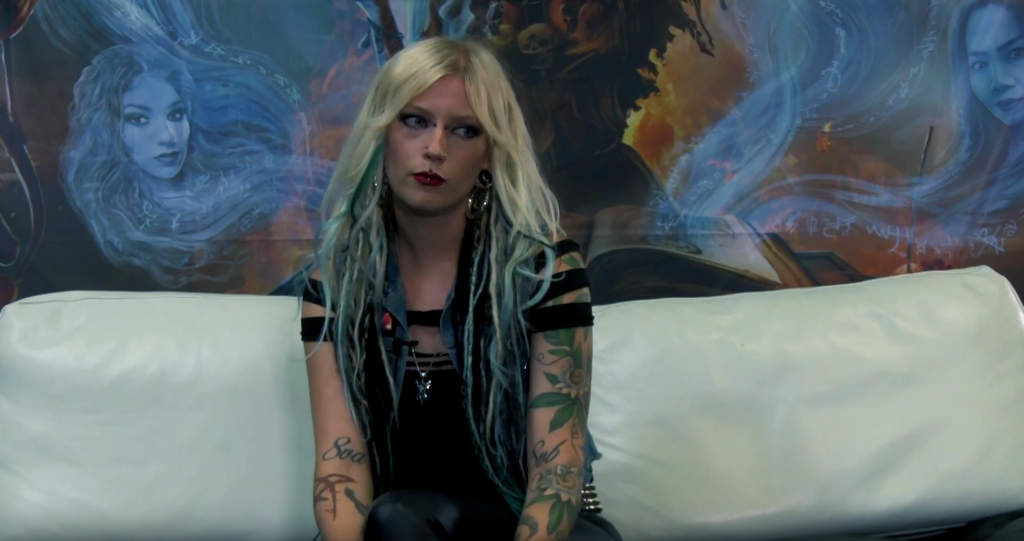 Burning Witches are not only the hottest export from the Alpine Republic, the five piece from Switzerland are also one of the most thrilling newcomers in old school heavy metal spanning the last few years. Their new album Hexenhammer will be released on November 9th and in a new trailer released today, the band reveal the how they came up with the concept for the new album and its artwork.
 *Subtitles are available for the German speaking parts – please enable on YouTube*

Hexenhammer was produced in the Little Creek Studio by the same team as its predecessor: V.O. Pulver (Pro-Pain, Destruction, Nervosa, Panzer) and Destruction legend Schmier, who also helped and advised as a close friend of the band. The result is a truly brilliant heavy metal album.
Watch and listen to "Executed" below:
Watch as the band reveal how it all started: *Subtitles are available for the German speaking parts – please enable on YouTube*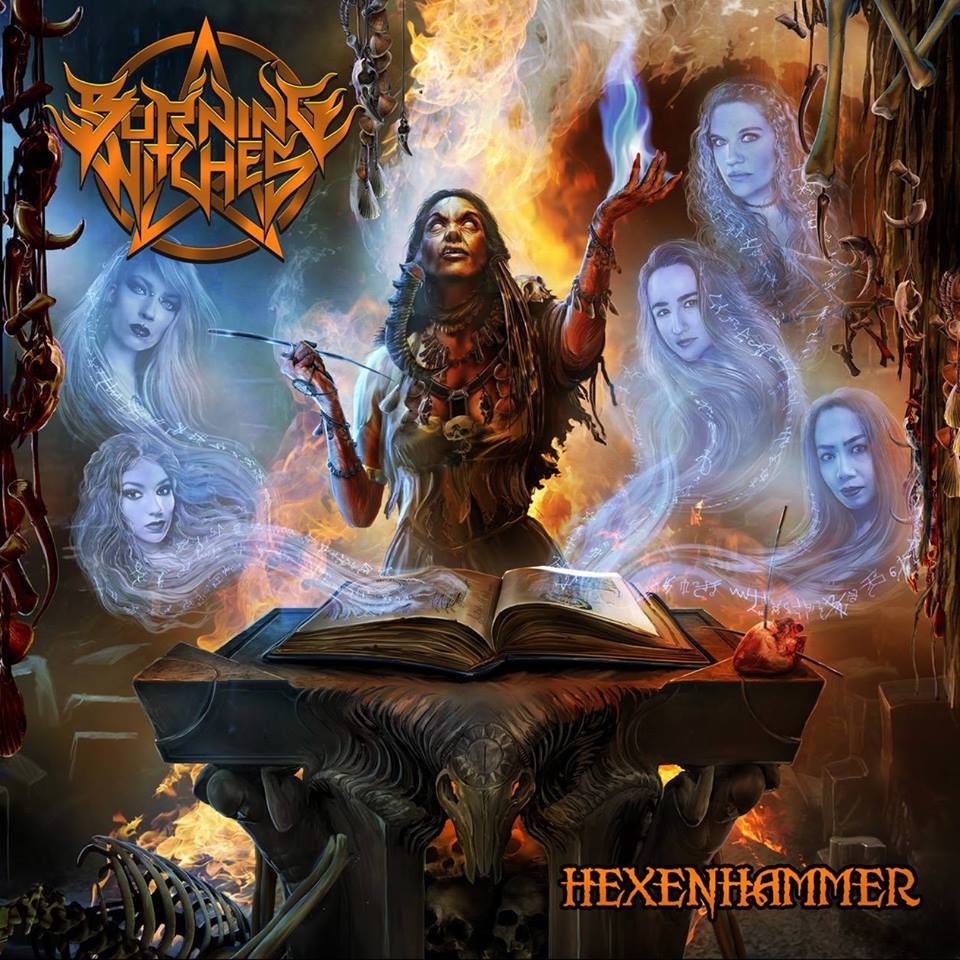 Hexenhammer Track-Listing:
The Witch Circle
Executed
Lords of War
Open Your Mind
Don't Cry My Tears
Maiden of Steel
Dungeon of Infamy
Dead Ender
Hexenhammer
Possession
Maneater
Holy Diver
Self Sacrifice
Don't Cry My Tears (acoustic)
The new album is now available for pre-order on a variety of different formats:
All formats: nuclearblast.com/bw-hexenhammer
Limited Digipack CD: nblast.de/BurningWitchesCD
Limited Edition Double Gatefold Black Vinyl: nblast.de/BurningWitchesVinyl
Limited Edition Double Gatefold Red Vinyl: nblast.de/BurningWitchesNBShop
Limited Edition Double Gatefold Blue Vinyl + poster: nblast.de/BurningWitchesNBShop
Digital album: nblast.de/BWHexenhammerIT
BURNING WITCHES live dates: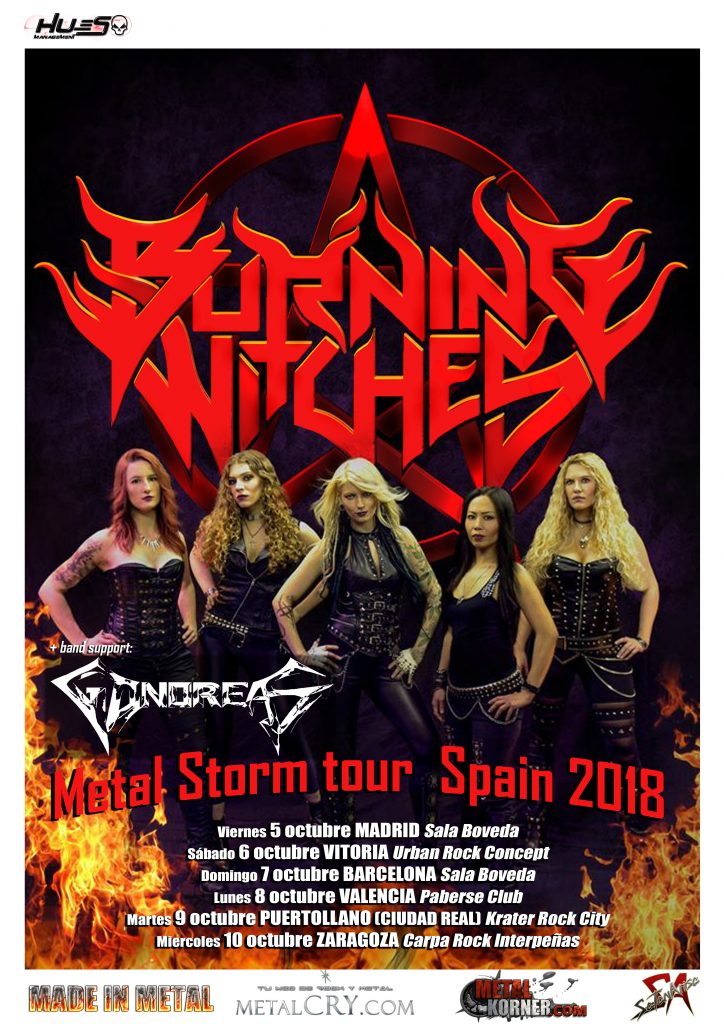 Metal Storm Tour 2018
w/ GONOREAS
05.10. E Madrid – Boveda
06.10. E Vitoria-Gasteiz – Urban Rock Concept
07.10. E Barcelona – Sala Bóveda
08.10. E Valencia – Paberse Club
09.10. E Puertollano (Ciudad Real) – Krater Rock City
10.10. E Zaragoza – Carpa Rock Interpeñas
14. – 21.10. E Mallorca – Full Metal Holiday
Album Release Show:
09.11. CH Brugg – Salzhaus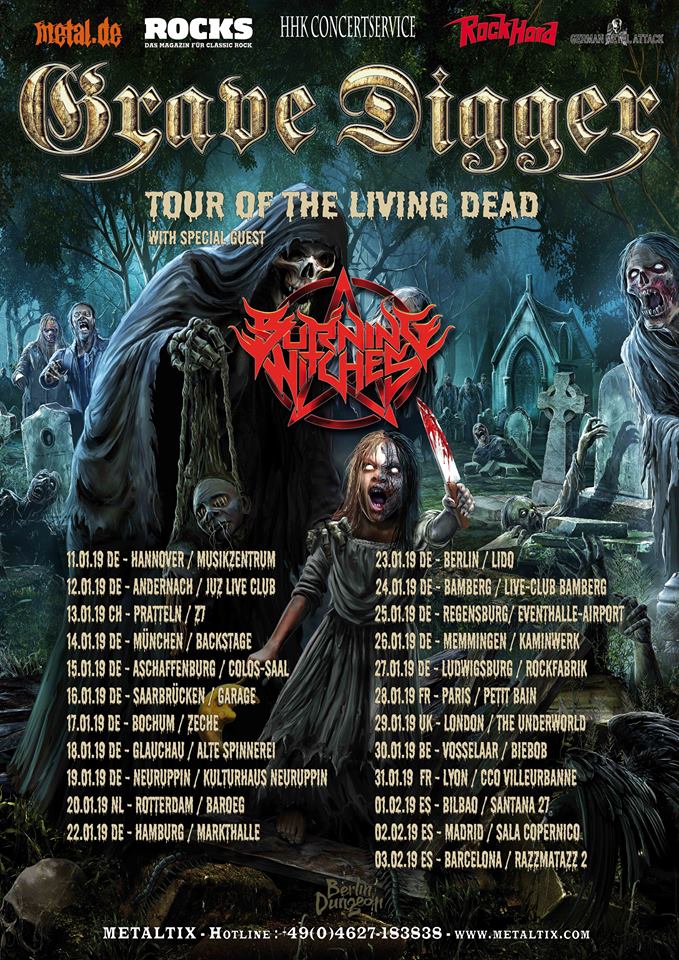 The Tour Of The Living Dead
w/ GRAVE DIGGER – presented by Rock Hard (D)
11.01. D Hanover – MusikZentrum
12.01. D Andernach – JUZ Live Club
13.01. CH Pratteln – Z7
14.01. D Munich – Backstage
15.01. D Aschaffenburg – Colos-Saal
16.01. D Saarbrücken – Garage
17.01. D Bochum – Zeche
18.01. D Glauchau – Alte Spinnerei
19.01. D Neuruppin – Kulturhaus
20.01. NL Rotterdam – Baroeg
22.01. D Hamburg – Martkhalle
23.01. D Berlin – Lido
24.01. D Bamberg – Live-Club
25.01. D Regensburg-Obertraubling – Airport-Eventhall
26.01. D Memmingen – Kaminwerk
27.01. D Ludwigsburg – Rockfabrik
28.01. F Paris – Petit Bain
29.01. UK London – Camden Underworld
30.01. B Vosselaar – Biebob
31.01. F TBA
01.02. E Bilbao – Santana 27
02.02. E Madrid – Sala Mon Live
03.02. E Barcelona – Razzmatazz 2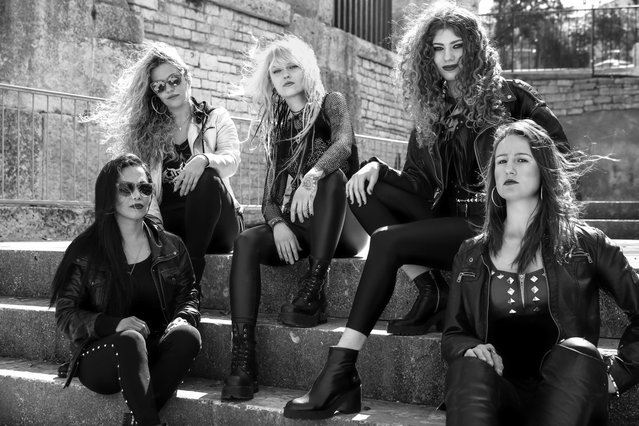 BURNING WITCHES are:
Seraina | vocals
Romana | guitars
Sonia | guitars
Jay | bass
Lala | drums
For more information on BURNING WITCHES, please visit:
https://www.facebook.com/pg/burningwitches666
Twitter: https://twitter.com/burningwitches