Owl Company – Horizon
Label: Independent
Release Date: July 14, 2017
I took a long time to write this review. Not because of lack of inspiration or time, but from a lack of confidence that I would be able to do this band or music the justice it deserves, but I am going to try. Once in a very great while you hear something that automatically peaks your interest and curiosity and you say to yourself….yessssss. This happens far too infrequently for me, but when it does, I get a jolt of excitement. When I first heard Owl Company, I immediately got that feeling. I kept wanting to skip ahead to hear the next song, but also wanted to hear all songs in their entirety. I had to slow myself down, take it all in, and know that there would be many more times I would be listening to this album.
Horizon is Owl Company's debut album, and what a debut it is! They are based out of Sao Paulo, Brazil and consist of band members: Enrico Minelli as vocalist, Felipe Ruiz on guitar, Fabio Yamamoto playing bass, and Thiago Biasoli bringing the rhythm on drums. They will be touring their first gig in LA on September 4th at the Viper Room. I spoke with Felipe and he was able to give me some background on Owl Company. They started at the end of 2014 with him (Felipe) and Enrico sharing ideas online. Enrico lived in L.A. at the time and moved back to Brazil. They decided to use these ideas to start a project, which developed into Owl Company. In 2015 the band came together but they were still missing one key element, a bass player. Fabio came on early 2017 and the band was complete. Felipe states their biggest influences are Black Sabbath, Led Zeppelin, Alice in Chains, Down, and Clutch.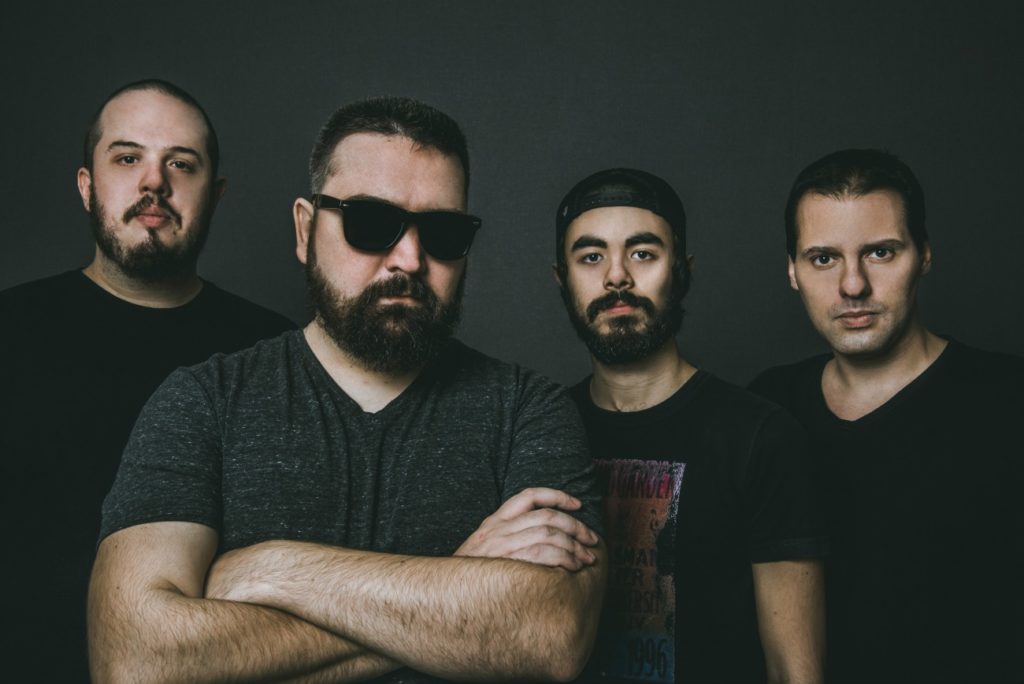 So let me set the scene, I was sent this album and told, this is right up your alley. The man sending me this knows I enjoy the doom metal/stoner rock genre immensely, some of my favorite bands come out of it. This also means I have listened to many bands from this genre, and while I somewhat like most, there are only a few new bands I get excited about. When I first started listening to track two, "Celebrate and Kneel", I was impressed within the first notes. Enrico's voice has the stoner rocker edge that is a big indication of what type of music you are listening to, but then, when they break into the chorus, his voice changes into this insane melodic singing, which is where I was completely sold. I then realized this song reminded me of a band that has been a favorite for years that included Jesse Leach from Killswitch Engage. They were called Seemless. I have never heard anyone else begin to mimic this kind of voice, so I was surprised and ecstatic. I continued listening eagerly, not wanting this new venture to end. When I got to the fifth track titled "Riddles", my excitement renewed. It starts with an almost, I cannot even put my finger on it, but I want to say a Native American feel. The rhythm is hypnotizing and impossible to not stomp your feet to. I found myself with my eyes closed listening intently. Track nine, "Caged Emotions" begins with haunting singing and lyrics that crush your soul. This is one of those songs that you listen to when you are having a difficult time in life and you feel you are not alone because this singer "gets it." It is beautiful, and emotionally driven, which makes this song well titled. I suggest you listen to the lyrics with an open heart and mind. The album ends with "Underdog" which begins with an incredible stoner rock riff. It is a powerful end to a perfect album.
With Horizon, Owl Company have deftly crafted a stunning debut that hints at a promising future. I HIGHLY recommend this band, whether you are a fan of this genre or not. If you want to see their first touring performance, once again, head to the Viper Room in LA on September 4th. As strong as their album is, I can only imagine how intense their live show will be!
Owl Company are:
Felipe Ruiz – Guitars
Enrico Minelli – Vocals
Fabio Yamamoto – Bass
Thiago Biasoli – Drums
WEBSITES
https://www.facebook.com/corujaofficial
https://www.instagram.com/owlcoband/
https://twitter.com/owlcoband
https://www.youtube.com/channel/UCeMx5FfDi3hUwbVMFiKauqw