Mortal Infinity – In Cold Blood
Label: Independent
Release Date: September 6, 2019
Contrary to my assumption, Mortal Infinity is no stranger to the music scene. Originally forming in 2008, and releasing their first EP only a year later, this band has been busting ass… In Cold Blood will be their junior LP since their inception. According to Bandcamp, this group originally formed within the city of Altötting (Bavarian Germany) They sought to sonically join their influences of classic 80's and 90's thrash with the styles of more modern extreme metal. This record will certainly make you surmise this.
Normally, I try to include tracks that I both like and dislike within these reviews to try and counteract my bias in any case. I had chosen the second: "Misanthropic Collapse" as my least favorite song on the album. However, after listening to it more than once it started to grow on me, as it's one of the catchier jams on the record. After coming to this conclusion, I came to another: there isn't a bad song on it! In fact, one more worth mentioning in this synopsis is ''Long Forgotten Gods''… it's a slower tune, but its composition does a good job of showcasing the band's influences in those other extreme genres mentioned earlier. It isn't the only one that does this though (see the final tune ''Ghost Ship Sailor'' for even more variety!) There's also an evil as sin organ cadenza at the end that works as a rad transition into ''Silent Assassin: Champion of War''.
''Dream Crusher'' and ''Devastator, Devastated'' are tied for being my favorite from the release. Both are heavy as hell in their ways. ''Dream Crusher'' has a lot of cool points of tension that resolve well into the faster sections, where ''Devastator, Devastated'' (along with several other songs on this LP) has some awesome riff work by Sebastian Unrath and Mark Doblinger that are sometimes reminiscent of Coroner's more prog influenced effort Grin. This is reflected again, in the composition. Both invoke seemingly ethereal elements in their note and style choices… Speaking of Coroner, I'm not sure if it's because Doblinger and Ron Royce are both German, but Doblinger's vocal phrasing at points reminds me of Royce as well. At the same time, he often has more of a gruff huskiness to his voice like that of Robb Flynn (Machine Head) It works in either case, so I digress…
The flavor of In Cold Blood will be familiar to some, but intriguing to both fans and newcomers of this outfit. Several spins are certainly recommended. After that, go listen to their other cuts. So far in my limited listening experience of them, you can't go wrong with Mortal Infinity. They're cranking out quality material on their own and I can do nothing but applaud and commend them. Go support this badass band by purchasing their records through Bandcamp HERE!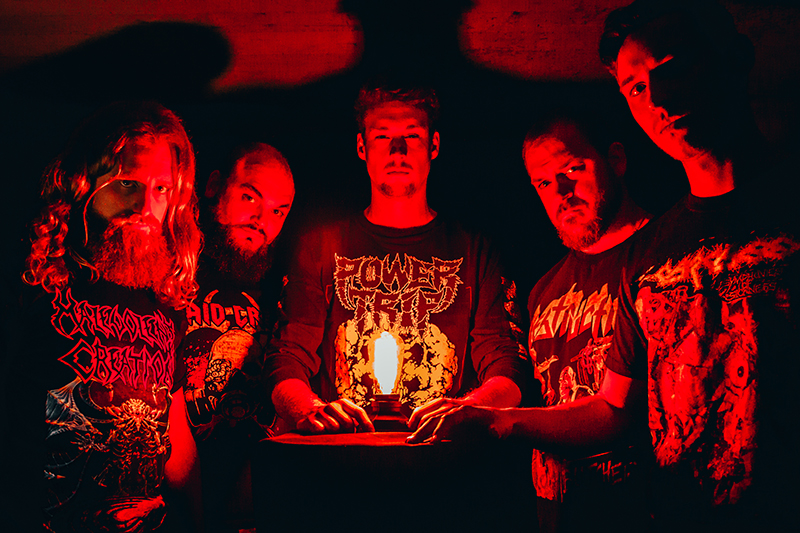 LINE-UP:
Marc Doblinger • Vocals
Sebastian Unrath • Guitar
Sebastian Brunner • Guitar
Alex Glaser • Bass
Adrian Müller • Drums
For more information on MORTAL INFINITY, please visit the following:
https://www.facebook.com/MortalInfinity