Mastodon – Emperor of Sand
Label: Warner Bros.
Release Date: March 31, 2017
You talk to any true music junky long enough and the conversation invariably turns to the significance of certain albums and the impact they've had in terms of shaping one's personal listening patterns.  In my experience, these sonic epiphanies are often tied as much to time and place as they are to the music itself, and my earliest encounter with this phenomenon was on a winter's day in 1991.  I was an impressionable young teenager at the time and up until that point, having grown up in a home devoid of MTV, my musical horizons barely extended beyond whatever happened to be playing on Top 40 radio.  But on this particular day, as I was traveling by bus to a basketball game through northern Wyoming's spectacular Wind River Canyon, I distinctly remember gazing down towards the river which parallels the road as I tried to process my first listen of Pearl Jam's Ten.  I remember being awestruck by the incredible power of Eddie Vedder's voice as it seared atop the powerful churn the rest of the band created, and even though I couldn't directly relate to the album's dire themes of betrayal and heartbreak, I felt a connection to the music unlike anything I'd experienced to that point.  It was that exact moment in which my deep affection for music (and flannel) truly catalyzed, marking the beginning of my long obsession with not only Pearl Jam and their contemporaries but also—in a larger sense—the unmatched high that music can deliver when it hits you at just the right time and in just the right place.
Ironically—and some 15 years later—it was on a lengthy road trip with my lovely wife to see Pearl Jam play a 2-night stand at the Gorge Amphitheatre when I had a similar experience.  I'd been experimenting with heavier music, having probably made it no further along the spectrum than Tool or System of a Down, when I happened upon a copy of Mastodon's sophomore release, Leviathan, at a Wal-Mart (yeah, times have changed) somewhere along our way to the middle of Washington State.  I remember listening to the album while sitting under a tree in a city park, on a rest break we'd taken from the road, and quickly realizing that I would never look at metal—or for that matter, music in general—through the same lens again.  Looking back, it's maybe a little surprising that Leviathan was the album that pushed me into the abyss because, musically, it was probably a little more "out there" than I was prepared for at the time.  But as anyone who has similarly experienced the album will tell you, Leviathan's true charm is its ability to transport the listener to another time and place via the powerful narrative thread that ties the whole thing together and, in that regard, Leviathan was truly a singularity in terms of shaping my ability to comprehend and appreciate music that existed on the fringe.  A few months later Mastodon would release the prog-metal masterpiece that is Blood Mountain and around that same time I saw the band play live for the first of many times since.  The hook was set very, very deep.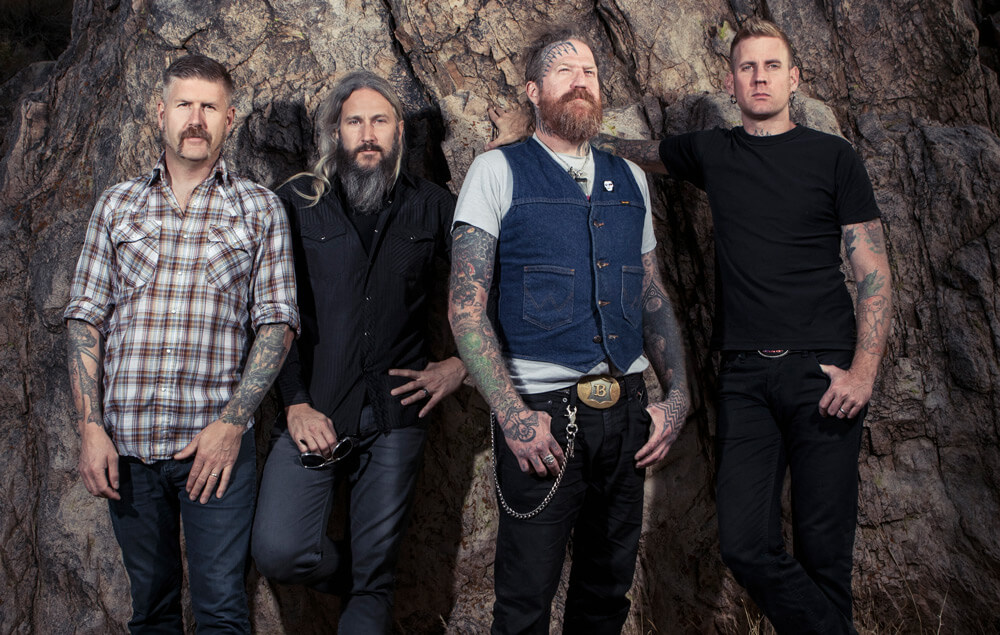 If you start with Mastodon's rugged debut, Remission, and plot their first 3 albums on some sort of graph, you'd definitely get a sense for the overall trajectory they appeared to be on but even then much of what they did on their 2009 magnum opus Crack the Skye came as a bit of a shock.  Everything from the album's trippy space-time concept to its obvious nod to prog and classic rock has been dissected thousands of times by now so I won't rehash any of that here, but there is little doubt that the album proved to be a watershed moment for Mastodon.
Rumor has it that the entire framework for Crack the Skye was the construct of guitarist/vocalist/wierdo Brent Hinds, who did the majority of the writing while recovering from a massive head injury (suffered in a fight) and under the influence of various pain killing medications—and copious amounts of weed.  Compared to previous albums, it was moodier and more sprawling, but probably the most telling sign that Mastodon's sound had undergone a permanent shift was the emergence of drummer Brann Dailor as the band's third vocalist, as his voice stood in stark contrast to the Ozzy-like shriek of Hinds and the burly rasp of bassist Troy Sanders.  In combination with Hind's soulful writing style, Dailor's cleanly sung vocal passages, brief though they were, pushed the band further away from the trappings of metal.  More than either of those things though, I would argue that it was the emotional burden of playing the entire 50-minute album from front-to-back (as they did at the beginning of each show, over the course of multiple tours) which had perhaps the most profound, albeit unintended, impact on the band's sound from that point forward.   As much as Crack the Skye was tailor made to be played as a whole, and as cool as this spectacle was to witness—especially with the accompanying visuals that were projected onto the stage backdrop—it seemed to grow tedious and somewhat stale for both the band and their fans by the end of the touring cycle.
Possibly as a result, both of Mastodon's next two studio albums—The Hunter (2011) and Once More Around the Sun (2014)—came off sounding more direct and less labored over than anything the band had written to that point and both felt more like loose collections of songs as opposed to the cohesive works fans had grown accustomed to, though they did appeal to a wider audience.  I'm not going to use the word sellout here, because I honestly don't believe it applies.  Mastodon has always understood the pitfalls of self-repetition and even if you view The Hunter and OMAtS as missteps, you'd have to admit that neither album sounded like mass-market capitulation, or desperate attempts at capturing the magic of their past.  Understandably, then, questions arose as to the direction Mastodon would take as they moved forward.
Put bluntly, Mastodon's seventh studio album, Emperor of Sand, is a stunning return to form.  It would be easy to point to the return of theme-driven writing as the main reason that this album sounds the way it does and certainly the return of producer Brendan O'Brien (who also produced Crack the Skye) should be noted as well, as he certainly brings a warmth to their sound that had gone missing.  But the biggest thing that sticks out to me on this record is the totality with which each of the 4 members of Mastodon deliver upon their respective roles within the band, affirming my belief that Mastodon has become the only band in modern music where each member is quite literally irreplaceable.  Go ahead and think of another example.  I'll wait.
The foundational bedrock upon which Mastodon operates has always been the supreme riff-writing ability of rhythm guitarist Bill Kelliher coupled with the otherworldly drum talents of Dailor—and both are on full display on Emperor of Sand.  Dailor is widely regarded as one the finest drummers in the world, but it's his emergence as a legitimate frontman that proves most impactful here.  Deployed mainly as a change-of-pace in the past, he's arguably the star of the show when it comes to the vocal aspect of Emperor of Sand, and it is largely due to his growth as a vocalist that Mastodon sound as rejuvenated as they do.
It takes nothing away from the awesomeness of Mastodon's pre-Crack the Skye material to point out that a lot of it relied upon dizzying cavalcades of guitar and drum, with riffs and fills seemingly appearing out of nowhere only to disappear just as fast, but Mastodon's more recent material has focused more on song craft—a trend which continues here.  And while the results were pretty uneven before, there is little doubt that Emperor of Sand finds the band fully at ease with songs that don't rely on overwhelming technicality or unrelenting sonic bombast to get their point across.  Kelliher still writes lethal riffs, but now they tend to be more deliberate and paced, giving each passage of the album the space it needs to fully develop.  As always, serving as the perfect counterpart to Kelliher's precise architecture is the one and only Hinds who is without a doubt one of the most genuinely fascinating figures in rock and roll.  Hinds peppers Emperor of Sand with his trademark vocals and off-kilter leads, including some of the best guitar solos he's unleashed since Crack the Skye.  Tying the whole thing together is the always venerable Sanders who provides a thunderous bottom-end and—as the band's most tenured vocalist—the most obvious link to the Mastodon of yore.
Sometimes it's the next chapter of the book that helps makes sense of the one before and, in that context, Emperor of Sand serves as validation for the band's more recent output mainly because it is hard to imagine this album being possible without the somewhat awkward deviations they took after Crack the Skye.  Put another way, Emperor of Sand doesn't necessarily walk back on the direction they took on their last two records so much as it runs that era through the gauntlet of their past, resulting in an album that is perhaps a perfect amalgam of the elements which make Mastodon one of the finest bands of their generation.
My favorite albums have always been the ones that end up being much greater than the sum of their individual parts, as Emperor of Sand most definitely is.  And in the same way that my most memorable experiences with these pieces of music are often tied to specific moments in life, I imagine that to also be true for the musicians who create them.  Clearly Mastodon has once again tapped into that energy on Emperor of Sand and, in doing so, crafted a listening experience which reminds me of what made them so special in the first place.