Killer Be Killed- Reluctant Hero
Record Label: Nuclear Blast
Release Date: November 20, 2020
Take four incredible musicians, throw them in a jam room, and see what happens. Now take three of those musicians, with entirely different vocal styles, and tell them all to do vocals on the same album and project. I swear it is some kind of voodoo magic, because it doesn't seem like it should work, but it absolutely does, and it is impressive how well they blend together. Killer Be Killed demonstrated this phenomenon on their debut album, and they have mastered it again with their sophomore album, Reluctant Hero. This record has been in the making for four years, and the reason was simple; they wanted to all be in the same room, work together, not do the virtual thing. They are good friends, it was a pretty damn great excuse to get together with friends and just happen to create a musical masterpiece, yeah I said it. I haven't listened to it over 20 times in the last couple of weeks to turn around and call it mediocre.
Originally started is 2011, Greg Puciato vocalist for Dillinger Escape Plan, and Max Cavelara vocalist and guitar player for Sepultura, Soulfly, Cavalera Conspiracy, ran into each other at a benefit show for Chi Cheng from Deftones after Cheng's accident. They discussed starting a new project and needed a bass player. Troy Sanders of Mastodon told Greg he was up for the task. Dave Elitch drummer for The Mars Volta also joined in, and they had their four. They released their eponymous first album in 2014. Since then, Elitch has dropped off due to time constraints and Ben Koller from Converge was quick to take the drumming spot for the second album. After that, they started working on their new album, and, well, they nailed it.
"Deconstructing Self-Destruction" was the first single released. The beginning lyrics set the scene for 2020, even though it was written before the madness. "I close off the madness, black out the unseen". Troy and I discussed this among many other things in our recent interview. This is the introduction to what Koller was going to bring to the table, and if you know anything about him as a musician, you won't be surprised to hear the incredible drumming all throughout. The guitar chugs are appealing to the ear, as the multiple vocalists take their turns at the mic with confidence and ease.
"Dream Gone Bad" was their second single off the record. Sanders mentioned how this was a Cavalera riff originally and Max thought it might be too simple for what Killer Be Killed was doing. They decided to run with it, and it became one of Sanders favorite songs they have done. It is extremely catchy and gets stuck in my head constantly. "Never too late, time to turn it all around", what a beautiful lyric.
Track three, "Left of Center", is one of my favorites on the album. The shifts from vocalist to vocalist is ever changing but so smooth. The riff in the chorus is distinct and energetic, Koller's drum fills are eargasmic, and the trade-offs near the end with the vocals are captivating. It will be a favorite for many I assume. Moving ahead to song four, and last released single, "Inner Calm and Outer Storms". I get a Deftones type feel with this track in the beginning. When Sanders takes over vocals, it throws a different mix, then Puciato brings the Deftones feel again. It is a great balance. The heavy change in this track is a powerful shift that is welcoming. I really dig the drums in the beginning that lead into the bass lines. Sets a nice pace.
"Filthy Vagabond" has a complete Motorhead feel to it in every way. This was a question presented to Sanders in the interview due to the intense feeling I got of a Lemmy homage while listening to it. It is thrashy, aggressive, and fun. Lyrically the members each took a verse to discuss life on the road, the tour life. "Don't tell me, what you think of who I should be". Good advice. There is also a couple of great little solo's snuck in there. This song has a very full and luscious soundscape.
"From a Crowded Wound" is the longest song on the album, but it doesn't feel like it is. It begins with a chugging guitar riff as the drums join in. This track has a strong Alice in Chains vibe. The harmonizing has that familiar AIC feel and it consistently paints a beautiful yet melancholic picture. When Greg sings out, "The dream of your life is not meant to know", my heart skips a beat, it is a beautiful lyric and he sings it lovely. Max jumps in and does what Cavalera does with the vocals, absolutely kills it, as Sanders interjects at the most opportune time. It is a great mix of vocals in a short period of shifting, and it fucking works. The music takes a heavy turn about five minutes in, and it hits like a ton of musical screaming bricks, right into the heart of the listener.
"The Great Purge" starts with angelic-like singing and fluctuates to another Koller special as his drums take over the song all the way through. This is another favorite, it is so incredible. There are many transformations with this one, with captivating transitions. My soul soars with the flow through all the changes, and it feels at home, even with the lyrical content calling attention to some distressing humanity issues. The guitar takes you on a journey, almost as if far away and looking from the outside onto the rest of the world. Over three minutes in, and the heaviness takes over again for the last minute of the song.
On "Comfort from Nothing" the beginning riff reminds me of Anthrax, but quickly shifts as Troy amplifies his vocals. I really love the lyrics in this one, "Keep falling backward, land on your feet. Still running faster, refusing defeat". This one is steady rocking all the way through. "Animus" is the shortest track and it is straight in your face thrashy. Koller kills is on this song too.  He is highly underrated.
"Dead Limbs" has a quick and heavy start. Every instrument has a fast composition which creates an intense soundscape. It is another favorite, which by this point I might as well just admit to myself that every song has the capacity to hold that position in my mind. It is twisty and turny and fierce with a melodic chorus, yet still remains brutal. I felt exhausted in the best way, looked down, and saw I was only two minutes into the almost five minute song. A little after the two minutes, it slows the tempo down and creates a mesmerizing vibe. A minute later, those guitars, bass lines, and drums pick right back up and smash you in the face.
The album ends with the title track, and I rarely make it through this one without tears. It is a completely different vibe, but it is perfect where it fits and is an admirable ending to an otherworldy album. Sanders wrote this as a letter to his close friends he has lost, and it is done so incredibly well, you feel it. As I write this, I am both nervous and excited to hit that play button again as I write my thoughts while it plays in the background. It begins with a melodic guitar rhythm that sets the tone for the heartbreaking journey they are about to take you on. Sanders states this is a thank you and a show of appreciation for these friends. His vocals are steady and on the same vocal pitch until about three minutes in, and his tone takes on a familiar Sanders intensity, and again, it drives through the soul. When Greg takes over, it takes on a whole other level of emotions. I don't know how they made this song so insanely powerful, but I sit here, tears streaming down my face, and I know how special it is. Not only for Troy, not only for the other musicians, not only for his fallen friends, but for many who will hear it and feel that familiar feeling of losing someone you love. I simply cannot put into words what this track truly is. An album is made to be played from beginning to end with songs placed for a purpose, but if you are one of the few who won't take the time to do this, at least listen to this last song.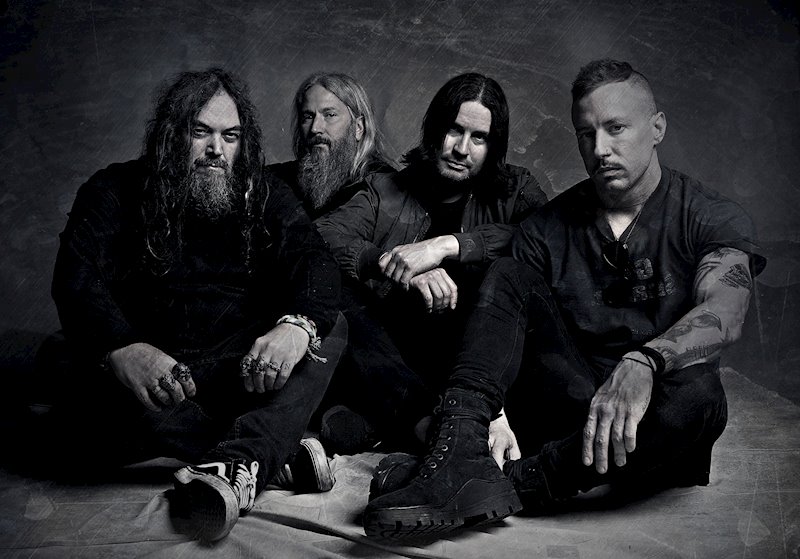 As I am sure it is clear, this album did a number on me, and continues to the more I listen to it. It will be a constant on my turntable once the physical copy comes in, and it will stand the test of time, I have no doubt. Sometimes supergroups don't work out very well, Killer Be Killed is not one of those groups. Their close friendships are apparent, and their love for what they do shines brightly in this project. It is an absolute must have.
Make sure you support our musicians as best as you can during this difficult and trying times. We need music, it keeps us sane when we are struggling, and these bands have taken a huge hit this year with not being able to tour. Make sure you support them by buying merch, albums, sharing with your friends etc. Keep the music alive and take care of them like they always take care of us.
Check Killer Be Killed out at:
https://www.killerbekilled.com/