Label: Independent
Releases: Feb 3 2018
According to Heavy Metal historian Ian Christe, one of the key elements that make any given song or band Metal, are dark lyrics. Additionally, metal is an inclusive genre, with sub-genres based off of any music or theme us crazy metal-head musicians might be into. Turns out, metal influences other genres as well, as Johnny Nocash and The Celtic Outlaws' excellent self titled EP is a folk album, with a Heavy Metal soul.
Band leader Johnny Nocash affirms:
Everybody in the band likes Metal, I'm the one who tries to reign them back to a brutal outlaw country sound.
"Pagan Dance" opens the album as an opener should; a well written song that builds up, marches, and crescendos into a satisfyingly ethereal climax, a sonic osmosis of what a pagan dance would sound like!
The lyrical content connects well with my own philosophy, and "Dagger Road" exemplifies existential nihilism; another song that builds up, it feels honest and personal, and any touring musician can relate.
Cory Hofing lays down a great beat for this track, and despite being an upbeat party sort of song, "Dying Day", as the title suggests, is more of a war cry; a scream for the hardworking artist with barely any recognition, yet still finds determination. Memphis Raines' (lead electric guitar) sounds great on this song, and his tone is sharp and crisp throughout the whole EP.
In the "Deep Rest" the singer showcases his strong voice, while once again delivering a nihilistic message, and overall makes me wish for a Nocash led metal band. Also, there's something oddly satisfying in Cory's steady half time triplet kicks in the middle of the song.
The bonus track "Love Song" is absolutely hilarious, chronicling one man's promise to his love, proclaiming in the chorus 'when I'm dead and gone baby, I'm coming back to haunt you'!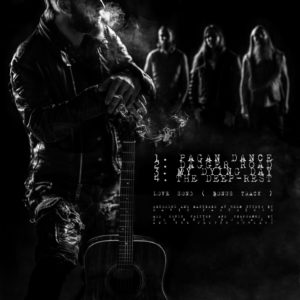 There is a songwriting style to the band, one they seem to have mastered, with highs and lows, and plenty of contrast. Recorded at Helm Studio by David Partridge, and having listened to the album on my phone, on good speakers, and on headphones, the production sounds great, crisp and bold. The songwriting is strong enough, however, in conjunction with the excellent production sound, this album is an easy sell.