Album Review: ANVIL – Pounding the Pavement
Anvil wins the award for persistence with their 17th release.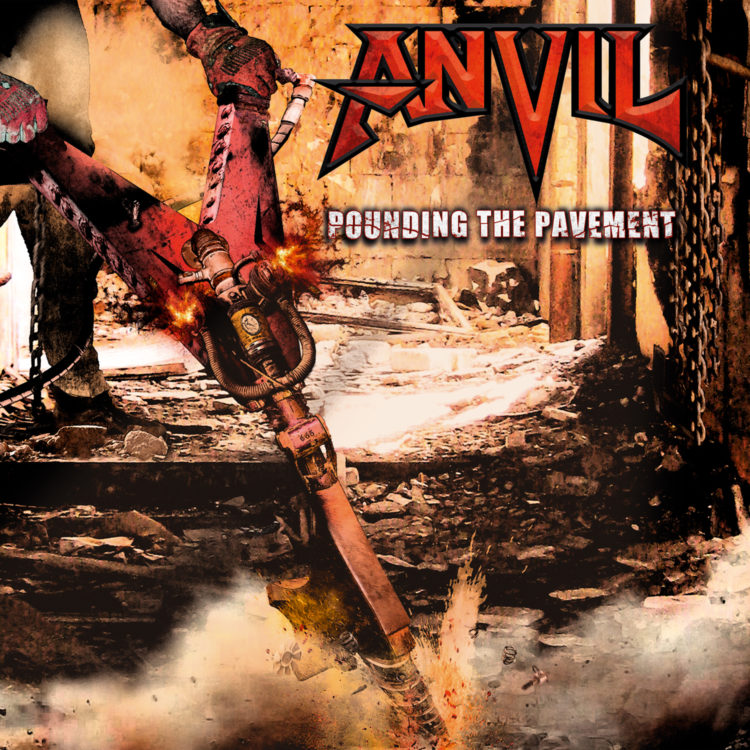 Anvil – Pounding the Pavement
Label: SPV/Steamhammer
Release Date: January 19, 2018
Being Canadian I've always had a soft spot in my heart for Anvil. Perhaps it's the memories of cruising in my '67 Pontiac Parisienne in the early '80's blasting Metal On Metal to a wary and unsuspecting world. Or maybe it was the interview I did with Lips a couple of years ago hot on the heels of the band's appearance at 70,000 Tons of Metal. Whatever the case, when a new Anvil album is released I truly want to like it and that task has proven difficult at times, especially with the previous two releases. That's not to say that either is a bad album, but neither were as good as they could have been with too many filler tracks in the mix. In fact, if you go back through the band's catalog over some 40 years this seems to be a recurring theme. Each Anvil album gives fans a handful of excellent tracks but surround them with ones that can be rather pedestrian and with each release I pray that THIS will be the one that's all killer and no filler. How does Pounding the Pavement stack up in this regard you ponder?
Things get off to a promising start with "Bitch in the Box", an amusing nod to the frustrations inherent in using GPS technology. If you've ever driven around a city that you don't know well and been subjected to multiple "recalculations" then this song will definitely resonate. This is followed by what is perhaps the best track on the album, "Ego", an up-tempo rocker that brings to mind stories of an early '90's Axl Rose inflicting his man-baby behavior on fans and band-mates alike.
Other highlights include "Rock That Shit",  a metal take on the 1950's sock hop that leads one to wonder what might have happened if Danny & the Juniors ("Let's Go to the Hop") had smoked some killer reefer and turned up their amplifiers too loud. "Warming Up" is another up-tempo track that is a lot of fun as a mindless headbanger that may lead to spontaneous chair-moshing. Next up the highlight category is "Smash Your Face" a happy little anthem which is actually an ode to heavy metal that smashes you in the face rather than enacting violence upon someone. Finally, there's the title track, "Pounding the Pavement", an excellent instrumental that seems somewhat out of place here but has some of the album's best riffs and leads.
So let's take stock in aid of answering our "all killer no filler" conundrum mentioned earlier. Out of a twelve track album we have 6 highlights. But what of the other six tracks you ask? With the possible exception of "Nanook of the North", which I didn't enjoy at all, the rest of the album is listenable but unremarkable. It's not like half of the album is great and half is terrible, it's more simply a case of using too many standard riffs that have been played over and over in metal and hard rock for decades. BUT, you may wish to take that statement with a grain of salt because there is another school of thought that says it is what it is and the question is, does Anvil do it really, really well? The answer to that is yes so should we damn a band for sticking to what they do? On the other side of that question lies a band like Machine Head whose upcoming Catharsis album is taking a shit-kicking from reviewers for NOT being Machine Head, so the answer is purely subjective.
Will Pounding the Pavement catapult Anvil to a higher stratosphere in the metal spectrum? Not likely, there's just too much here that we've heard before. But it is what it is and Anvil fans will find Pounding the Pavement to be a satisfying romp. I'm just not convinced that it's going to garner them a legion of new fans.
Reverend Rock is host of Too Metal For Church, Mondays and Fridays from 11 a.m. to 3 p.m. (GMT -5)