Ancestors – Suspended in Reflections
Release Date: August 24, 2018
Label: Pelagic Records
For the uninitiated, or for anyone who is only familiar with their debut Neptune with Fire, Ancestors specialize in what I will begrudgingly admit can best be described as "post metal".  I say begrudgingly because in the era of the ever-expanding genresphere, "post" has to be the most annoying genre modifier of all because it really doesn't mean anything while at the same time managing to sound oh so pretentious.  At any rate, Ancestors have probably trended closest to the psych, doom, and ambient ends of spectrum metallum, putting them in the good company of bands like Isis, or maybe even Neurosis.  If you are familiar with them then you might be shaking your fist at the screen and saying "No, man, you've got it all wrong!", but then you also understand the challenge in describing their sound—saying nothing of their artistic growth over the years.
I think it was probably early 2011 when I first discovered Ancestors.  I can't remember who or what website clued me to their existence, but I remember a generous swath of time where pretty much all I felt like listening to was their trippy sophomore album Of Sound Mind.  Shortly thereafter, the band released a 3-song EP entitled Invisible White followed by their mind-bending 2012 offering In Dreams and Time.  And then…things kind of fell silent as life—keen as it to do so—got in the way of further progress from the band.  Now here we are about two-thirds of the way through 2018 and Ancestors have just fired off one hell of a returning salvo with their latest album entitled Suspended in Reflections.
In the 6 years since their previous release, the band has shrunk from 5 members to just three—guitarist/vocalist Justin Maranga, pianist/organist/vocalist Jason Watkins, and drummer Daniel Pouliot—and it only really takes a listen or two of Suspended in Reflections to understand that the main benefit of this paring down comes in the form of absolute and unwavering focus across the album's six tracks.  Call it addition by subtraction, or whatever, but whereas Ancestors' past albums appealed to me largely due to the varied and tangential nature of their sonic meditations, Reflections is both effective and captivating because of its singular focus.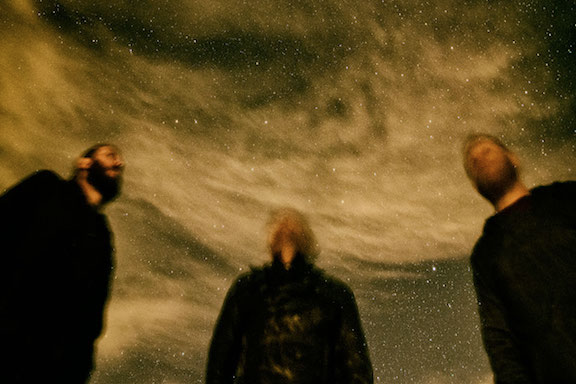 The album opens with the weighty, dreamy one-two punch of Gone and Through a Window, songs which just sort of plunge the listener into the surreal & melancholy world that Ancestors have created, and it never really lets up from there.  Reflections isn't all that heavy in the classic sense of the word, but it's thick & enveloping all the same.  As I alluded to earlier, Ancestors' earlier work appealed to me when it was at its most frantic—those moments when the band's mellow churn exploded into wild & cacophonous guitar-driven delights.  Indeed, Maranga colors Reflections with a number of memorable guitar passages, but he by no means dominates the proceedings and one could argue that the beating heart of the band's refocused sound is found in the warm bass lines and expertly deployed keys—particularly the pipe organ that makes it presence known throughout—which underpin the album's lumbering song structures.  Reflections still sees Ancestors taking abrupt turns within their sound—and it's in those moments that the album shines brightest—but rather than use those moments to sonically overwhelm the listener, Ancestors use them to let everything fall apart, revealing the true beauty of their sparse and unsettling compositional acumen.
For a lot of bands, a 6 year wait and the loss of several members would likely spell trouble, but it appears to have had the opposite effect on Ancestors.  Suspended in Reflections is an astounding album and a fantastic example of the power of a 3-piece band whose members are in complete lockstep with one another in terms of talent and vision.  Here's hoping we don't have to wait another 6 years to see where they plan to take us next.