LA Based Heavy Metal Band WORLDWIDE PANIC has released the Diego Gonzales directed official music video for their newest single, "Party."
In my perspective it was a challenge to us as a band as well as in respect to finding a director. There are no shortages of videographers and directors in Los Angeles County. I know a lot of great ones that are total visionaries and could have easily shot this video and it would have just been another day at the office for them and I didn't want that. I wanted to find someone who had the same passion for the song that we had. The moment I spoke to and met with Diego and showed him the song and saw his reaction we immediately started storyboarding with each other. It was not an easy task to complete in any regard. We wanted something extremely specific that was based on true life events that occurred in my life. Finding the actors, booking a sound stage, finding a crew, getting props, and be lengthy processes to deal with. A week to the date, Worldwide Panic, myself and Diego spent four hours at a professional soundstage filming the band performance and that weekend we had casted the actors who take this dream and turn it into a nightmare. The scenes portrayed in this video most actually happened to me. It is still difficult for me to watch this and not feel empathy for the actor on screen. I could not believe that those things happened to me in real life and now I am where I am living a happy fulfilling life. I think the rawness captured in this video encapsulates many life lessons I had to learn the hard way. Even with the dark subject matter of the song and video I like that it is done in a fun way and makes something that was very painful entertaining and fun and teaches people to avoid the many pitfalls that exist in society. It is with great pleasure I present, Party!" – Lane Steele (Bass / Vocals)
"On this track we had the pleasure of having my good friend Aaron Nordstrom help produce the vocals. He had this to say:
I've known Lane Steele for many years since we were in school together. I've seen him evolve and work very hard for awhile and find his voice as a musician. I had the pleasure of working on the song "Party" and enjoyed it very much. It was a smooth workflow and resulted in a great song. Take a listen and be sure to catch them on the road with Flaw this fall." – Aaron Nordstrom (Gemini Syndrome)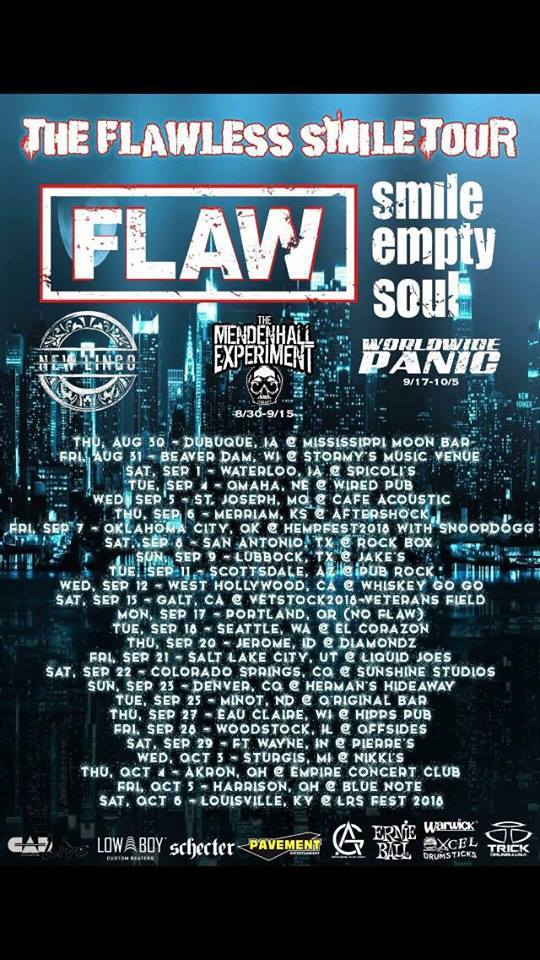 WORLDWIDE PANIC will also be joining FLAW, SMILE EMPTY SOUL, and NEW LINGO on THE FLAWLESS SMILE TOUR!
Tour Dates:
09/17 @ Paris Theatre – Portland, OR
09/18 @ El Corazon -Seattle, WA
09/20 @ Diamondz Event Center – Jerome, ID
09/21 @ Liquid Joes – Salt Lake City, UT
09/22 @ Sunshine Studios – Colorado Springs, CO
09/23 @ Herman's Hideaway – Denver, CO
09/25 @ Original Bar & Nightclub – Minot, ND
09/27 @ The Playhouse – Eau Claire, WI
09/28 @ Offsides – Woodstock, IL
09/29 @ Pierre's – Ft Wayne, IN
10/01 @ The Forge – Joliet, IL
10/03 @ Nikki's – Sturgis, MI
10/04 @ Empire Concert Club – Akron, OH
10/05 @ Blue Note – Harrison, OH
10/06 @ Diesel – Chesterfield, MI
10/07 @ Nightshop – Bloomington, IL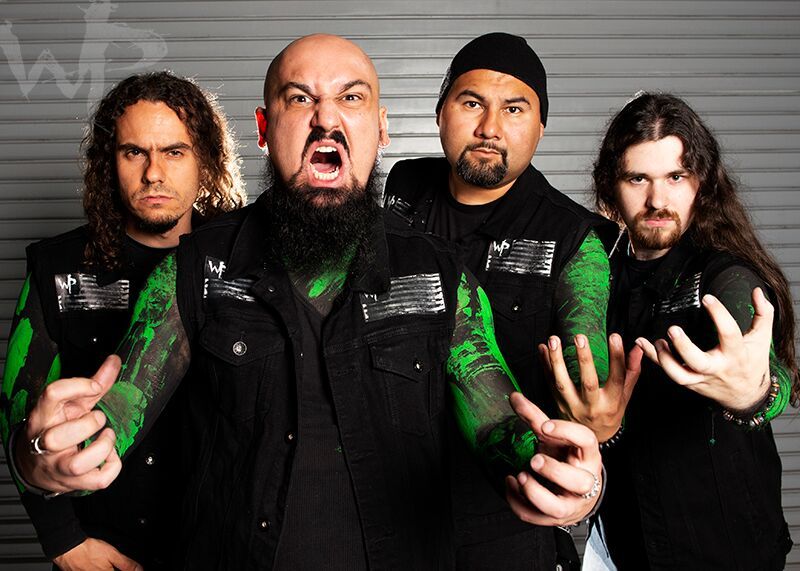 Band Line Up:
Francis Cassol (drums)
Lane Steele (lead vocals / bass)
George Gutierrez (rhythm guitar)
George Patmas (lead guitar)
Based out of Los Angeles, Worldwide Panic is a hard rock/heavy metal band that started out in 2016 with the aim of writing heavy, catchy music and personal, meaningful lyrics. In a world mired with social and political controversies, Worldwide Panic offers a more relatable take on everyday life and overcoming the trials and tribulations the common man faces. With a songwriting approach that focuses on a mix of clean and aggressive vocals and a guitar-driven sound, Worldwide Panic appeals to listeners all across the hard rock and heavy metal spectrum. This music is presented on stage by engaging the audience in a theatrical and unique experience. The band has completed work on new material which was mixed by Mike Plotnikoff (In Flames, Warbringer, Fear Factory, Mudvayne, Van Halen, Aerosmith, KISS, and many others) and mastered by Howie Weinberg (Slayer, Pantera, Korn, Deftones, Nirvana, etc). Worldwide Panic is gearing up to release new singles and music videos, and the band looks forward to conquering stages everywhere. Keep your eyes and ears peeled for lots from Worldwide Panic in the near and distant future!