Warriors gather for the newest Warkings album, Revolution! Released on August 20, 2021, this power metal band has done it again. Gripping tales from the battlefield and intense instrumental melodies to create a fierce environment perfect for fighting, or sitting home and drinking beers. The chant-like lyrics and heavy guitar riffs hammer into your eardrums as you go on multiple adventures through the eyes of these warriors all the way to Sparta, Rome along with Ragnar and a new alliance, the dark Lord.
Warkings ventured to Earth from Valhalla in 2018 and created quite the stir. The Viking (bass), the Crusader (guitar), the Tribune (vocals), and the Spartan (drums), came out swinging with their first album Reborn, which was released the same year of their arrival. The world shut down not long after their last tour of 2019, and they returned to the studio to create album number two, Revenge, in 2020. Not knowing what to do with all the spare time during the shut down, they kept busy fighting, drinking, and writing album number three. Grab your nearest weapon, get prepared, and dive into Revolution.
The Viking kindly sat down with Metal Nation to discuss Valhalla, that pesky Loki, and Revolution.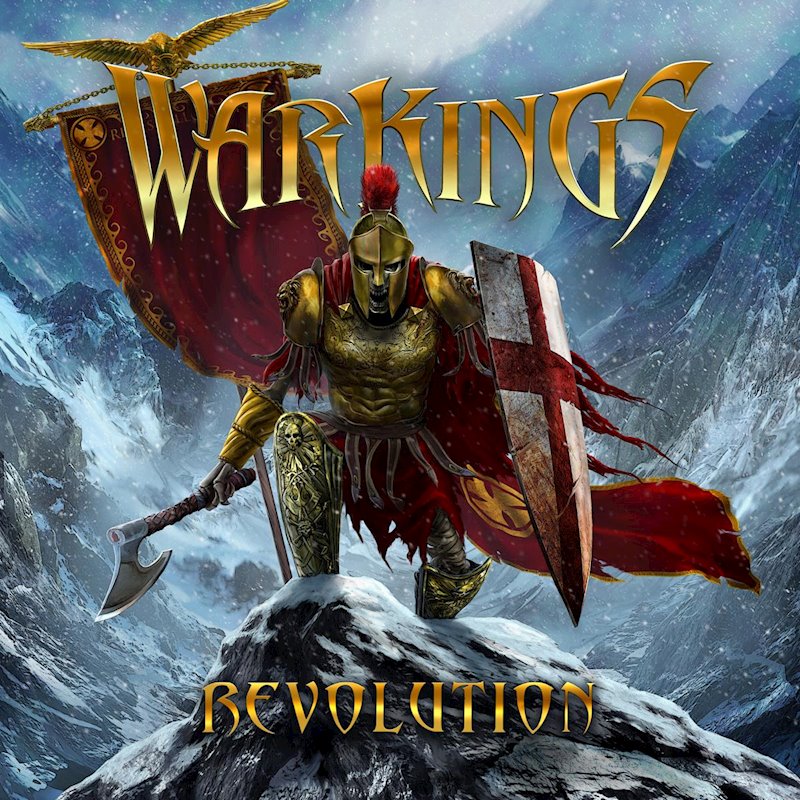 How are you doing this morning? It is probably not morning where you are.
"In Valhalla there is always morning and night at the same time. We don't have a watch here."
That's nice. I wish we didn't have a watch here either. Are you all coffee drinkers in Valhalla?
"Of course! Even in the afterlife, how can you survive without coffee." *laughs*
*laughs* I am going to try, for no reason at all, I have been up for a while but haven't had coffee yet.
"That's bad." *laughs*
*laughs* Agreed. Revolution came out August 20th! Also, an upcoming tour in January.
"Yeah. It was supposed to happen this year, but it got postponed to January and we hope it is going to happen. Things changed a little bit according to the beginning of this year with all the vaccinations and all that stuff, so it looks like it can happen. We have recently had three festival shows, which was really great, with no limitations. Let's hope everything gets better within the next months so we can tour in January. We are looking forward to it."
How did it feel to be back on stage?
"Amazing! It was 21 months without any show, without being on stage. The last show we played before that was in November 2019. There is not a word for it, it was fantastic."
You guys started in 2018, you surfaced and the world shut down shortly after so you haven't had a lot of live experiences with Warkings.
"You are right. The first record came out in the end of 2018, then we pretty much toured the entire 2019 with two European tours, a lot of festivals, and some single shows. We were lucky, if you look to right now, we were lucky we could do this with the first record. To create a fanbase and show people what we are capable of. After that last November show, we went straight to the studio to record the last album and all the plans we had with the management and record company for the release and all that, well we all know what happened. The world got shut down and at that point everybody was thinking to give it a couple of months. In 2020 we were still making plans for the summer. Nobody could imagine what was going to happen. Right now being on stage was like being reborn for the second time." *laughs*
With your short years on Earth, you have created quite a buzz. People are loving it.
"We didn't know what to expect when we released the first album, we just wanted to get our music out and tell our stories. We released the album then two months later we were on our first European tour with a Swedish band called, Amaranthe. We didn't know what to expect and it was phenomenal. We had a great time. Our response to the second album was even better and we hope everyone likes this third one as much as we do. Then in a year hopefully we are back on stage."
I have heard nothing but good things, so I am sure this one will do as well, if not better, than the last two.
"When we released the second album we were all hyped and ready to go on stage, but everything shut down and we were not able to do that so we decided, before we start fighting each other *laughs*, we started writing songs again without any plans of really making another album. We just wanted to use that energy, we have some stories to tell, let's write songs. Then one after another, it was ready. We told the record company, 'Hey we got another one', and they were like, 'What the hell are you talking about' *laughs* 'You just released one and you didn't even tour with that one!' So here we are *laughs*. I hope we don't have to do it again."
I hope not as well. I also hope you guys are able to make it to the states somewhat soon as well. I know that has been in the works for a while.
"We just played a festival in Austria called Metal on the Hill which is kind of a festival from our record company, Napalm Records, and we just talked to our guys about that and they said, 'You have to go to the states', and we are making plans with our management, but right now all you can do is make plans. We had plans for a big European tour in October, but that got cancelled like two or so months ago, because it wasn't possible. Right now it is just talking about what we can possibly do and just have to see how everything works out. I don't know how it is in the US, but in Europe, every country has its' own different laws about the pandemic and also that changes about every two weeks *laughs*."
You guys have a lot of chant-type lyrics, add on your theatrics, and I am sure makes for a great concert experience.
"That is what we want to do with our music, have the fans since with us and chant with us. That's great."
Many people have been awaiting the Queen of the Damned, which doesn't happen on this release, but you do have a new guest with the song, "Spartacus." How did you end up connecting with Lost Lord (Chris Harms of Lord of the Lost)?
"We have known each other for quite some time. We love the music he is doing with his band. We were just talking about maybe doing a song together, so we had this song about the legendary rebel leader, Spartacus and we just asked him if he wanted to sing with us because we love his voice, that deep melodic voice, and on the other hand the harsh growls. It wasn't a big story, we just decided to do something together and it fit perfectly. We have no limitations, if it is good for the song, it is ok."
Right, because I don't think you naturally would necessarily think the two sounds would collaborate together as well as it does. It is one of my favorite songs on the album.
"Thank you. Yeah, you know it was just a little bit of trying. We play power metal, so if I say we want to be as heavy as possible, then some people say, 'Yeah compared to Cannibal Corpse you are pussies' *laughs*, but our producer in the studio told us on this record, 'You guys really are trying to be the heaviest power metal band', well, we always wanted to have the heavy guitars on the record because the melody is based on guitars and riffs and all of that stuff. It fit perfectly with the Queen of the Damned, and now we got Lost Lord and let's see what happens on the next record. There is no limitation."
You were sent to Earth not long ago, yet you all are already masters of your instruments. Is that some kind of Odin magic that was sprinkled on you guys?
"In Valhalla, time stands still, so maybe we could practice for a thousand years without anyone noticing it. *laughs* The only guy that is really practicing is the Spartan, because Spartans train all the time. *laughs*"
*laughs* I like that answer. Speaking of Odin, Marvel fans will want to know, have you brushed shoulders with Thor and/or Loki?
"Yeah, with Thor, you know, at the moment we are all still chasing Loki because he was playing along with his chemistry kit and the fucking virus popped out, so we are trying to find him and kick his ass. *laughs*"
*Laughs* He has made a mess of this world.
"Yeah, we found his chemistry kit and we know he is responsible for that shit, but he is always running and Thor is trying to kick his ass. *laughs*"
*Laughs* You guys are onto him.
"Yeah, we are onto him. *laughs* If we ever catch him, we are going to talk to him about some things. *laughs*"
What happens when you catch him?
"We will just catch him and leave the rest up to Thor, he has the hammer and can hit him on the head or whatever. *laughs*"
How do warriors find balance in life? What do you all do for self-care?
"Drink. *laughs* When you are immortal you can drink as much as you want. You will never get liver failure or anything like that. We don't care, we just have a good time in Valhalla. *laughs*"
Do you recruit people? Can I get recruited in?
"Of course, but then you have to die *laughs*, I don't think you want to die. *laughs*"
I don't know, you guys are making it sound fun. *laughs*
"I don't recommend it for living persons *laughs*"
Outside of fighting and drinking, what do you do for fun?
"The Spartan is always in the gym, trying to train. The Crusader is always going to church every Sunday and trying to recommend it to us. I like throwing axes at trees, that is a fun thing to do *laughs*. The Tribune he does this mortal thing called bicycles? We had horses back then so now he has a bicycle, he is riding around on a bicycle that he thinks is a battle horse. It looks funny seeing a Roman general on a bicycle and shouting commands *laughs*."
You need to make an image of that.
"I agree. *laughs*"
Let's hope they catch up to Loki and right the world again. Warkings are fantastic story tellers and incredible musicians who are otherworldly, pun intended. Revolution is an extension of the battlefields they had fought with legendary accounts of their history. If you want a heavy power metal experience, look no further.