Canadian progressive sci-fi metal innovators VOIVOD are soon to release their new studio album The Wake on September 21st, 2018 via Century Media Records worldwide.
Yesterday, VOIVOD released the album's third single "Iconspiracy" in a fantastic video clip created by Costin Chioreanu / Twilight 13 Media, and can be viewed below:
Or check the song and pre-order the album here: https://VOIVODBand.lnk.to/TheWake
VOIVOD's Denis "Snake" Bélanger checked in with the following comment about the clip:
"What I really like about VOIVOD fans is that they are all able to make their own interpretation of the lyrics or the story of our songs. This video is such a good portrait of "Iconspiracy" and the artist pinpoints awesome visuals in regards to the meaning and representation of the story itself. Thanks to Costin, an amazing artist who did really great work for us in the past and still blows my mind every time again. Question everything! Iconspiracy!!!"
And video director Costin Chioreanu added:
"The most difficult task of an illustrator is to work for his all-time favourite bands. Then he becomes extremely exigent with what he creates and wants to get beyond any known limit. Obviously, this type of experiences are priceless by all means at the same time, because everything goes utterly intense and he feels like a starship exploring the Universe at full warp speed and experiencing several amazing unseen worlds per second. "The Wake" is the album of the year 2018 for me and the video I literally built from scratch for "Iconspiracy" follows the song lyrics and the spaces between them. At the same time, both the story and video fight to remain alive while trying to keep up with the infernal dynamics of the song, which represent another musical proof of the VOIVOD's genius. Other than that, this video speaks by itself, just like the music, therefore who is prepared to be awaken, will be!"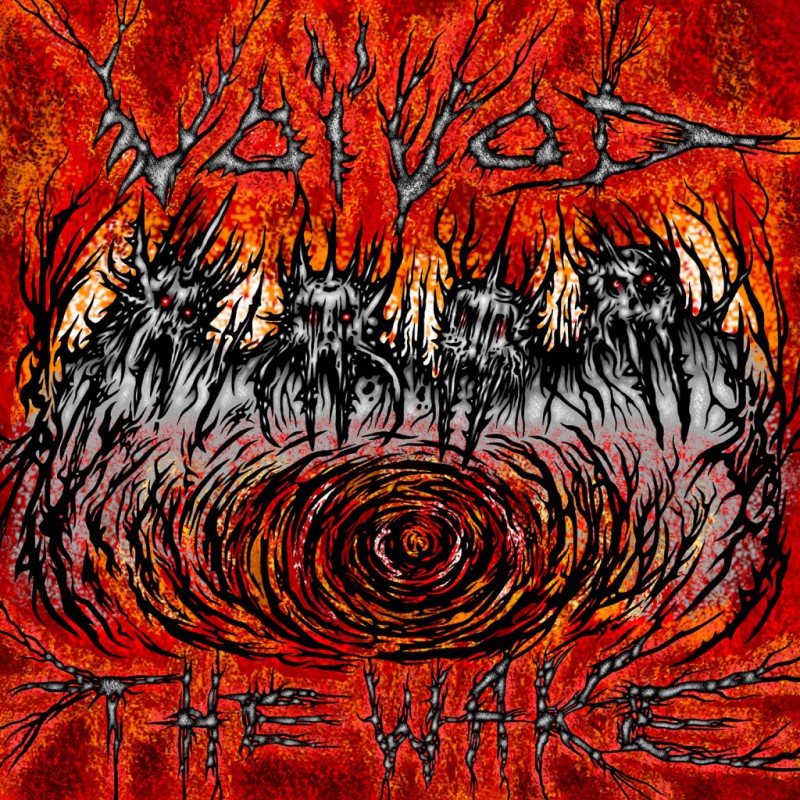 The album's track-listing reads as follows:
1. Obsolete Beings
2. The End Of Dormancy
3. Orb Confusion
4. Iconspiracy
5. Spherical Perspective
6. Event Horizon
7. Always Moving
8. Sonic Mycelium
THE WAKE WILL BE RELEASED SEPTEMBER 21ST
The Wake, the highly anticipated successor to 2013's Target Earth album as well as the 2016 mini-album Post Society, was recorded and mixed by Francis Perron at RadicArt Recording Studio in Canada. The album's artwork was once again created by VOIVOD drummer Michel "Away" Langevin and can be seen above.
VOIVOD guitarist Daniel "Chewy" Mongrain checked in with the following comment:
"It is with great enthusiasm and pride that we will soon share with you the fruit of 2 years of labor in the form of an intricate, intense and colorful journey with our new album 'The Wake', expanding the boundaries of VOIVOD's multiverse!"
VOIVOD – European Tour 2018:
15.09.2018 Budapest (Hungary) – Durer Kert *
16.09.2018 Vienna (Austria) – Szene *
18.09.2018 Bologna (Italy) – Locomotiv **
19.09.2018 Rome (Italy) – Largo **
20.09.2018 Milan (Italy) – Santeria **
21.09.2018 Winterthur (Switzerland) – Gaswerk **
22.09.2018 Seyssinet Pariset (France) – Ilyade **
24.09.2018 Barcelona (Spain) – Boveda **
25.09.2018 Madrid (Spain) – Nazca **
26.09.2018 Porto (Portugal) – Hard Club **
28.09.2018 Vitrolles (France) – Salle Guy Obino *** / New location!
29.09.2018 Paris (France) – Petit Bain ***
30.09.2018 Nantes (France) – Ferrailleur ***
02.10.2018 Southampton (UK) – The Joiners ***
03.10.2018 Cardiff (UK) – The Globe ***
04.10.2018 Leeds (UK) – Temple Of Boom ***
05.10.2018 Glasgow (UK) – Cathouse ***
06.10.2018 Manchester (UK) – Rebellion ***
More Tour Dates HERE
For more on VOIVOD, please visit: