NIGHTWISH Release Live Video & Single "Slaying The Dreamer"
New Live Record 'Decades: Live In Buenos Aires' To Be Released December 6th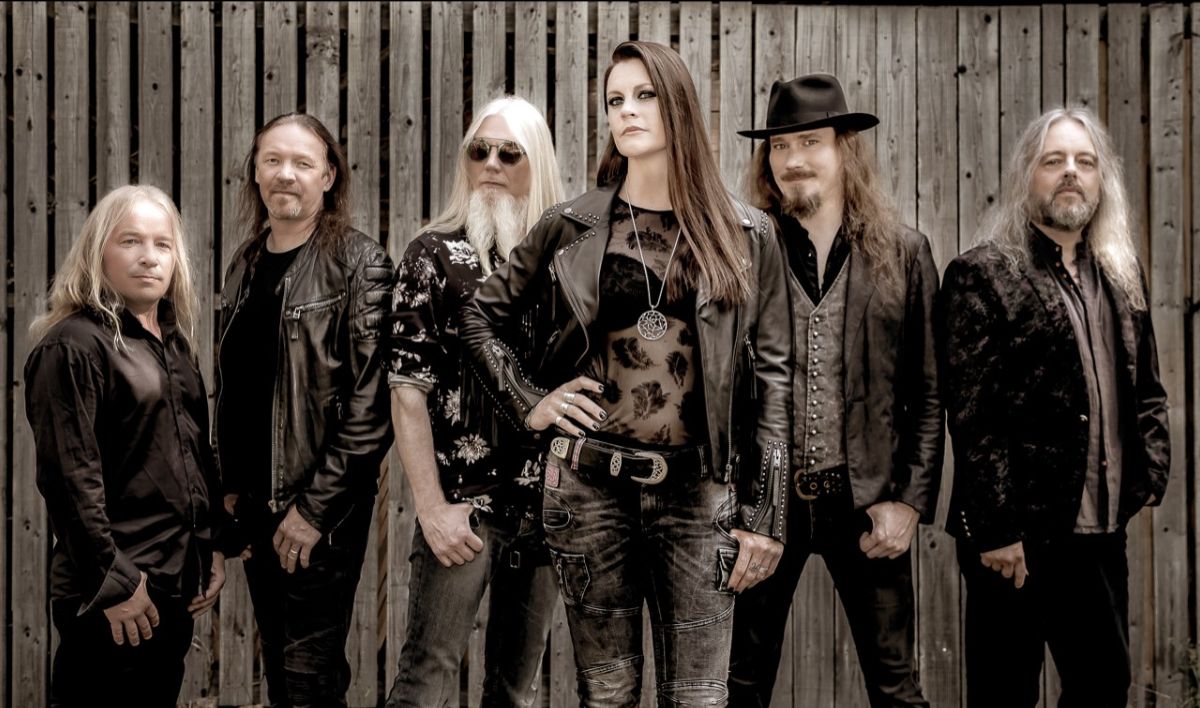 Symphonic Power Metal band Nightwish will release their new live record Decades: Live In Buenos Aires on December 6th as: BluRay Digibook, 2CD Digipak, BluRay+2CD Earbook, 3LP.
Today, the band have released the second single and video for "Slaying The Dreamer". Check it out below:
Get the song digitally HERE
Decades: Live In Buenos Aires is the upcoming divine new live release from Finland's finest – captured by 19 cameras at the Estadio Malvinas in Buenos Aires on Sunday, September 30th 2018, on an extraordinary night in Argentina. Nightwish came out to the rousing "End Of All Hope" and took their bow to the unmatched epic "Ghost Love Score". In between saw a set filled with pure trailblazing Finnish glory – incorporating distinguished tracks "Wish I had an Angel", "Sacrament of Wilderness", "Elvenpath", "Devil & the Deep Dark Ocean", "Dead Boy's Poem" and many more. The show achieved nothing less than taking an important snapshot of the band during yet another pinnacle of their career, celebrated by one of the world's most enthusiastic crowds in a city like no other. It was pure magic.
Check out the previously released first live clip "Devil And The Deep Dark Ocean" below:
Get the song digitally HERE.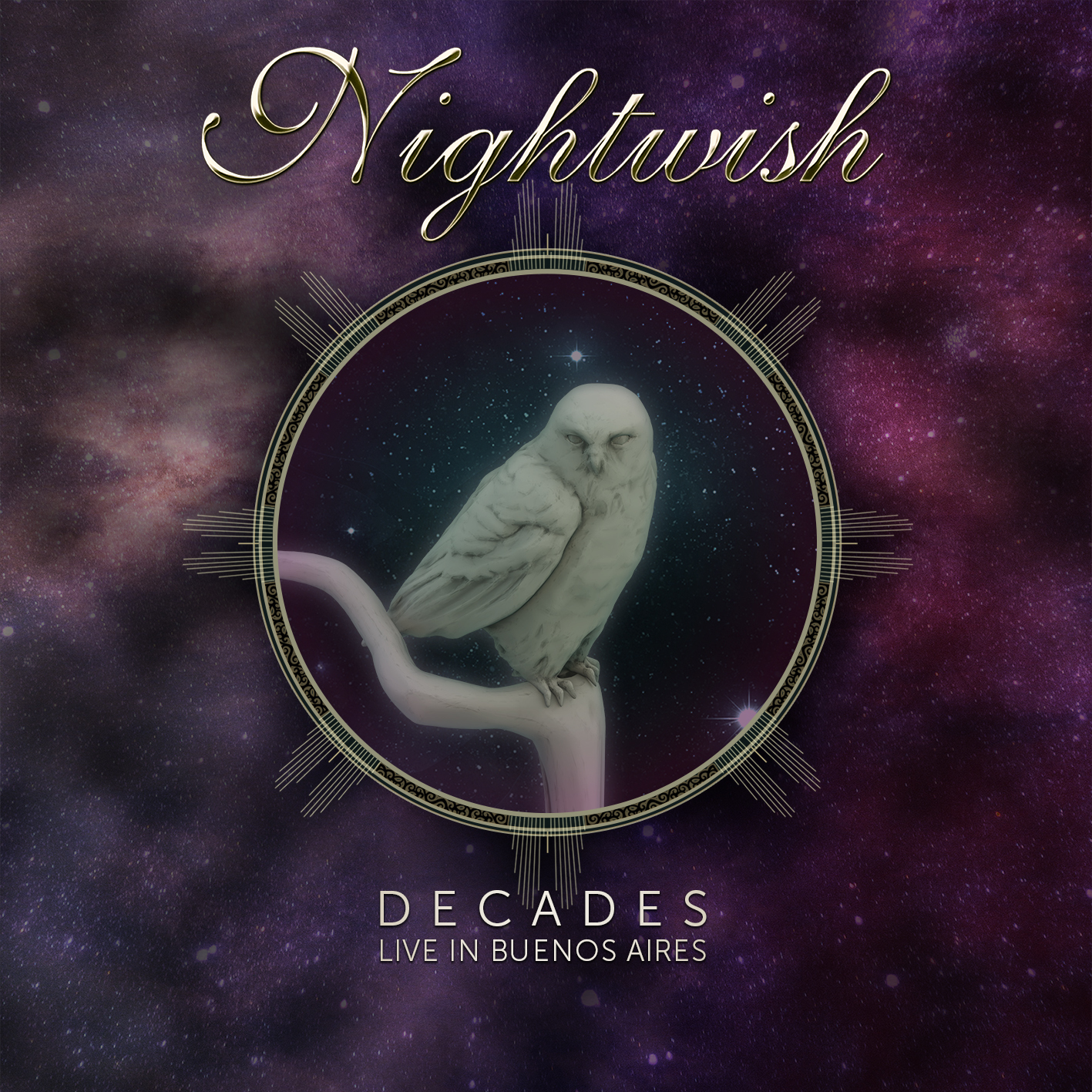 Decades: Live In Buenos Aires

Tracklist
Swanheart
End Of All Hope
Wish I Had An Angel
10th Man Down
Come Cover Me
Gethsemane
Élan
Sacrament Of Wilderness
Deep Silent Complete
Dead Boy's Poem
Elvenjig
Elvenpath
I Want My Tears Back
Amaranth
The Carpenter
The Kinslayer
Devil & The Deep Dark Ocean
Nemo
Slaying The Dreamer
The Greatest Show On Earth
Ghost Love Score
Released back in 2018, 'Decades' was so much more than a run-of-the-mill best-of. This comprehensive chronology of the band's first two decades not only marked the band's 20th anniversary; it was also the end of yet another era in the stellar career of Finland's internationally most successful group. The consequent tour, too, was so much more than a regular anniversary run; from March 9th to December 15th 2018, the seventh Nightwish world tour enthralled 82 cities across Europe, North America and South America – armed with a once-in-a-lifetime set-list.
Nightwish are also proud to be returning to Europe on their upcoming 2020 world tour – with tickets on sale now! With a string of new dates announced earlier this week, the band had previously announced a show in Amsterdam – which sold more than 15,000 tickets in just a few days – swiftly followed up by an additional show at the same venue, alongside shows in Russia, Belarus and the Ukraine. Now infamous for their unique songwriting, visual stage designs and pyro effects, Finnish symphonic metal heroes Nightwish promise to take their audience on a spectacular audiovisual journey once again.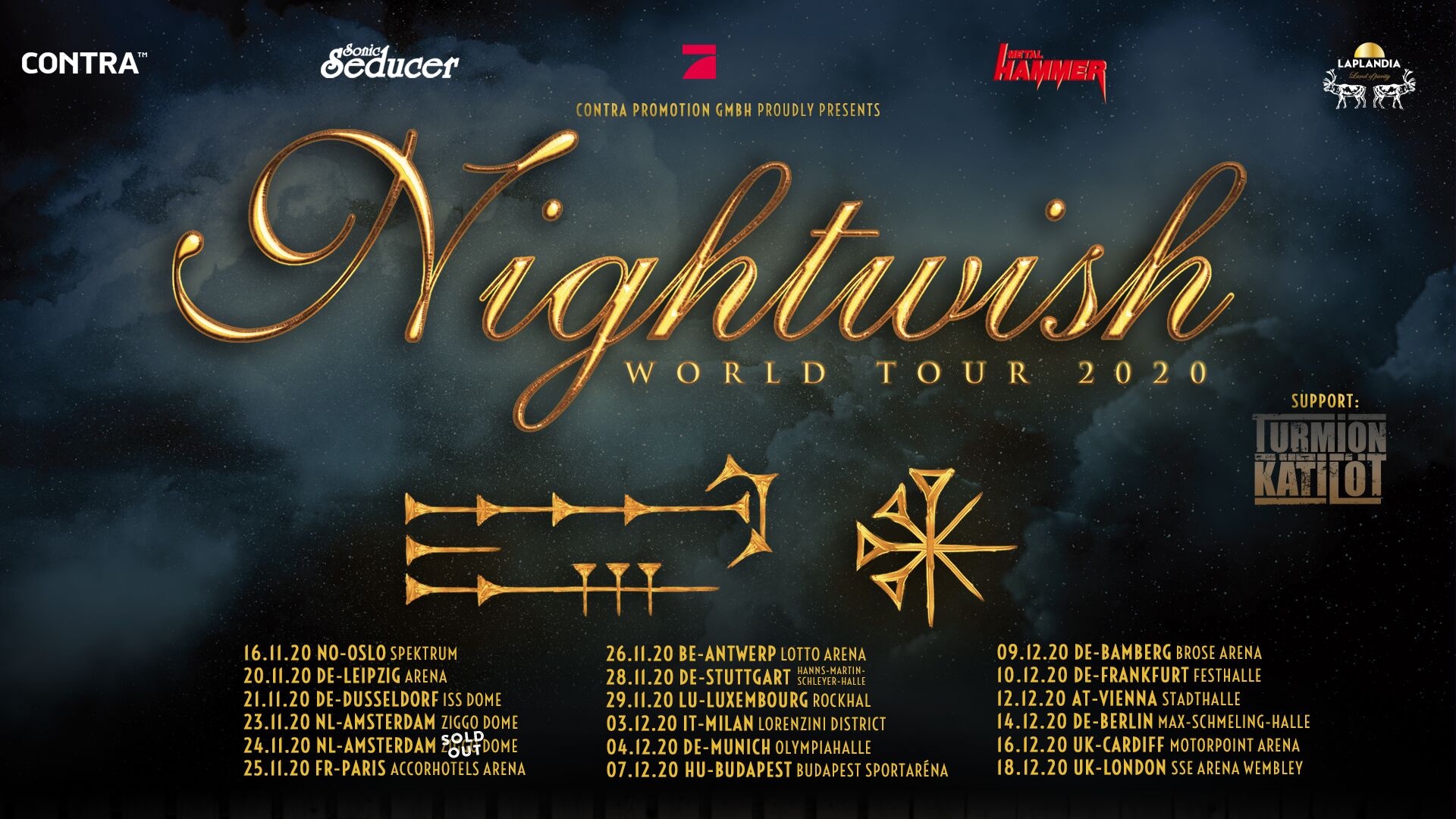 Nightwish Live
w/ Marko Hietala
05.05. Santiago – Teatro Caupolicán
07.05. Buenos Aires – Luna Park (w/ BOUDIKA)
09.05. São Paulo – Espaço das Américas
10.05. Rio de Janeiro – Vivo Rio
w/ Beast In Black
26.05. St. Petersburg – A2 Green Concert
27.05. Moscow – Crocus City Hall
29.05. Kiev – Stereo Plaza
31.05. Minsk – Falcon Club
05.-07.06. FIN Tampere – Rockfest
11.06. Kraków – Mystic Festival
12./13.06. Interlaken – Greenfield Festival
16. – 19.07. D Cuxhaven – Deichbrand Festival
w/ TURMION KÄTILÖT
16.11. Oslo – Spektrum
20.11. Leipzig – Arena
21.11. Dusseldorf – ISS Dome
23.11. Amsterdam – Ziggo Dome *EXTRA SHOW*
24.11. Amsterdam – Ziggo Dome *SOLD OUT*
25.11. Paris – AccorHotels Arena
26.11. Antwerp – Lotto Arena
28.11. Stuttgart – Hanns-Martin-Schleyer-Halle
29.11. Luxembourg – Rockhal
03.12. Milan – Lorenzini District
04.12. Munich – Olympiahalle
07.12. Budapest – Aréna *NEW*
09.12. Bamberg – brose Arena
10.12. Frankfurt – Festhalle
12.12. Vienna – Stadthalle
14.12. Berlin – Max-Schmeling-Halle
16.12. Cardiff – Motorpoint Arena
18.12. London – The SSE Arena, Wembley
For more information, please visit:
www.nightwish.com
www.facebook.com/nightwish
www.nuclearblast.de/nightwish