On the heels of their recent West Coast tour dates with Sirenia and Threat Signal and the successful launch of their acclaimed sophomore album Ambition's Price, the California-based symphonic metal quintet GRAVESHADOW has announced their inaugural headlining tour. The two-week summer trek will kick off in Reno, Nevada on July 13 and wrap up in the group's hometown of Sacramento on July 27. The full itinerary is listed below.
Says vocalist Heather Michele:
"We are very excited to finally be going on our first headlining tour! We're looking forward to playing longer sets and visiting all our wonderful friends and fans that we've had the pleasure of meeting in the past. Get ready, West Coast – we're coming for you!"
Upon its release last month, Ambition's Price – GRAVESHADOW's M-Theory Audio debut – appeared on Billboard's Top New Artists (Heatseekers), Current Hard Music and Top Independent Albums charts. The album, which sees the group deftly mix symphonic and gothic metal with elements of doom, thrash and epic progressive power metal, was mixed by Armand John Anthony (Night Demon, Gygax) and mastered by Colin Davis (Deeds of Flesh, Decrepit Birth). The cover was designed by Serbian fantasy artist Dusan Markovic (Jag Panzer, Mystic Prophecy, A Sound of Thunder).
GRAVESHADOW recently released a music video for the song "Warchief," which serves as the closing chapter of their "Call Of The Frostwolves" trilogy. The clip, which was directed by Mike Sloat (Testament, Machine Head), can below.
GRAVESHADOW on tour:
7/13 Reno, NV – Shea's Tavern
7/14 Las Vegas, NV – Dive Bar
7/15 Tempe, AZ – Yucca Tap Room
7/17 San Diego, CA – The Merrow
7/18 Hollywood, CA – Viper Room (with Novareign)
7/19 San Francisco, CA – Elbo Room
7/20 Medford, OR – Bamboo Room
7/21 Bend, OR – Third Street Pub
7/22 Boise, ID – The Shredder
7/24 Vancouver, BC – Astoria
7/25 Seattle, WA – Studio Seven
7/26 Portland, OR – Dante's
7/27 Sacramento, CA – Blue Lamp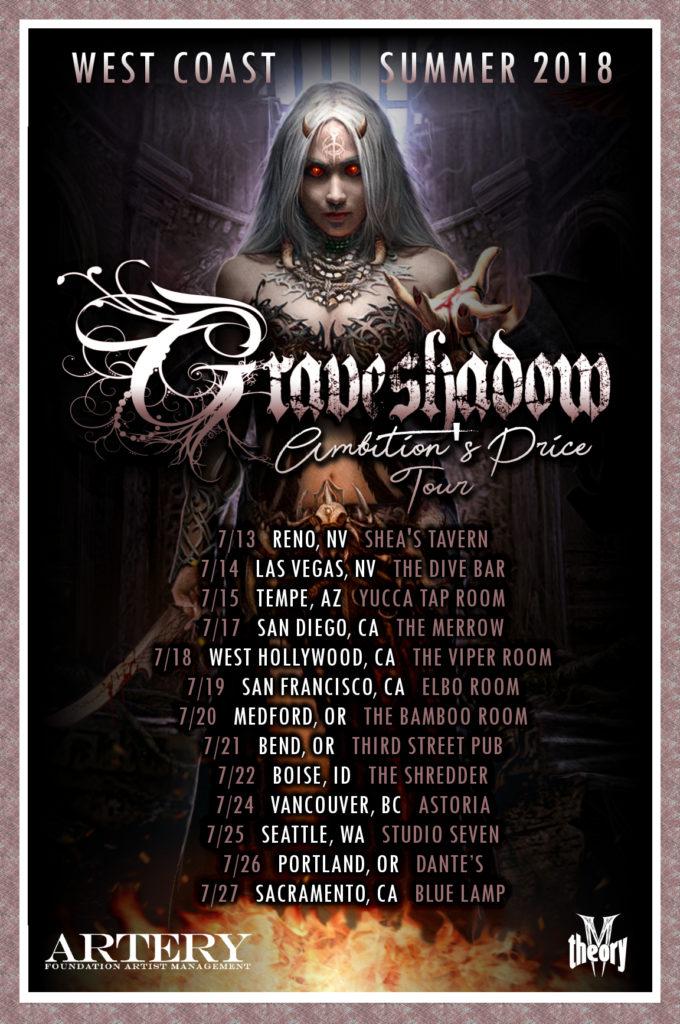 For more information: