GOATWHORE will take to the seas this week on the 2018 edition of the 70000 Tons Of Metal cruise alongside Cannibal Corpse, Exhumed, Enslaved, Meshuggah and so many more. View frontman Ben Falgoust's 70000 Tons shout out below. The voyage comes in advance of the band's month-long European tour with Sepultura, Obscura, and Fit For An Autopsy. See all confirmed dates below.
GOATWHORE's latest full-length, Vengeful Ascension, was released last June via Metal Blade Records. Their seventh full-length offering and second recorded reel-to-reel was captured at Earth Analog in Tolono, Illinois with longtime soundman and comrade Jarrett Pritchard (1349, Gruesome) and serves as the band's highest charting album to date ranking in at #4 on Billboard's Heatseeker Chart, #6 on the Hard Rock Sales Chart, #11 on the Independent Chart, #16 on the Hard Rock Chart, #18 on the Rock Sales Chart, #49 on the Top 200 Current Albums Chart, and #59 on the Top 200 Chart upon its first week of release.
Vengeful Ascension is out now on Metal Blade Records on CD, vinyl, and digital formats. To preview and purchase the record visit metalblade.com/goatwhore.
And if you missed it, GOATWHORE's exclusive Decibel Magazine's Flexi Series track, "Command To Destroy," is currently streaming at THIS LOCATION.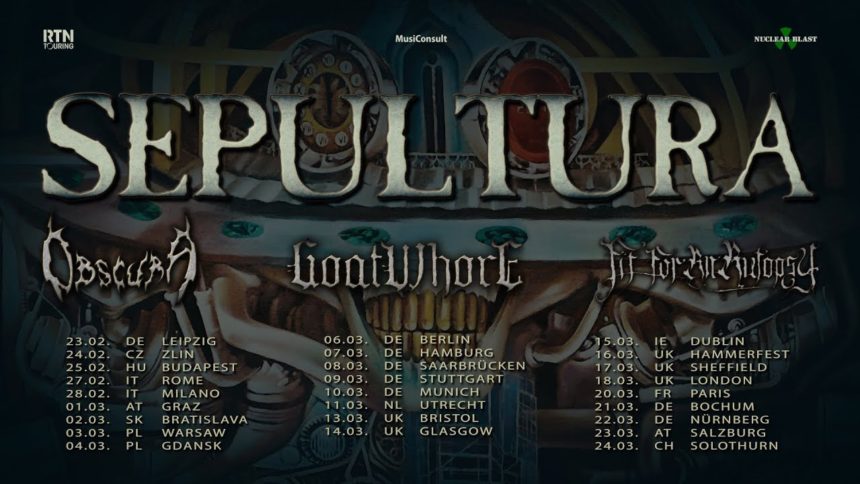 GOATWHORE:
2/1-5/2018 70000 Tons Of Metal – Ft. Lauderdale, FL [info]
2/17/2018 Santos Bar – New Orleans, LA w/ Abysmal Lord, Witch Burial
w/ Sepultura, Obscura, Fit For An Autopsy:
2/23/2018 Conne Island – Leipzig, DE
2/24/2018 Masters of Rock Café – Zlin, CZ
2/25/2018 Barba Negra – Budapest, HU
2/26/2018 Orion Club – Rome, IT
2/27/2018 Magazzini Generali – Milano, IT
3/01/2018 Explosiv – Graz, AT
3/02/2018 Majestic Music Club – Bratislava, SK
3/03/2018 Proxima – Warsaw, PL
3/04/2018 B90 – Gdansk, PL
3/06/2018 Columbia Theater – Berlin, DE
3/07/2018 Docks – Hamburg, DE
3/08/2018 Garage – Saarbrücken, DE
3/09/2018 LKA Longhorn – Stuttgart, DE
3/10/2018 Backstage – München, DE
3/11/2018 Tivoli Ronda – Utrecht, NL
3/13/2018 SWX – Bristol, UK
3/14/2018 SWG3 -Glasgow, UK
3/15/2018 The Tivoli – Dublin, IE
3/16/2018 Hammerfest  – Pwlhelli, GB
3/17/2018 Foundry – Sheffield, UK
3/18/2018 Koko – London, UK
3/20/2018 Elysee Montmartre – Paris, FR
3/21/2018 Zeche -Bochum, DE
3/22/2018 Hirsch – Nürnberg, DE
3/23/2018 Rockhouse – Salzburg, DE
3/24/2018 Kofmehl – Solothurn, CH
http://www.facebook.com/thegoat666
http://www.twitter.com/goatwhorenola
http://www.youtube.com/Goatwhorenola666