FIVE FINGER DEATH PUNCH Announce Select North American Tour Dates!
ANNOUNCE SELECT NORTH AMERICAN TOUR DATES CO-HEADLINING WITH SHINEDOWN AROUND U.S. SPRING FESTIVALS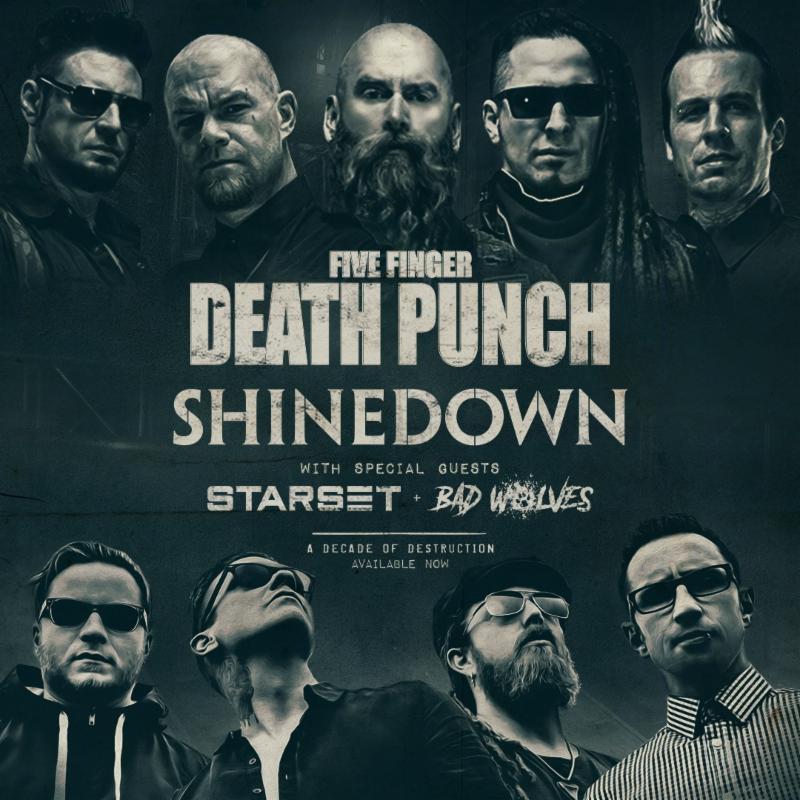 Today, multi-platinum hard rock band, Five Finger Death Punch, are excited to announce that they will be getting back on the road this Spring for select North American co-headlining dates with past tour mates Shinedown to surround their performances at some of the biggest U.S. Spring festivals including Carolina Rebellion and Welcome To Rockville. The bands are bringing along a very special support package: modern rock powerhouse Starset who will showcase songs from their latest release, Vessels and newcomers Bad Wolves who are currently dominating the rock and metal charts around the globe with their cover of The Cranberries' "Zombie" which was released in memory of Dolores O'Riordan who was supposed to record guest vocals on the song the very day of her tragic passing. Proceeds will go to her 3 children.
5FDP and Shinedown are reuniting for this exclusive, short run for the first time since co-headlining their massive North American arena tour in Fall 2016. The shows will kick off May 6th in Nashville, TN. VIP pre-sales begin today at 11am est and local pre-sales on Thursday, February 8th at 10am local time (Feb. 15 at 10am local time for Birmingham and Lexington shows). Ticketmaster presale runs from 10am-10pm local time on Thursday, February 8th. The general ticket on-sale will kick off this Friday, February 9(February 16 at 10am local time for Birmingham and Lexington shows). Watch an exclusive tour preview below:
For more information and VIP offerings, visit the official 5FDP website HERE. See below for full tour routing.
Late 2017, 5FDP released their greatest hits album, A Decade Of Destruction, with two new tracks "Trouble" and "Gone Away" (their own rendition of The Offspring's 1997 hit single).Both tracks garnered much critical acclaim and great success, as latest single "Gone Away" received over 10 million streams since its debut on December 1st and over 10 million video views in less than a month. Check out the official video for "Gone Away" below and also, the lyric video HERE.
"Gone Away" is already #25 on the Active Rock chart and climbing steadily. In addition, the first single from the collection, "Trouble" racked up over 2 million streams worldwide in just a few weeks making it the band's biggest streaming debut for a lead track. Both songs have topped the iTunes Rock and Metal charts globally. PRESS HERE to purchase "A Decade Of Destruction" on Amazon and HERE via iTunes. The album is also available to stream via Apple Music and Spotify.
5FDP rounded out 2017 by celebrating two new RIAA platinum certifications for their 2011 album American Capitalist, and 2013's The Wrong Side Of Heaven And The Righteous Side Of Hell, Vol. 1. War Is The Answer, the band's 2009 album, and their hit single "Bad Company" were previously certified platinum in 2016 and 2013, respectively. The band has amassed a total of over 2 billion streams worldwide to date!
5FDP's seventh full length album is anticipated to be released this coming Spring – watch out for more announcements coming soon!
Previously Announced 5FDP Festival Dates
4/20/18 – KUPD's UFEST – Tempe, AZ
4/21/18 – Las Rageous – Las Vegas, NV
4/27/18 – Welcome To Rockville – Jacksonville, FL
4/28/18 – Fort Rock Fest – Sunrise, FL
5/5/18 – Carolina Rebellion – Concord, NC
Upcoming 5FDP / Shinedown US Tour Dates
5/6/18 – Bridgestone Arena – Nashville, TN
5/8/18 – Rupp Arena – Lexington, KY **
5/10/18 – BOK Center – Tulsa, OK
5/11/18 – Westfair Amphitheatre – Council Bluffs, IA
5/12/18 – Eagles Ballroom – Milwaukee, WI *
5/14/18 – Salem Civic Center – Salem, VA
5/16/18 – Legacy Arena – Birmingham, AL **
5/17/18 – Ford Center- Evansville, IN
5/18/18 – Mark of the Quad – Moline, IL
5/20/18 – Alerus Center – Grand Forks, ND
5/30/18 – Casper Events Center – Casper, WY *
* – 5fdp & Bad Wolves only  ** General Onsale Feb 16
About Five Finger Death Punch
Confidently leading heavy music in the 21st century, Five Finger Death Punch continue to make the impossible a reality at every turn. Since their emergence in 2007, the hard rock band has achieved six consecutive RIAA Gold-certified albums and two platinum singles culminating on their gold-selling #1 album Got Your Six, while at the same time being one of the top rock streaming acts globally.  They frequently play all major festivals from Download to Rock Am Ring to Rock on the Range and sell out arenas around the globe to countless screaming "Knuckleheads." Their forthcoming seventh offering will undoubtedly raise the bar again.
About Starset
Columbus based visionary rock band Starset have long been interested in the cosmological — their music radiates themes that center on science and technology and its potential affects on society now and in the future. This last year of success for Starset has proven that the band is a modern rock powerhouse to reckon with. The band's latest release, Vessels, debuted at #11 on Billboard's Top 200 Chart and #3 on the Rock Chart. Front man Dustin Bates collaborated with Marvel Comics to release a Starset themed graphic novel in the Fall of 2017, and the band recently reached a massive milestone by surpassing 1 Billion views on YouTube. The band's current single "Satellite" was just released as a remix by TRAILS and has over 1 million views.  The remix hit #1 on the Hype Machine Remixes Only Chart and #7 on the Hype Machine Most Popular overall chart.
About Bad Wolves
Consisting of of vocalist 
Tommy Vext 
(ex-Divine Heresy), drummer 
John Boecklin
 (ex-DevilDriver), guitarist 
Doc Coyle
 (Vagus Nerve, ex-God Forbid), guitarist 
Chris Cain
 (Bury Your Dead), and bassist 
Kyle Konkiel
 (ex-In This Moment), 
BAD WOLVES
 burst onto the scene in 2017 with the self-released debut single "
Learn To Live
" and quickly became ones-to-watch. The Los Angeles-based five-piece recently signed to Eleven Seven Music and will release a debut album later this year. The upcoming album will feature "
Toast To The Ghost
" and a cover of The Cranberries seminal single' "
Zombie
", released in honor of Dolores O'Riorden, who was scheduled to record guest vocals on the song the day she passed away. "Zombie" quickly shot to the top of rock and metal charts around the world upon its release. All proceeds from the track will go to her three children.
For more information, please visit: