The time has finally come! After more than seven years of silence, DIMMU BORGIR mark their epic return and unveil the first song of their new full-length album Eonian, due to be released on May 4th via Nuclear Blast.
This first track off the new record, the symphonically charged "Interdimensional Summit", comes with a music video shot by Patric Ullaeus, who had previously worked with the band for the clips of "Progenies of the Great Apocalypse,"  "Sorgens Kammer – Del II" and the award-winning 'The Serpentine Offering'.
The song represents the more epic side of a devilish and diverse album, which pays tribute to all eras of the band's 25-years-long history.
The 7" EP with the new track and "Puritania (Live In Oslo)" is released today and available here: http://nblast.de/DimmuBorgirSummit
Or digitally: http://nblast.de/DBIDSummit
In addition, the pre-sale for the new album starts today, and Eonian will be available in the following formats:
Limited digipak
180g double vinyl (black, black&gold-splatter, gold, silver or black&white bicoloured)
Boxset (Digipak, bonus demo CD in cardboard, 2LP splatter vinyl, poster)
Boxset (Digipak, bonus demo CD in cardboard, 2LP picture vinyl, poster, photo card, sticker, silver mirror board box print – NB mailorder exclusive!)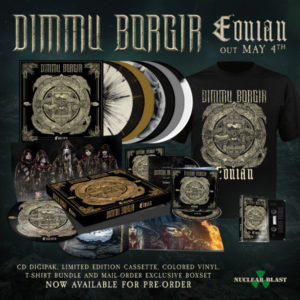 Pre-order the format of your choice via this link: nblast.de/DimmuBorgirEonian
The track list of the new album reads as follows:
01. The Unveiling
02. Interdimensional Summit
03. Ætheric
04. Council Of Wolves And Snakes
05. The Empyrean Phoenix
06. Lightbringer
07. I Am Sovereign
08. Archaic Correspondence
09. Alpha Aeon Omega
10. Rite Of Passage
So far, DIMMU BORGIR have announced the following festival shows for 2018 – an extensive world tour will be announced soon:
22. – 24.06.     F          Clisson – Hellfest
05. – 07.07.     E          Barcelona – Rock Fest
02. – 04.08.     D         Wacken – Wacken Open Air
10. – 12.08.     B         Kortrijk – Alcatraz
16. – 18.08.     N         Horten – Midgardsblot Metalfestival
Being one of the successful extreme metal forges on the planet, DIMMU BORGIR have been dominating the symphonic black metal genre for 25 years. The songwriting core of DIMMU BORGIR furthermore consists of charismatic vocalist Shagrath, as well as the string wizards Silenoz  and Galder, but other familiar faces also emerge from the darkness: Drummer Daray and keyboarder Gerlioz are still part of the team, and Gaute Storaas helped with the choral arrangements for the majestic voices of the Schola Cantrum Choir. As the title Eonian indicates, the band's 10th full-length release is dealing with the illusion of time and marks a tribute to both the band's own past as well as the Norwegian black metal history.