Yet again, I've found myself headed to Kansas City. For the first time since I've started making the trek down all those years ago, the show isn't at the Riot Room! This time we're headed to The Truman to witness the sonic bloodletting wrought by The Black Dahlia Murder, Whitechapel, Fleshgod Apocalypse, Aversions Crown, and Shadow of Intent. I was excited to finally see another venue in KC, but maybe a little bummed to be breaking my perfect attendance record at the Riot Room. Leaving was tougher this time as I added a baby English mastiff to my family a few months prior and I hadn't left my dogs since I picked him up.
Regardless of my separation anxiety, the show must go on, so to KC I went. The Truman is in a much different part of the city and I didn't know what to expect. It turned out to be in an industrial area and looks like a warehouse. This is the first time in recent memory that I've been to a show where I don't know a single person. Thankfully my photographer, Jeffery arrived not long after I did. For it being a Wednesday, there was a solid turnout even before the first band went up.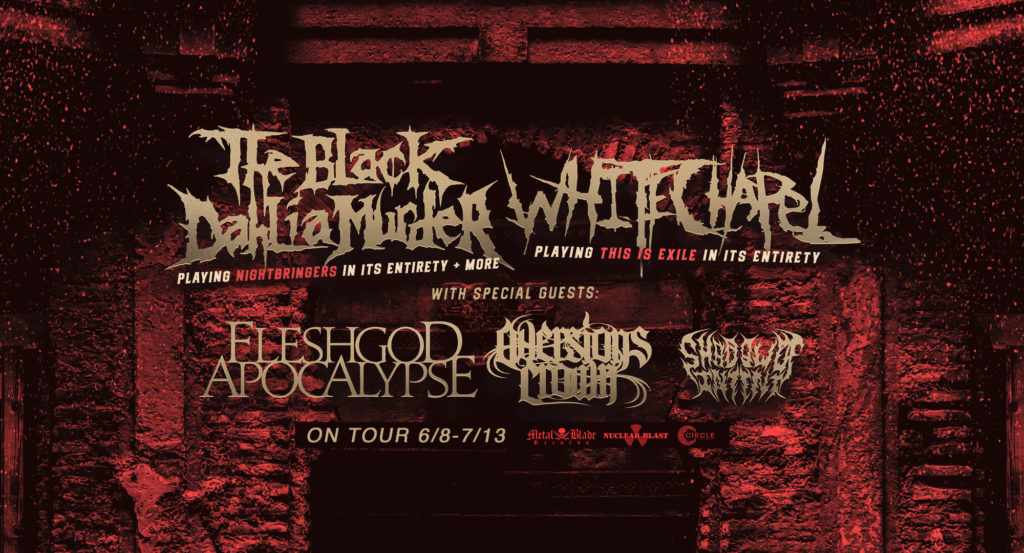 The first thing I noticed as Connecticut's Shadow of Intent came on stage was that there was no backline. While I totally understand the appeal of having all your sound go direct to the PA, not having to lug around or pay for heavy speaker cabinets being the biggest factors, the sound just doesn't quite cut it. The drums, vocals, and the backing tracks sounded great all night actually, but the guitars were thin and left a lot to be desired. It broke my heart seeing all these incredible guitars come on stage and I could hardly hear them. I'm always excited to see Dingwall basses in action. The people playing them generally seem to really know what they're doing. Shadow of Intent did a great job at getting the crowd warmed up and managed to elicit the makings of a mosh pit during their set.
I've been lucky enough to see a lot of Australian bands live by this point and not once have I been disappointed. Aversions Crown met every standard set by their countrymen! First thing I noticed was all the fan fret guitars. I've not seen an entire band hop on this particular wagon yet, it looked so cool! I remember when these types of guitars first started coming to market years ago, I was so intrigued I had to buy one myself. After playing them, the designs really make sense. I really like seeing more of them out in the world, especially in more capable hands than my own. Again, the vocals, drums, and backing tracks dominated the mix. The sound was so frustrating because for all intents and purposes, the overall sound was verbatim off the albums, but the mix was wrong. Regardless, the energy in the room rose steadily and everyone seemed stoked about the set.
In the interest of full disclosure, Italy's Fleshgod Apocalypse was the main reason I went to this show in the first place. I've been a big fan for a long time and never thought I'd get a chance to see them. They have their aesthetic down to a fine art at this point. The whole band in costume and corpse paint with the theme even extending to the paint job on their guitars. As soon as that first drop hit, both guitars and bass started windmilling in perfect synchronization with the orchestration. It absolutely gave me goosebumps. The orchestral parts sounded great through the PA and ended up carrying most of the sound, which was fine by me. Fleshgod's overall performance was refined and perfectly orchestrated. Kudos to the guy in the wheelchair and friends for not letting a busted foot stop you from getting in the pit. Dude was windmilling while getting pushed around the pit by his buddies. It was definitely a sight to see. Fleshgod also had the first wall of death of the night and it was a big one. It took up about half of the available floor space, which meant they had almost half the crowd involved. Overall, the crowd response was great as well. Everyone there was happy to be so, and was actively participating when need be.
By the time Knoxille's Whitechapel came on, the sun had finally gone down. They even brought out a wall of extra lights just for the band. This is the third time I've seen Whitechapel play now. I think their best performance I've seen was back in Omaha at the Sokol Underground. It was a much smaller venue with the same amount of lights and volume at the show at the Truman, ergo much more intense. They didn't disappoint anyone here either, as the crowd was well invested at this point. They played their album This Is Exile in its entirety. I do dig the full album shows, especially on the anniversaries of albums. By all means celebrate the 10 year mark of an album. To still even be around after 10 years is a major accomplishment that every band should be proud of.
This would also be round three for seeing The Black Dahlia Murder! I've traveled to Des Moines to catch them before when they toured on the 10th anniversary of Unhallowed, which is one of my favorite albums. Now they were touring on Nightbringers. I was so excited when I saw them take the covers off of their backline and you could hear the difference immediately. The stage sound made a world of difference as you could actually feel the brutality of the music now. Black Dahlia has never let me down live either. Trevor Strnad has to be one of my favorite vocalists, mostly due to how he interacts with the crowd. He is an absolute pleasure to watch as he conducts the crowd like an orchestra or as he pumps his arms relentlessly in the air.
After the show I stocked up on merch and took off straight back home. In hindsight, probably not the best idea, but I made it home in one piece. See you again soon Kansas City!
All photos © 2018 Jeffrey Allee and Ulfhednar Photography