Author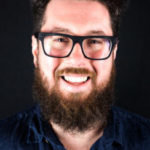 RJ Bayley
0 posts
0 comments
The exact moment when RJ knew that heavy music was meant for him was doing his paper round, before school, when the DJ played GN'R among a sea of noughties pop toss. It probably helped his love of radio too.
While his day job is using his English voice as an audiobook narrator, VO artist and sound designer, he's spent half a decade involved with internet and FM radio from his Edinburgh home. He's been a weekday talk-show host on local radio and a reviewer and traffic and travel presenter on national stations, but his passion is for bringing unique heavy metal music, interviews, discussion and waffle to the people.
RJ presents Metal Empire, bringing you the more melodic side of metal, be it vintage Sabbath or modern Amarth. Expect to hear traditional, symphonic, thrash, a dash of folk and a dollop of unusual metal with plenty of European artists.
Every Wed from 8:00-10:00 AM EST and 1:00-3:00 PM GMT.
Friends, let us together forge a Metal Empire.
Nothing Found
It seems we can't find what you're looking for. Perhaps searching can help.