Nervosa – Downfall of Mankind
Released; June 1, 2018
Label: Napalm Records
I

f there's one thing that gets my attention in the music world, it's a trio that can make a full sonic wall, loud and intense, while maintaining the rhythmic elements required for a good song.  Nervosa fit that description to a tee, and they recently released their third full length album, Downfall of Mankind.  On top of that, they are one of the few metal trios comprised of an all female line-up.  Hailing from Sao Paulo, the largest city in Brazil, Nervosa create an intense, fast and energetic brand of thrash music with harsh, almost black metal vocals.

My first encounter with the band was a couple of years ago at an unknown festival in the middle of the woods near Fredericton, New Brunswick, Canada.  I was going to cover the festival for Metal Nation Radio and arrived relatively late on Friday night.  After we set up our tent in the dark in a rough wooded area just off the main road, my cohort and I headed toward the only stage in operation that night.  We watched as a band got set up and had no idea who it was or what we were in for.  I noticed that two of the people on the stage were female and I wondered to myself if they were part of the band or just the crew setting up.  It felt like forever before the band was ready to play.  Low and behold, the two ladies I saw comprised the bassist/vocalist (Fernanda Lira) and guitarist (Prika Amaral) of Nervosa.  Then the drummer joined them and they were set to play.  At first the sound was a bit rough as it seemed the sound guy was learning the ropes, however it didn't ruin the intensity that was coming from the three players on the stage. This was Nervosa and they were there to slay, and slay they did.

They were on tour for what was their second full length album, Agony, which became a mainstay in my musical rotation for the months to follow this random encounter in the woods.  When I heard that they were ready to release another album I was quite stoked to hear what they were bringing.  Knowing the intensity of Agony, as well as their killer live show, I knew it was going to be a hot release, and I was not wrong.  Downfall of Mankind is a non-stop thrash-athon.  Kicking off with the Slayer-esque atmospheric "Intro," a darkness was set, leaving you anticipating the pin-drop.  Drop it did with the first full song, "Horrordome" ripe with fast guitar-riffs, blasting drums and Fernanda's demonic bellow.  This song is a face-melter and embodies the energy that Nervosa drives at their audience.

Take your tellhco.com survey now to win $10

"Cultura Do Estupro" has special guest vocalist, Joao Gordo from Brazillian punk legends, Ratos de Porão (RxDxPx) and has a call and answer vocal delivery with him and Fernanda.  This song is possibly the fastest and most intense tune on the album not letting up for the three minutes and ten seconds running time.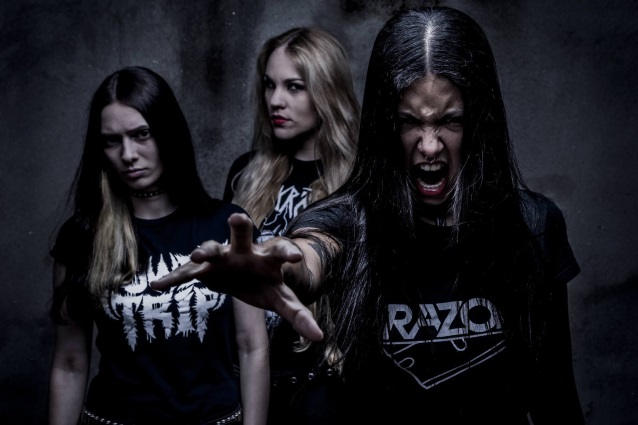 Nervosa is very exact and precise with their time changes, full time to half time, etc.  It's an excellent way to lure the listener into the song, and is perhaps the only display of dynamics found on this 48 minute offering.  Like the previous album, Agony, Downfall of Mankind has a bonus song.  On Agony it was "Wayfarer" which demonstrated Fernanda's vocal prowess, delivering a soulful serenade before grinding into metal splendor.  Downfall to Mankind presents "Selfish Battle" as the bonus with Fernanda showing yet another side of her vocal dynamic, reminiscent of the MWOBHM style of near-operatic singing.
Nervosa are everything but inconsistent.  Every song on this album is a shredder, demonstrating the bands sharp, precision chops.  Prika's riffing is delivered with a well defined tone and her solos are haunting and eerie.  Luana Dametto is the newest addition to the trio, filling in the gap left by their former drummer, and she is tight and accurate with the rhythmic demands Nervosa requires.  That leaves the band's bassist and front-woman, Fernanda who can raise the hair on any man's neck with her demonically possessed screeches and punchy thick bass performance.  In person, she is incredibly nice and friendly, as I found out that night in the woods when I introduced myself in the hopes of getting an interview.
Another side of this consistency is my only complaint about the album, in that the chorus' of each song sound sadly repetitive and similar to each other.  This could easily be a by-product of the genre, militant-thrash if you will, but it remains one of the elements of music that turns me off.  I like variety in the writing and presentation of music, perhaps one of the reasons I like innovative prog.  With that being said, I still enjoy this album very much for what it is, thrash-tacular metal delivered by the bare minimum of members required (in order to fulfill bass, drums, guitar and vocals), with solid performances all around.
Nervosa write compact, energy driven songs that include socially conscious lyrics, impeccably performed with an aggression befitting respect from any of the metal greats.  Downfall of Mankind is an impressive release from a trio of metalheads destined to conquer the world of heavy music and I'm sure it will cause a sonic-tsunami.  Fists will pump, heads will bang and faces will be melted.