A Sound of Thunder's eagerly awaited new studio album and companion graphic novel It Was Metal will be released globally on June 15th through Mad Neptune Records. Recorded at Assembly Line Studios with longstanding producer Kevin '131' Gutierrez (Shinedown, Believer, Raven), the album features eleven new songs and features guest appearances by Mark Tornillo (Accept) and Tony Carey (Ritchie Blackmore's Rainbow, Planet P Project).
The stunning triple-gatefold album cover featuring band mascot Udoroth was created by artist Dusan Markovic (Powerwolf, Death Dealer). It Was Metal marks the band's return to a straight-ahead metal style.
The It Was Metal graphic novel anthology contains short stories based on each song from the album. The book features well known artists and writers from Marvel Comics, DC Comics, and Valiant Entertainment and is an essential companion to the album.
"Els Segadors (The Reapers)", the advance single from It Was Metal, became a surprise viral hit in Catalonia, reaching #44 on the Euro 200 Spanish National Top 50 mainstream music chart and peaking at #7 on the Spanish iTunes music charts. The song's success lead to the band's tour of Catalonia in December 2017, culminating in their performance in front of 50,000 people at the Estadi Olímpic Lluís Companys on December 2nd.
A Sound of Thunder guitarist Josh Schwartz shares his thoughts on It Was Metal:
"The mission statement was to write fast, heavy, catchy songs that are fun to play and fun to listen to. This is an album meant to be blasted in your car while you speed down the highway at 100mph singing along at the top of your lungs."
According to vocalist Nina Osegueda, the album includes "some of the most fun, inspired, adrenaline inducing music we've ever written and I can't wait to play it live."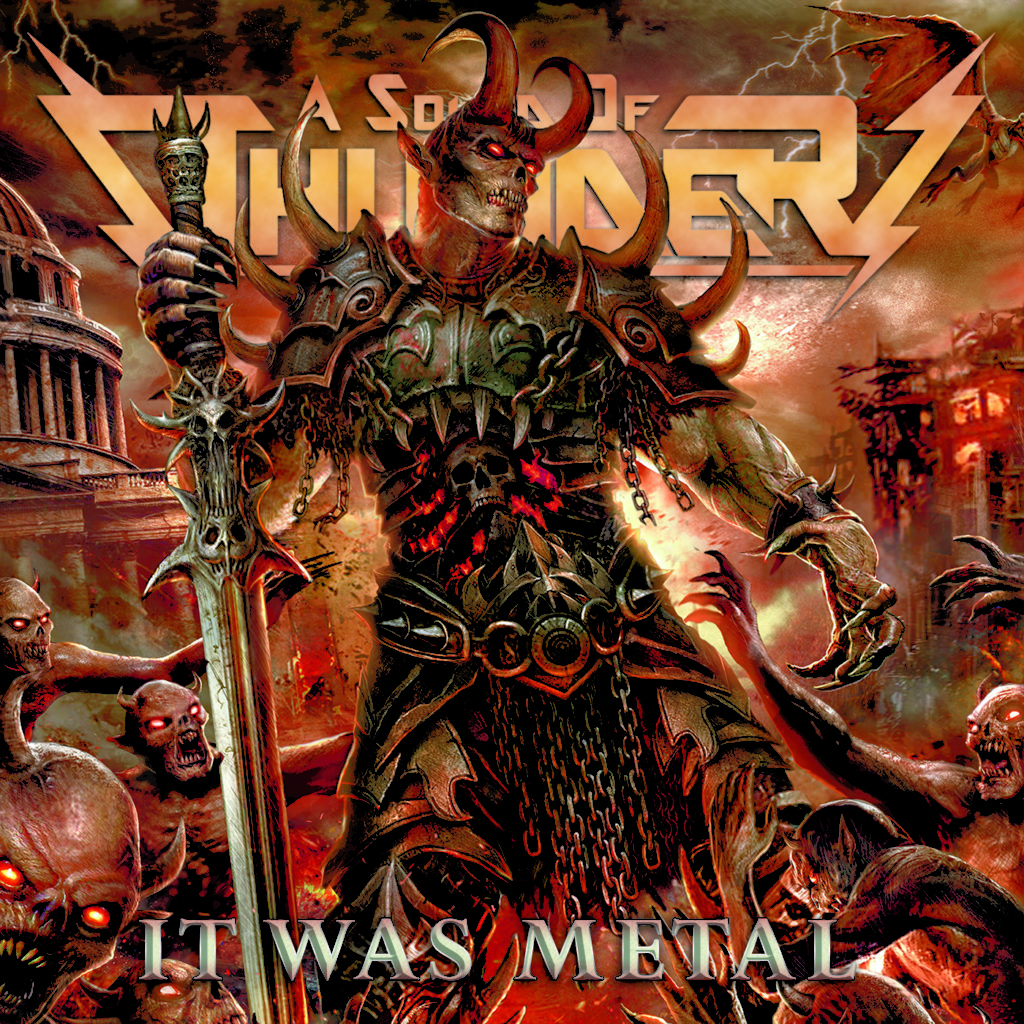 Tracklisting:
1. Phantom Flight (featuring Mark Tornillo)
2. Lifebringer
3. Atlacatl
4. The Crossroads Deal
5. It Was Metal
6. Obsidian & Gold (Desdinova Returns) (featuring Tony Carey)
7. Second Lives
8. Els Segadors (The Reapers)
9. Tomyris
10. Charles II
11. Fortress of the Future Race
Formats:
CD deluxe digipak
Triple gatefold splatter vinyl
Digital download
Softcover graphic novel
It Was Metal is the band's seventh studio album since their 2010 debut. Their previous album Tales from the Deadside: Music Inspired by Shadowman, a progressive concept album based on Valiant Entertainment's Shadowman comic book series, was released in 2015, peaking at #8 on the Billboard Heatseekers Albums chart and #16 on the Hard Rock Albums chart.
Website: www.asoundofthunderband.com
Facebook: www.facebook.com/asoundofthunder
Twitter: @asotband
Instagram: @asotband