Author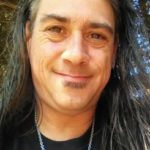 Stephen LeBlanc
0 posts
0 comments
Stephen LeBlanc was raised in a musical background being born and raised in Central New Brunswick, Canada. His musical passion was just the beginning of this whole heart rocker and entertainer with over two years of online radio experience. Hailing from Atlantic Canada, Stephen's broadcasts a colorful list of darkness and lightened persona makes for and outstanding "RAW" and Metal online radio adventure. Metal Nation Radio is the means for promoting worldwide independent and original material and is the attraction to Stephen's underground metal music list. Stephen brings forth his passion and dreams to the great team at Metal Nation Radio. Email stephenleblanc@maximum110.com for your request's. Talented artist's in all metal genres, current and up-and-coming metal music.
Show Times: Maximum 110 – Sunday's 8pm – 11 am EST – Worldwide Independent & Original Heavy Metal
Facebook: @maximum110
Twitter: @StephenLeblanc0
Nothing Found
It seems we can't find what you're looking for. Perhaps searching can help.