Author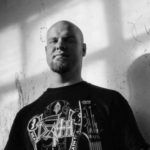 Jonny D
0 posts
0 comments
Foundation Studios in Kitchener, On Canada is where Jonny D calls home. He is a fan of everything metal! Well, almost everything. Death, grind, thrash, prog, classic metal – you will hear it all on his broadcast. He will bring in special guests for interviews, random yammering, toilet paper reviews… ps… cottony soft, 2 ply or 3?
Every Thursday from 8:00pm- 10:00pm EST you will hear him spinning his favorite tunes… your favorite tunes! And awesome submissions.
Nothing Found
It seems we can't find what you're looking for. Perhaps searching can help.