Author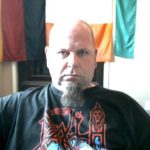 Ham
0 posts
0 comments
HAM grew up in the State of Washington, US where the dreary, rainy weather of the northwest US lit off what would become his love of heavy dark music. Starting off listening to "Guns and Roses" moving to "Metallica" and an assortment of most brutal Christian Metal he could find, the foundation of metal was laid and for many years his mind was made up about what HE thought was metal.
Several years later and having to relocated to Arizona, US, HAM discovered hardcore and more extreme metal and while playing in a hardcore band he was exposed to and wrote classic and new school metalcore music. Then there was a hiatus… the dreaded hiatus of metal whilst serving in the US Navy for over nine years where HAM listened to country, some rap and more radio friendly metal.
After being honorably discharged from active duty, HAM rediscovered metal. He heard some crazy chick in her "Wolfden" named STR1KER on the interweb radio and thought, "well shit, I wanna do this…" Now it was time to fully bring on what he loved with a vengeance!!!
He hooked up with The Native and gave some of those bands he had "heard of" but through ignorance and thinking he "knew it all" had discounted and ignored in his teen years a second chance. HAM credits liquor, his fellow and past hosts, their shows and the many conversations with that Native dude for the rise in his level of knowledge and love for all things metal.
From February 2010 to the present, HAM consistently brings what he loves to the metal airwaves and has found a great home here at Metal Nation Radio! He's not an expert by ANY means on any style, but a huge fan of all sorts of metal. His goal is to bring a kick ass show to the listener and maybe expose them to something they may find interesting.
Interviewed bands/artists on MMwH–
Greg Minier of The Crucified
Dave Bizzigotti of Speed\Kill/Hate
Steve Rowe of Mortification
Kosta V of Hatriot
Nige Rockett of Onslaught
Max Cavalera of Soulfly/Cavalera Conspiracy/former Sepultura
Mudface
Coven
Richie Cavalera of Incite
Sean Peck of Death Dealer/Cage/Empires of Eden/Denner/Shermann
Wayne Dwyer of Vulvagun
Matt Young of King Parrot
Danny Camilleri of Meshiaak
Stu Marshall of Empires of Eden/Death Dealer
Ross "The Boss" Friedman of The Dictators NYC/Death Dealer/former Manowar
Jason Peppiatt of Psycroptic
Nick Walker of Bane of Bedlam and Meshiaak
James Rivera of Helstar
David Ellefson of Megadeth
Adam "Woody" Woodford of Polar
Karl Willetts of Memoriam/former Bolt Thrower
Gen and Fox of Temtris
Much props to all the bands and their management teams for giving their time.
Nothing Found
It seems we can't find what you're looking for. Perhaps searching can help.